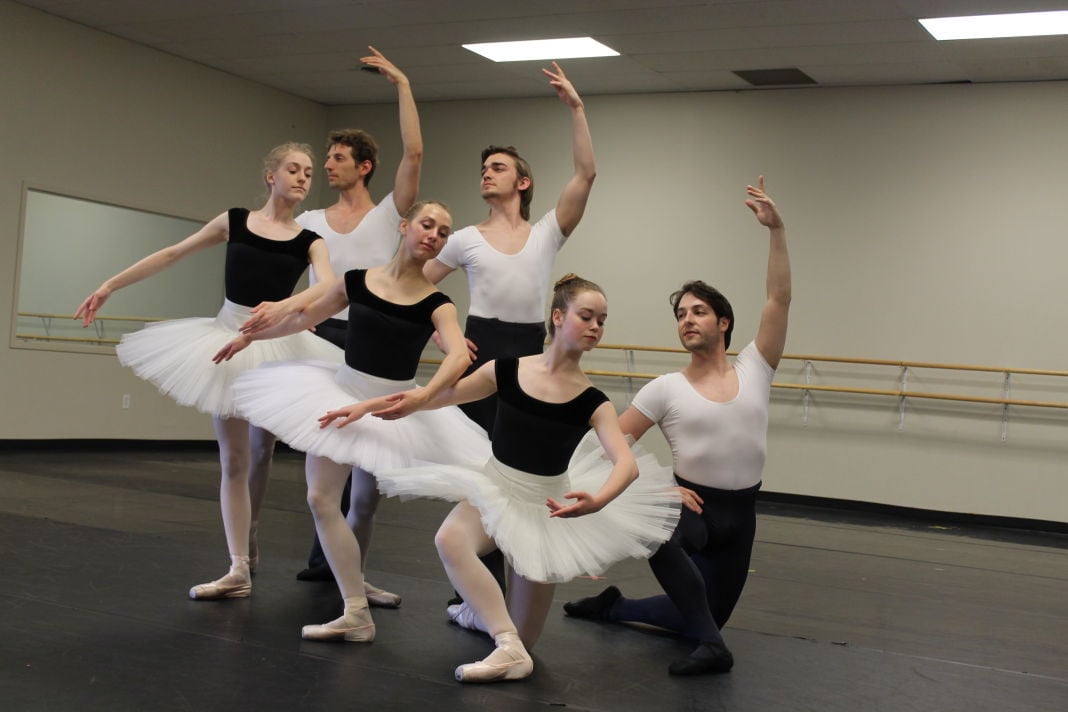 The five ballerinas line up in height order at the bar to begin a series of plies, tendus and degages. Over the next two hours they progress from warm-ups to center, where they move from the adage to the petite allegro and grande allegro. In these movements they perform small, big and fast jumps and pirouettes.
They are part of a pre-professional ballet program called The Conservatory at the Nebraska Ballet Theatre & School. Membership is by audition only.
Owners Jennifer Ross and Emily Fullerton embraced the idea of a Conservatory when they opened their school last August. Both graduated from the University of Nebraska with Bachelor of Arts degrees in dance.
Nebraska Ballet Theatre & School's Dance Arts Division offers ballet, tap, jazz, lyrical, hip-hop, modern, contemporary and Pointe classes for ages 2 ½ to adult. However, Ross and Fullerton wanted to provide a space for serious dancers willing to take their passion to the next level as well.
The instructors say they believe they have the perfect space, as well as the level of instruction to take those dancers where they want to go. "It's a great opportunity for girls interested in joining a professional company," Ross said. Ross added that the school's goal is to take the caliber of training the Conservatory students are receiving and duplicate it in all of their classes.
Fullerton served as the YWCA's dance program director for 10 years and has worked as a choreographer, teacher and judge for the National Dance Alliance. Ross has been teaching dance for 12 years in dance studios on the East Coast and in the Midwest.
Bought the assets from YWCA
Fullerton and Ross purchased the dance assets from the YWCA and now lease the building that housed its dance program at 26th and O streets. The pair revamped the inside, combining two adjoining studios into one and leaving two others intact.
Conservatory members gather in the new, larger studio, where they receive technical ballet training five days a week from veteran dancer Michele Starbuck. She instructs these high school-aged girls in classical, modern and contemporary styles like Vaganova and Cecchetti.
Starbuck exudes professionalism and discipline, and possesses decades of experience. Starting at age 10 she trained with the National Ballet School of Canada and went on to study and dance with some of the finest dancers and teachers of the ballet world. Her students have been accepted to full-time professional programs, and many have gone on to dance in companies and on Broadway.
Guest artists
In addition to Starbuck, Ross and Fullerton, the girls work with guest artists as they cover the disciplines of ballet, pointe, pas de deux (dancing with a male partner), modern and character. At their concert May 20 at Kimball Recital Hall, Conservatory dancers will partner with three male professional dancers from Ballet Nebraska in Omaha. Features include the balcony scene from "Romeo and Juliet," a modern number and a "Grease"-inspired number that incorporates swing dancing.
Conservatory dancers are doing fundraisers to help cover the cost of bringing in guest artists, but sponsorships are welcome, Ross said. To help sponsor guest artists or to purchase tickets to the concert, visit www.nbtdance.com or call 402-475-9447. Nebraska Ballet Theatre & School offers sessions August through May and during the summer. This summer's session features classes, camps and an intensive.