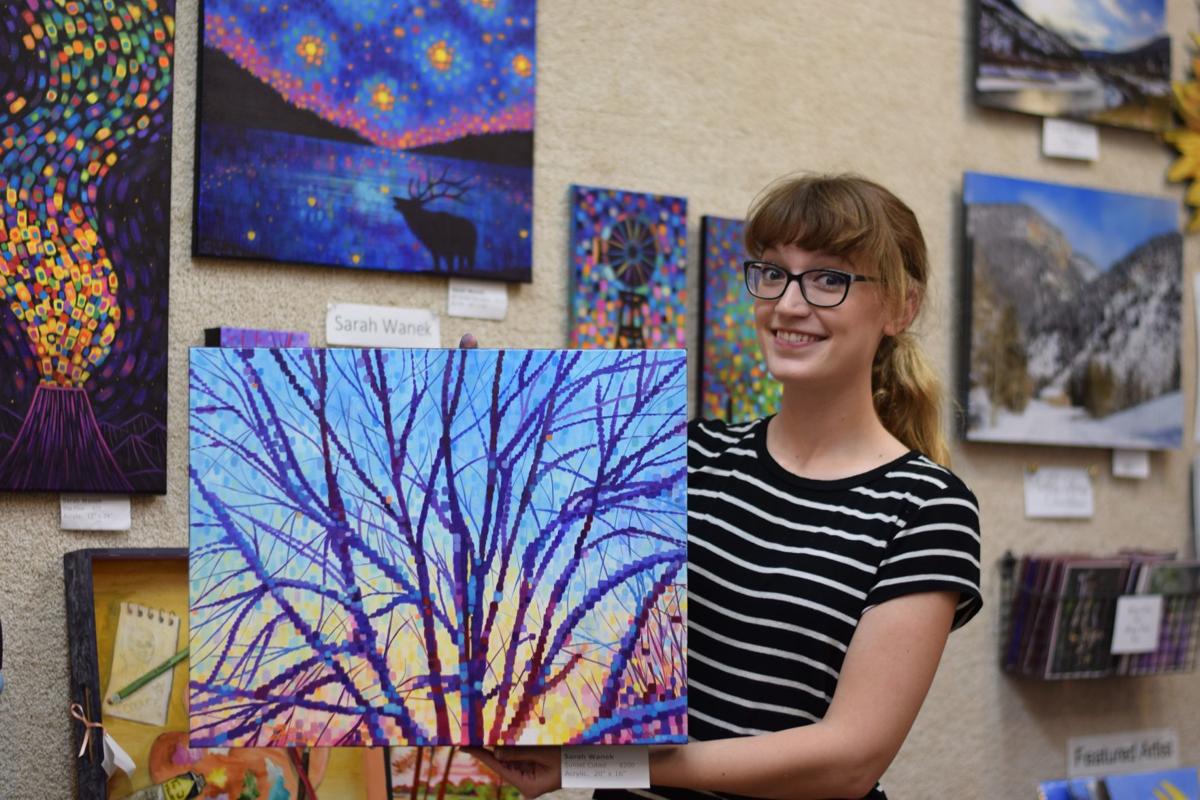 When everything seems uncertain during a pandemic, colorful art can uplift the community's spirit.
And that's why Sarah Wanek, a 25-year-old painter who is part of the Noyes Art Gallery, will strive to bring positivity when she showcases her work with seven other artists in June in the gallery's Focus room at 119 S. Ninth St.
The other artists will include Therese Bauer, Kelsey Doley, Marsha Schoff, Tammy Schuett, Kevin Slaby, Jena Wanek and Susan Woodford. Their works range from acrylic paintings, painted bottles and metal sculptures to oil portraits.
Due to social distancing guidelines, the gallery will livestream Wanek's opening on the first Friday of June (June 5) on Facebook at 7 p.m. The show will be on display at the gallery during its regular hours, 10 a.m. to 5 p.m., Tuesday through Saturday.
The theme of the show is "Experiencing Color," and each artist will represent color in his or her own way.
As a painter, Wanek's work stands out among the 100 other artists in the gallery because of her distinct impressionistic style of bravely using colors and fitted shapes, especially rectangles, says the gallery's owner, Julia Noyes.
"Nobody paints like her," Noyes says. "People who buy her work like the energy, the exuberance, the positivity of her work. She's done it in a very artistic way, so I think it separates her a lot from other artists."
Wanek says her acrylic painting mainly revolves around landscapes, and she likes to paint on canvas, as well as wood panels and live-edge wood "cookies" or cut slabs of tree trunks.
Through painting, Wanek experiments with mixing different colors, and she isn't afraid of making mistakes when she paints. "It's easy to put your mind onto the canvas, and it's easier to change your mind as well," said the University of Nebraska-Lincoln graduate. "If you don't like something, you can just paint over it."
Nature, especially trees and all her travels to Utah and Alaska, are her sources of inspiration.
"Trees are an ongoing theme in my work," Wanek says. "I love the shapes they make, and I am intrigued by their negative spaces."
Since Wanek stays mostly at home to slow down the spread of COVID-19, she said she has had a hard time finding inspiration. But through art and working in the gallery, she said she gets through her day.
"Coming to the gallery gives me inspiration, and knowing other artists keeps me going," Wanek says.
Be the first to know
Get local news delivered to your inbox!