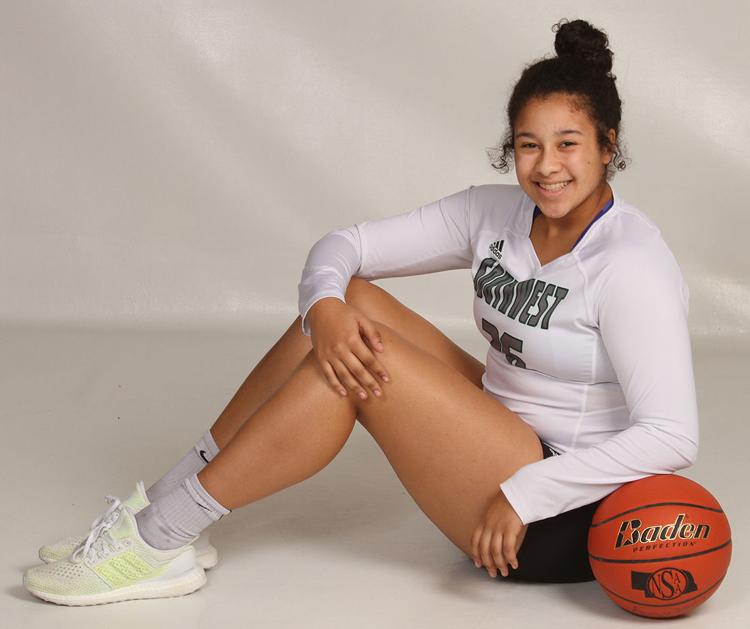 Jaden Ferguson has rewritten several school records and contributed to state team championships in two different sports during a glittering career at Lincoln Southwest High School. She will leave an indelible mark when she graduates in June.
But the consummate team leader says she wants to be remembered most as someone who brought awareness to topics within our community. That is especially true of the Martin Luther King Youth Rally and March, which marked its 24th annual observance in Lincoln on Jan. 21.
Her sports achievements speak for themselves, but her participation in the MLK Rally since fourth grade is something that the high school senior holds closest to her heart.
"Jaden has a bright career ahead of her, and I believe that to be true from the involvement, hard work and dedication she has put into every aspect of her life," said Mark Novotny, head coach of the Lincoln Southwest volleyball program, whose school records have been rewritten by the three-sport performer.
Ferguson is a standout student-athlete, active volunteer, community activist, hard worker and role model. And next Wednesday, she'll add a Star City Sports Youth Athlete of the Year award to that list as the Girls and Women in Sports and Fitness committee honors her during a banquet at The Champions Club.
Volleyball at NWMSU
The 6-foot-tall outside hitter will continue her volleyball career this fall at Northwest Missouri State University, where Coach Amy Woerth will welcome the Southwest Silver Hawk to the Bearcat family.
Ferguson accrued 1,310 kills, 846 digs, 152 aces and 144 blocks in her career at LSW. She was a two-time All-State and three-time All-Conference selection in volleyball.
You have free articles remaining.
Ferguson also drew the interest of college basketball coaches, having earned All-State honors in each of the past two years. She is on target to achieve her third season of postseason honors in basketball.
Ferguson said the chemistry she enjoyed with NWMSU coaches during camps on the Maryville campus was a deciding factor. "It was a beautiful campus with great coaches," Ferguson reflected. "It was an amazing atmosphere … you could just sense the energy level on campus."
She said her field of finalists also included the University of South Dakota, the University of Nebraska at Kearney and Regis University in Denver.
Ferguson said her volleyball development has been nurtured through her participation in the Nebraska Juniors Volleyball program, with which she continues to be affiliated, and the Omaha Sports Academy.
Basketball records
Ferguson's basketball prowess blossomed early in her LSW career. The rim protector was just a sophomore when she helped propel the Silver Hawks to the state Class A team championship in 2017.
In a Jan. 18 email, LSW head coach Jeff Rump said his basketball team's leader had already rewritten the school career records for rebounds (645), free throw attempts (493) and free throws made (343); also set free throw records for most made in a game (14) and in a season (145), and was second on the school career charts for scoring (1,131) and two-point field goals made (351).
Track accolades
Superlatives such as "leadership abilities, work ethic, and physical and mental toughness" were also mentioned in a nomination letter submitted by the honoree's track and field coach at LSW, Brett Schuster. Ferguson's medal in the triple jump helped the Silver Hawks win the 2018 girls state championship track and field meet title in Class A last spring.
Dedicated to excellence in the classroom as well, Ferguson balances a challenging course load with extracurricular activities. She carries a 4.2 GPA at Southwest, and plans to major in journalism at NWMSU.