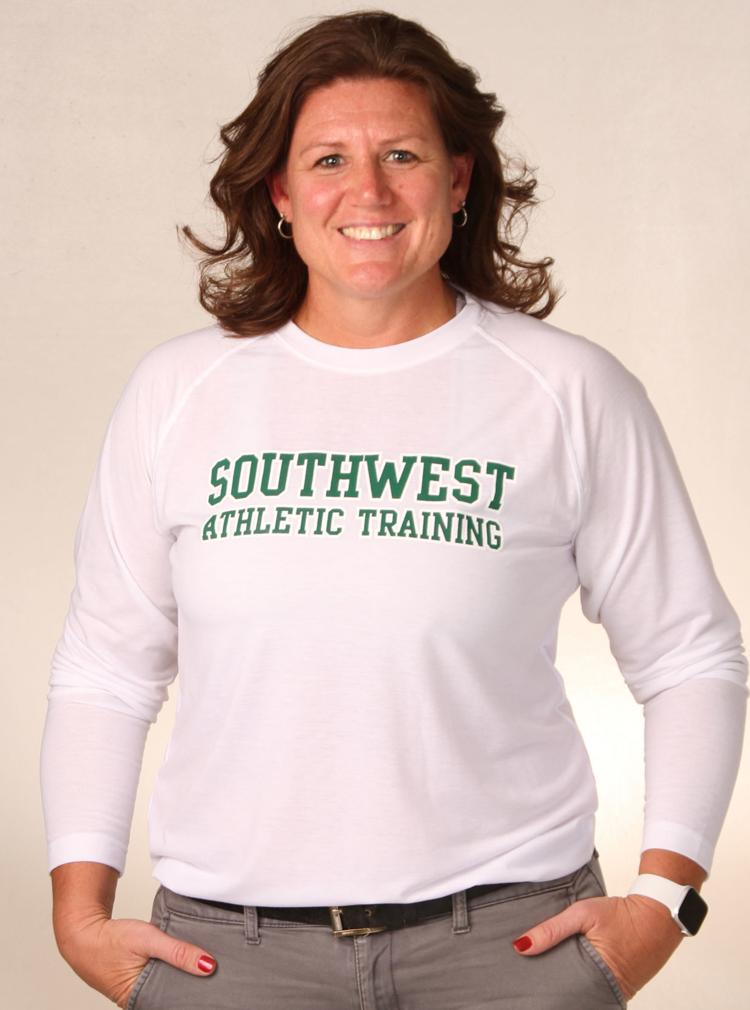 Crystal Kjar cares about kids.
Six years ago, she was a catalyst in helping adopt a new concussion law designed to protect Nebraska athletes of all ages. Her testimony before the Nebraska State Legislature's Education Committee helped lead to the passage of the Nebraska Concussion Awareness Act – Return to Learn.
Going to bat for athletes of all ages, Kjar testified on the benefits, importance and efficacy of providing Return to Learn programs as they relate to comprehensive concussion management.
Kjar, 42, is in her 20th year as an athletic trainer in the Lincoln Public Schools, having worked three years at Lincoln East High School before joining the Lincoln Southwest staff in the high school's second year of existence.
The Girls and Women in Sports and Fitness awards selection committee will recognize Kjar for her contributions to student-athlete safety when it presents its Anne Campbell Pioneer Award during an awards ceremony Wednesday at The Champions Club.
Nomination letter
"Crystal does a great job of leading our athletic training room in providing her expertise in the prevention, evaluation, treatment and rehabilitation of athletic injuries," Lincoln Southwest Assistant Activities Director Kim Carson said in a nomination letter to the GWSF awards committee.
"She coordinates practice and competition coverage for our athletic teams, manages and provides education for Lincoln Southwest athletic training student aides, as well as University of Nebraska student athletic trainers in their clinical experience in secondary schools."
Carson added: "The relationships she builds, the pride and integrity in the way that she goes about her business, and her extensive knowledge makes Crystal a certified athletic trainer that is well-respected by peers, coaches and parents."
About the law
The Nebraska Concussion Awareness Act took effect in July 2012 and is designed to protect Nebraska athletes of all ages.
The law mandates education for coaches, parents and players and sets rules of play for youth suspected of having a concussion. It is designed to raise awareness and prevent the tragedy of second-impact syndrome or death.
"Crystal has made numerous contributions to the athletic training profession, but her passion for concussion education and protocols has been her most significant one," added Carson.
Kjar said more and more is being learned about how concussions affect the brain, and specifically why people need to pay attention and give the brain time to heal.
Background
This year's Anne Campbell Pioneer Award winner is a native of Hays, Kansas. She is the head athletic trainer at Lincoln Southwest and one of the high school's two full-time athletic trainers. She and her husband, Tony, have two daughters – Evyn and Hayden – who are a junior and freshman, respectively, at Lincoln Southwest and are active in the Silver Hawks' athletic programs.
Kjar was a member of the women's basketball team from 1995-1997 at Butler County (Kansas) Community College. She holds an associate's degree from the community college and a Bachelor of Education in Kinesiology and Exercise Science from the University of Nebraska – Lincoln (1999).