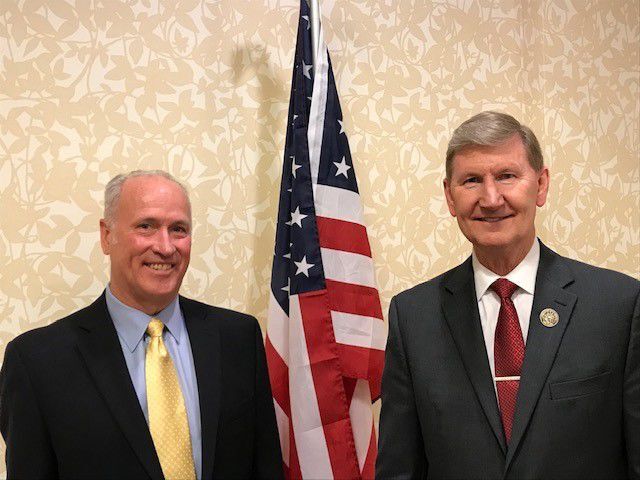 Life is full of surprises, and University of Nebraska President Ted Carter likes it that way. He wouldn't have it any other way. Carter has faced drastic changes in his life and career, which most recently have included new job challenges and the impact of a worldwide pandemic.
"Like a lot of our lives, there's a lot of surprises. Things happen. We just don't know how they happen or why," said Carter in his first appearance before the Executive Club on Monday at its weekly luncheon at the Hilton Garden Inn in the Haymarket district.
At the beginning of October 2019, Carter was set to start a new job with a technology company based out of Washington D.C. when he received a call about an opportunity in education in the Heartland. Carter said he and his wife, Lynda , knew little about Nebraska and how he might fit into the picture at a public college university.
But, he said, "The more I read, the more I liked."
What Carter was referring to was the University of Nebraska Board of Regents' Core Leadership Pillars for the position of NU president and how he could take on the nine items listed to make the University successful moving forward. When he and his wife perused the pillars and reflected on how he could check the boxes, they were enthused at the possibilities.
"When we read what was put in the nine pillars, we said 'Wow,' they really want an agent of change. They want someone not necessarily from Nebraska, but someone to really lead this university," said Carter, a native of Burrillville, Rhode Island. "I did my homework."
And that homework led him to acing the test in answering how he would help Nebraska move forward in any and all situations.
"I realized people might say I don't have a PhD. I've not been in the civilian academia," said Carter, who graduated from the U.S. Naval Academy in Annapolis, Maryland, and had spent 20 years in tactical naval aviation. That experience included graduating from Top Gun before garnering educational credentials from the Navy Nuclear Power School and the U.S. Air Force Air War College, and likewise commanding 20 ships before returning to the U.S. Naval Academy as superintendent. "I've led military initiatives and I've led large complex organizations, and one thing I've told all the committees in the hiring process for the university is if you want to bring someone out here to get something done, I'm your guy."
Carter was selected as the priority candidate and served a 30-day vetting process, which included visiting cities and communities across the state, and was then slated to begin his duties as university president Jan. 1, 2020. And not long afterward, he encountered the beginning of a world-changing event.
"Late February was the first time that Dr. Jeffrey Gold (chancellor of UNMC) and I sat down, and he said 'Hey, there's this thing in Wuhan, China, and it's coming here.' And what he told me that I couldn't believe, and I still remember like it was yesterday, was he said 500,000 people in the U.S. will die. Everybody in the country is eventually going to be wearing a mask, and this thing is going to take years to overcome. He shared those things before even a positive case had shown up in the U.S."
This obviously changed everything for the University of Nebraska in Carter's first year as president. Surprises for leaders dictate a steady hand and sound responses during trying times. 2020 was going to change everything.
"We realized we'd have to adjust some of the things we did toward what was going to happen. One of the first things to encounter was we were more than likely to lose 10% of our enrollment," Carter explained. "There was a whole host of things that could have impacted our enrollment, going from 51,000 to 48,000 or 47,000. With that kind of impact, it would have taken us 10 years to recover. We started going into crisis-mode action for planning."
Carter said some of the early actions they took was freezing tuition, a self-imposed $43 million cut in budget and a change in the academic year among other changes.