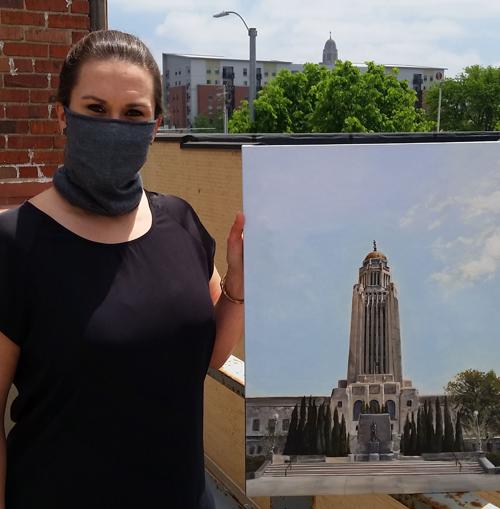 An art show inspired by the Nebraska State Capitol opened June 19 in Noyes Art Gallery's Gold Room. More than 30 of the gallery's artists completed works reflecting different aspects of Nebraska's unique Capitol building.
For Keri Kriston, who chaired the event, the Capitol presents a very different governmental building.
"As someone coming from back East, I like being able to see the Capitol," Kriston said. "It's a beacon on the horizon." And, of course, its location in a city named Lincoln puts her in mind of the 16th president. So, her painting of the Capitol highlights the towering presence against the sky.
Artist Kevin Baker chose to envision the Capitol from a bird's-eye view. A long-term Lincoln resident, he's used to the building's presence in his daily life, so he took a different perspective. Cherie Miner, who does contemporary needlework, found a quote inscribed at the Capitol: "The salvation of the state is watchfulness in the citizen." Combined with the building's Art Deco design elements, she set to stitching. For others, themes like "Labors of the Heart" offer inspiration.
Noyes artists participating in the event include: Curtis Adams (mixed media constructions), Hannah Ashburn (mixed media), Kevin Baker (sculpture and painting), Joni Brown (acrylic), Jane Chesnut (painting), Dana Clements (mixed media), Shailee Curin (watercolor), Lauren Damm (painting), Heather Duckers (painting), MaryEllen Fulton (painting), Lisa Gustafson (jewelry), Janna Harsch (pen and ink), Tita Hynes (painting), Keri Kriston (painting), Ruth Langan (painting), Linda Marshall (painting), Tom Marshall (photography), Sandy Meyer (mixed media), Dori Minchow (painting), Cherie Miner (contemporary needlework), Deb Monfelt (painting), Julia Noyes (acrylic), Lois Oliver (watercolor), Joan Phelan (mixed media), Ashley Stevens (photography), Marge Troyer (digital art), Sarah Wanek (painting), Lorena Wachendorf (painting), Mike Williams (painting) and Connie Zehr (clay paintings).
The Capitol Perspectives show will be on display June 20-30 at Noyes, 119 S. Ninth St., during regular hours Tuesday through Saturday, 10 a.m.-5 p.m. If you miss it there, you can catch it in July and August at the State Office Building, 301 Centennial Mall South, during regular business hours. Enjoy guessing which view or element of the Capitol inspired the individual works.
You can also explore Noyes artist websites and follow Noyes' Facebook and Instagram pages to see their work. Noyes offers curbside pickup, free delivery and installation, and one-time in-home consultation by taking artwork to a patron to view work in their personal space.
Be the first to know
Get local news delivered to your inbox!