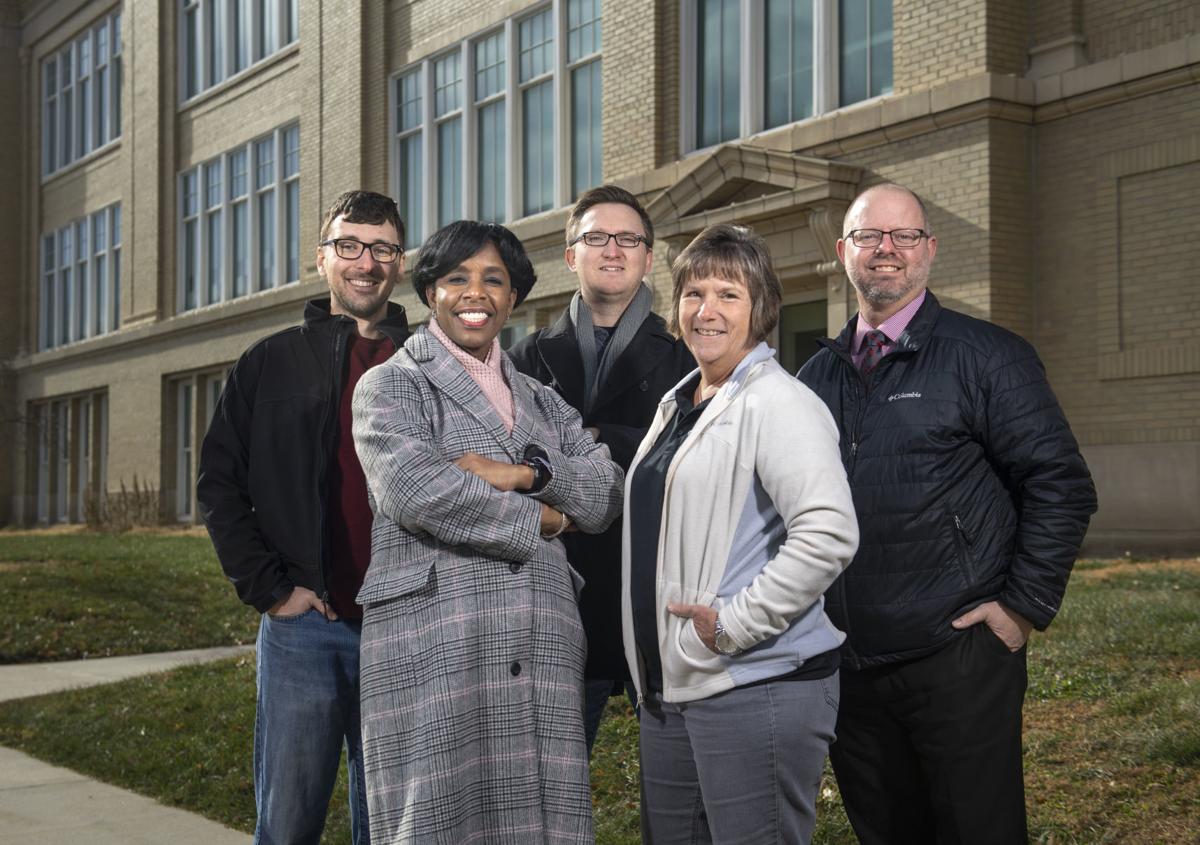 Ed Zimmer, longtime member of the Lincoln Public Schools Board of Education, became a TeamMates mentor 8-9 years ago. The boy at Park Middle School with whom he was matched had a similar success record on the wrestling mats. "He won one match during his scholastic wrestling career, and I never won a match during mine, so we had a lot in common," mused the historic preservation specialist.
Zimmer is now in his fourth match – an eighth-grade boy at Dawes Middle School. His original mentee is a professional truck driver nowadays who keeps in contact with his former TeamMates mentor. Zimmer's current mentee shares an interest in Cryptoquotes with Zimmer and enjoys playing a variation of the "War" card game. No matter what the activity, it's all about establishing a rewarding relationship with a responsible, reliable adult, said Zimmer.
"Being a good listener is a key ingredient," Zimmer noted. "I find TeamMates mentoring to be a very rewarding experience."
Dr. Vann Price, a 16-year school administrator, is in her second year as a TeamMates mentor. She was principal at Lincoln North Star High School from 2011-2018 before being named Lincoln Public Schools' human resources supervisor for secondary personnel services in 2018.
Her TeamMates' weekly sessions are a blend of game-playing and tutoring. The importance of just being there cannot be overstated, said Price. "A lot of it is just being there to provide emotional support."
Ann Diers, vice president and associate general counsel at Ameritas, is proud to work for one of TeamMates' leading corporate partners. Ameritas reports that 60-plus employees are now TeamMates mentors.
Ameritas provides eight hours of company-paid time for employees wishing to perform community service. Diers, a 10-year TeamMates mentor, said recruiting TeamMates mentors is an ongoing process at Ameritas, which received the Carmen and Tony Messineo Community Involvement Award several years ago from TeamMates for its "continuous dedication."
TeamMates mentoring is a family affair in the Diers household, said Ann, who currently works with a North Star High School senior. Ann's daughter was a TeamMates mentor at Nebraska Wesleyan University. Ann also recruited her husband, Rich Diers, to join the TeamMates mentoring movement.
Nate Lowry has had three mentees in his 11 years as a TeamMates mentor and is currently matched with a Lincoln High School junior. Like many TeamMates mentors, Lowry keeps in touch with his original TeamMates match from a decade ago.
"My first mentee is now a diesel mechanic and has taught me a few things about mechanics," said Lowry, a software developer with Silverhawk Aviation.
Grant Rogers is a video/graphic designer for Nelnet and a fourth-year TeamMates mentor. Rogers asked for a sports-minded boy who attends a school near his work site in the Telegraph District. Seeking to find the right chemistry, TeamMates officials were able to match him with an Irving Middle School student and basketball fanatic who is now a Lincoln High School sophomore.
Most of the sessions are one-on-one basketball outings. Over the years, the talent gap between the two has narrowed, Rogers concedes. "I'm still a little better down low, because of my height advantage, but he's developed into a good shooter," the mentor said of his mentee.
Frida Aguilera de la Torre has experienced TeamMates from both sides of the fence. She credits the program for bringing a shy, reserved eighth-grade girl out of her shell at Irving Middle School in 2014.
"My mentor and I met weekly for five years," said Aguilera de la Torre, now a University of Nebraska-Lincoln freshman majoring in ethnic studies. She left the program with a scholarship and a deep sense of gratitude. Today, she's mentoring a sixth-grade student back at her middle school alma mater.
Since 1991, nearly 100 mentees like her have paid their experience forward by becoming a mentor through TeamMates.
"I'm giving back to a program that's done so much for me."
TeamMates matches meet once a week in school during the academic year. Mentors and mentees usually play board games, shoot hoops, do a craft or just talk. To discover how you can be a TeamMates mentor; check out lincolnteammates.org.
Be the first to know
Get local news delivered to your inbox!