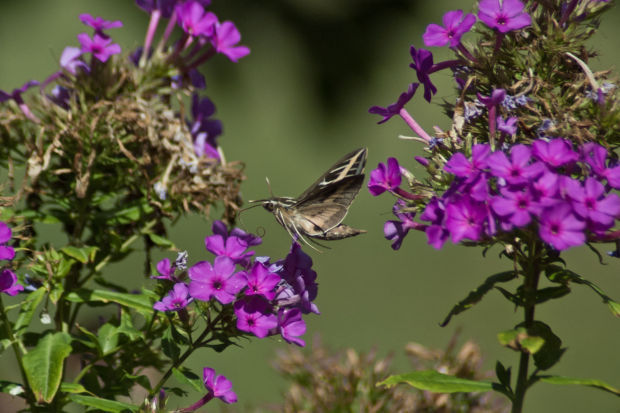 Believe it or not, there is a week devoted to the moth. Yes, it's true; July 19-27 is National Moth Week. What's more, participants in the celebration have already posted hundreds of moth photographs on an associated Flicker page.
You may be scratching your head right now, thinking this fits right up there with "Talk Like A Pirate" Day. Perhaps it's because "moth" conjures up visions of the annoying miller moth of summer, or the meal moth that invades dry stored foods, or the clothes moth that puts holes in wool sweaters.
But wait; there are more moths than those trespassers. Many, many more. In fact, there are 10 times as many species of moth as there are butterfly species. And some of them are quite spectacular.
For example, there is the beautiful green Luna moth (Actias luna), the stunning red, white and brown Cecropia silkmoth (Hyalophora cecropia) and many species of sphinx moths, my personal favorite being the White-lined Sphinx moth (Hyles lineata).
National Moth Week celebrates all of them.
Among the partners in this third annual celebration are the Pollinator Partnership, USDA Agricultural Research Service, and Butterflies and Moths of North America (BAMONA).
BAMONA has a wonderful web site at butterfliesandmoths.org, where you can drill down to find which moths (and butterflies) are found in Lancaster County (as well as other Nebraska counties, nearly every state and many other countries).
Moths play an important role in the ecosystem. Some moth species are active in pollination, usually in the evening. White flowers with a strong, sweet scent such as honeysuckle, datura, flowering tobacco, yucca and primrose might make for a nice moonlight moth garden.
In addition, moths are themselves food for bats, toads, spiders, lizards, birds and other animals, often in their caterpillar form, but adult flying moths are also a food source.
Because moths are found in many different habitats and are sensitive to change, monitoring their numbers and range provides clues to changes in the environment. Everything from pesticide use to air pollution to farming practices can be studied just by observing moths.
July is a great month to find moths, the practice of which is called – wait for it – "mothing."
To participate in mothing, you might go to Burr Oak State Park Resort in Glouster, Ohio, for Mothapalooza, sponsored by the Ohio Division of Wildlife. A more convenient option might be the third annual Nebraska Moth Night, sponsored by the UNL Insect Science Club and held at Spring Creek Prairie on Saturday, July 26, beginning at 7 p.m.
Seriously, though, you don't have to leave your own backyard to participate. Just put a light source outside or set out some moth bait (a combination of beer, molasses, brown sugar and semi-rotten fruit is advised by professionals). Sit back, look toward the light and enjoy your own National Moth Week event.