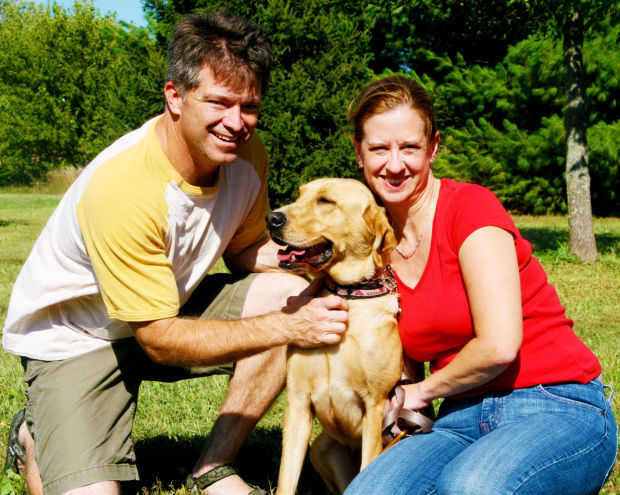 Most people think of dogs as family pets and companions. For many, however, dogs are much more than that. They are tools to make our lives better, sometimes even save our lives.
Assistance dogs are rigorously trained animals used by many people to help improve their lives. We've all seen guide dogs leading the blind, but dogs provide assistance in countless other ways.
Dogs can help people who are hearing-impaired, people who have post-traumatic stress syndrome and people in wheelchairs. They can be trained to detect when people are about to have a seizure. They can help people with dementia by reminding them to take their medications and where their clothes are.
Numerous organizations in Lincoln and throughout the state operate to provide people with these valuable dogs. Because the dogs are so well-trained, they are very expensive.
Jamie Cook and her husband, Joe, of Louisville wanted to make it easier to get a service dog, so in July they started Heads Up Hounds, which provides service dogs for people with type 1 diabetes throughout the United States.
You have free articles remaining.
Rather than using only purebred dogs that are selected by many service dog organizations, the Cooks travel within a 100-mile radius and select rescue dogs that are suited for the people wanting them. After thorough training, the dogs are provided for $5,000. That contrasts to other diabetic-alert dog programs that charge $20,000, Jamie Cook said.
Currently, five dogs are in training to go to diabetics in Connecticut, Kentucky, Ohio, Colorado and North Carolina. The dogs are being trained by Russ Dillon of Omaha and are ready for pick-up by their new owners within a few months. Many other organizations are unable to provide service dogs for one to two years, Cook noted.
Heads Up Hounds is becoming well-known because "the diabetic community is very close-knit," she said.
The process starts with the person applying for a dog. The Cooks determine what type of dog will be best suited for that person, and then set out to find that dog. They have turned to area humane societies and rescue groups to find the dogs. The dogs are required to be 30 to 80 pounds, 1 to 3 years old, not too hyper, easy to train and very treat-motivated.
The dogs are trained to detect when a person's blood sugar is too high or low. They learn this by smelling saliva samples of people with high and low blood sugar. They are trained to wake up a sleeping person who otherwise would not realize a blood sugar problem and would be in life-threatening danger, she said.
Parents of children with type 1 diabetes often have to wake up frequently during the night to check on their children's blood sugar, Cook said. It is worrisome when their children go to college and they can no longer check on them, and that is why Cook thinks college students will be one of the predominant users of the dogs.
The Cooks' goal is to place four to six dogs per month.