Long ago, Lincoln Mayor Francis W. Brown challenged Lincoln's leaders with a vision of a beautiful, meandering park through the growing city along Antelope Creek and Normal Boulevard. A Dec. 30, 1906, article in the State Journal described the community effort to work with property owners to sell or donate their land for what became Antelope Park, the Sunken Gardens and the Lincoln Children's Zoo, and other connected greenspaces along Antelope Creek.
More than 100 years later, a similar opportunity lies just west of Lincoln.
The Prairie Corridor on Haines Branch is a tallgrass prairie passageway that connects Lincoln's nationally-recognized trail and greenway system and Pioneers Park Nature Center to the Spring Creek Prairie Audubon Center. The vision is of 7,800 acres of tallgrass prairie along the Haines Branch of Salt Creek, with a crushed limestone trail that allows users to traverse and explore the prairie.
"One hundred fifty years ago, there were about 40 million acres of tallgrass prairie," said Michael Forsberg, conservation photographer and Prairie Corridor Cabinet co-chair. "Today, roughly 98 percent is gone, including here in Nebraska. But part of what remains are these rare treasure boxes right here on the periphery of Lincoln."
The Prairie Corridor project is a collaborative effort between more than 30 public and private agencies, led by the Lincoln Parks and Recreation Department with the Lower Platte South Natural Resources District and Spring Creek Prairie Audubon Center. Other key partners include the Lincoln Parks Foundation, Lancaster County, Nebraska Environmental Trust, Nebraska Game and Parks Commission, University of Nebraska-Lincoln School of Natural Resources, Lincoln Community Foundation and Great Plains Trails Network.
Approximately two-thirds of the priority area for the Prairie Corridor is conserved to date. This includes Pioneers Park, Conestoga Lake State Recreation Area and Spring Creek Prairie Audubon Center – destination areas that are being connected as part of the project.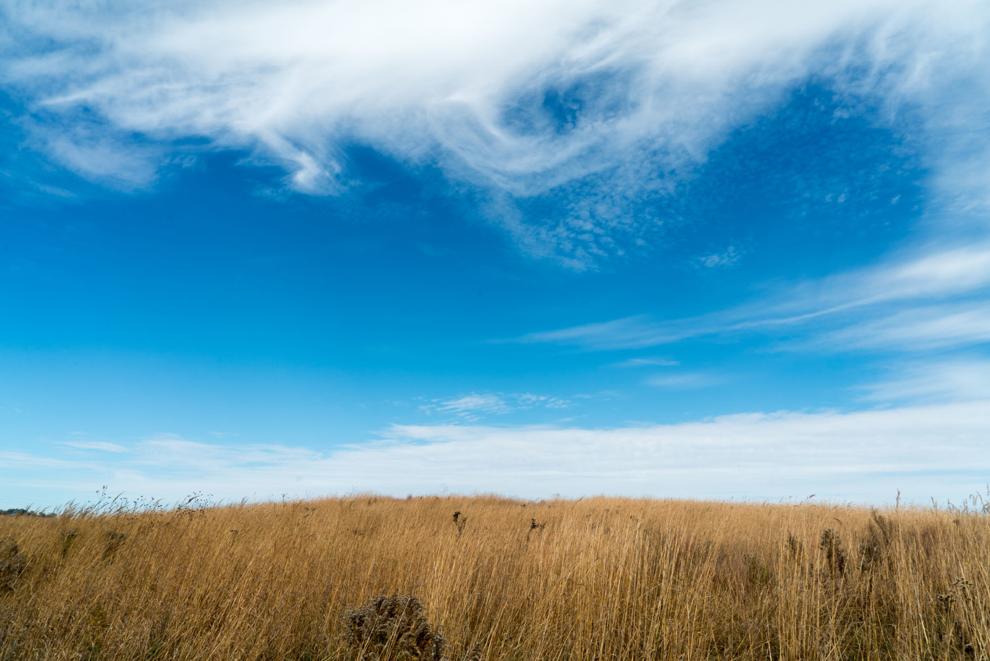 Project partners are working with landowners through a voluntary, incentive-based approach to conservation through the purchase of land or conservation easements, or by enhancing the prairie resources on their own. Since the project's inception, more than 950 acres have been voluntarily preserved in some way.
"Throughout Lincoln's history, visionary families have made extraordinary gifts to establish and sustain some of our most well-loved greenspaces like Sunken Gardens and Pioneers Park," said Maggie Stuckey, executive director of the Lincoln Parks Foundation. "The Prairie Corridor is an extraordinary opportunity for our generation to leave a legacy."
The project has several pillars, including environmental education, economic opportunities, conservation and habitat restoration, and trail development.
Environmental education
Thousands of people annually visit the Pioneers Park Nature Center and Spring Creek Prairie Audubon Center, the two bookends of the Corridor. With educational and environmental experts and a reputation of providing engaging experiences in the natural world, the Corridor will be supported and amplified by these institutions. As a starting point for many Corridor visitors, both invite individuals to explore, volunteer and become immersed in the prairie.
Economic opportunities
The Prairie Corridor is positioned to become a cornerstone in Nebraska's tourism network. This extraordinary tallgrass prairie will be easily accessed from Interstate 80 and will connect visitors with Nebraska's natural heritage: waves of grass, wildflowers, wildlife and unbroken vistas.
This kind of ecotourism is on the rise, according to Sändra Washington, retired associate regional director for the National Park Service and a Prairie Corridor Cabinet leader.
"When people visit places, they want to connect in real ways – not just with local businesses and local food, but also local natural places," Washington said. "The Prairie Corridor project gives us a chance to invite people to connect with what is special here, and that's the prairie."
For the business community, the Corridor will be a feature unique to Lincoln.
"We are competing against Minneapolis, Denver, Kansas City and other cities. These types of amenities are really helpful when recruiters are talking to people about what you can do in Lincoln," said Pinnacle Bank Vice President Doug Ganz, a Prairie Corridor Cabinet member and co-chair of the fundraising committee.
Conservation and habitat restoration
Key natural resources within the Corridor include virgin prairie remnants, freshwater and saline wetlands, and riparian areas along the stream. Work in the Corridor will focus on preserving and enhancing these resources. Initially, researchers hope to develop a better understanding of how composition, size and shape of various tallgrass areas contribute to diversity, resiliency and species richness, and improve the understanding of habitat needs for pollinator species.
"Connecting pieces of habitat together makes places like the Prairie Corridor more resilient, makes them bigger and allows for movement of animals, grassland birds, insects and pollinators," Forsberg said. "Natural landscapes can't be hemmed in. They have to be able to breathe – and people need that too."
The Prairie Corridor Trail
Studies show that connecting to the outdoors makes people healthier.
"That's what I love about these corridors that lead us from the heart of the city to the country," Forsberg said. "It's not just a space that's protecting habitat. It's a space that helps us reconnect with ourselves too."
Approximately 3 miles of the 14.5-mile Prairie Corridor Trail are completed, and as land is preserved, additional trail segments will be constructed. The trail will connect to the city's 134-mile trail network, the MoPac East Trail that runs 22 miles to Wabash, and the Homestead Trail that extends 78 miles to Marysville, Kansas. The Prairie Corridor team is partnering with the Great Plains Trails Network, which has strong fundraising success with donors who love and appreciate trails.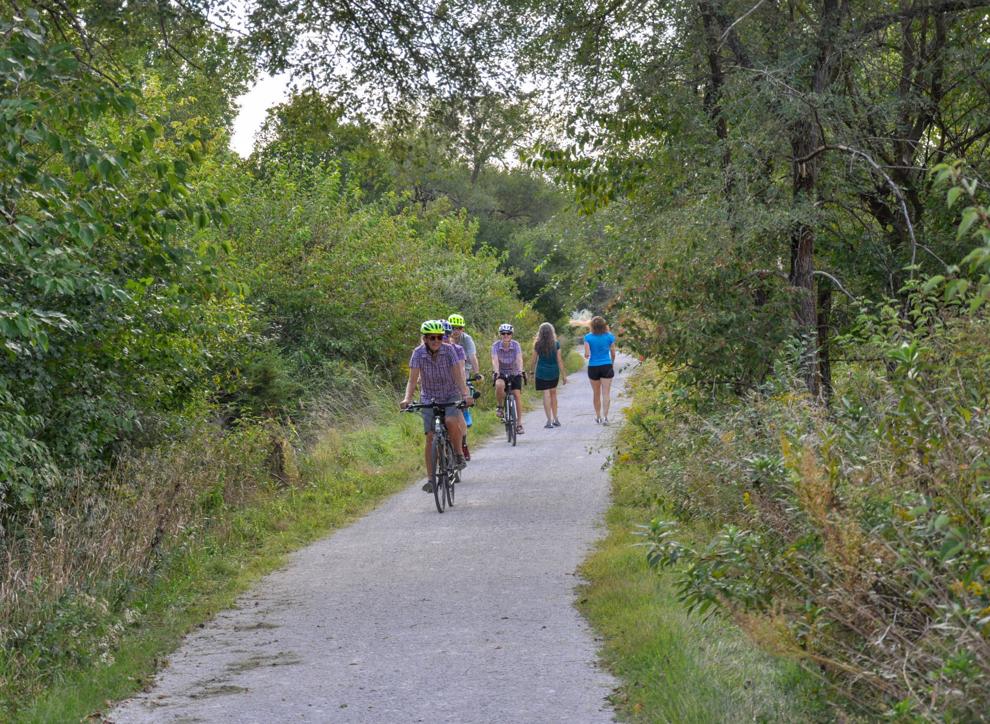 Project partners announced May 14 that they had secured $7 million, or nearly one-third of the $22 million goal for the Prairie Corridor. The total includes a recent grant from the Nebraska Environmental Trust (NET) of $900,000 and nearly $1.3 million in grants, matching funds and private donations raised since August.
Just as Mayor Brown saw the value of preserving a ribbon of greenspace through the community in the early 1900s, former Mayor Chris Beutler recognized the value of the Prairie Corridor.
"Our community has a long history of ambitious projects that have made a big difference for the quality of life in Lincoln, like Pioneers Park and Wilderness Park," Beutler said. "The Prairie Corridor is our generation's legacy project. Let's protect and preserve this beautiful natural resource for our community and for future generations."