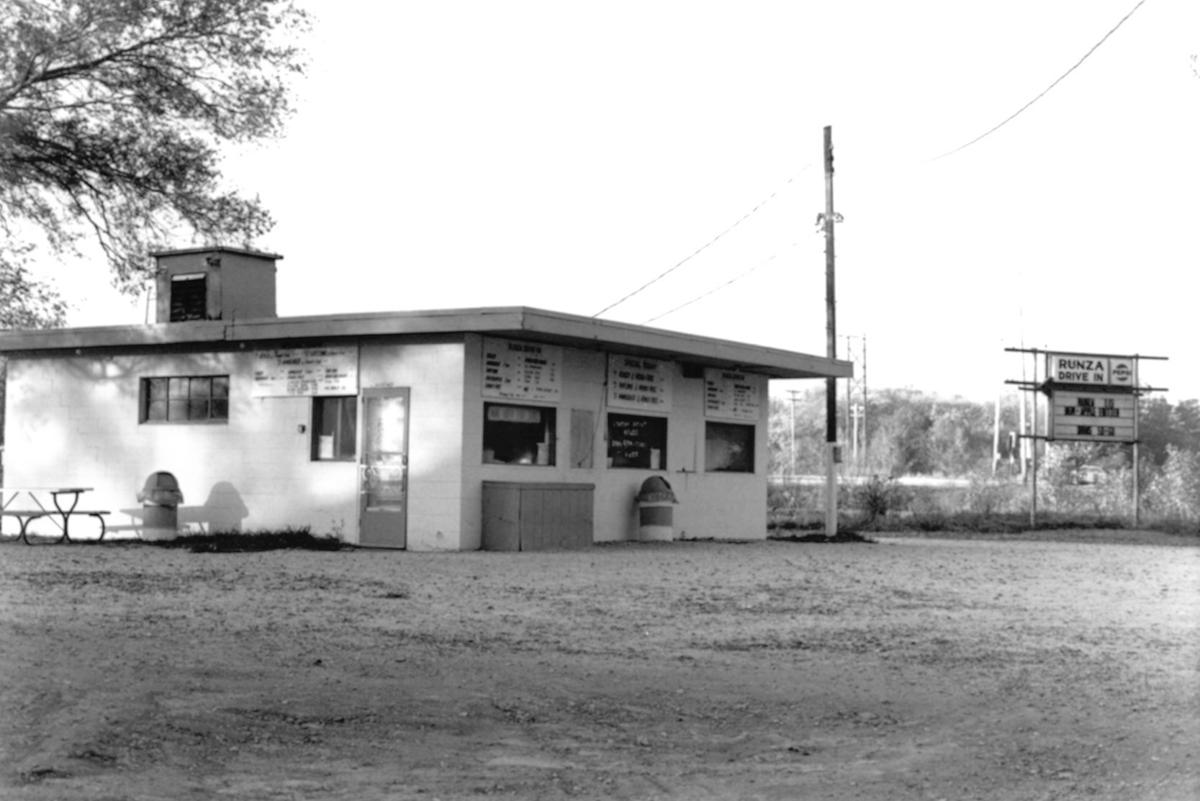 Shortly after my arrival on the University of Nebraska campus in Lincoln in the fall of 1958, a fellow student told me about a different type of sandwich – a "Runza," which was sold at a little drive-in restaurant on Park Avenue on the way to Pioneers Park.
I decided to try it and drove to the location, where I found a nice-looking building with the Runza Drive In sign. There was no inside dining, and car hops came to your car to take your order and deliver it.
In addition to Runza sandwiches, you could order hamburgers, onion rings, footlong hotdogs, knockwurst, pizza burgers and french fries. I ordered a Runza, fries and a drink. It was different, and I liked it!
I would return many times. Of course, it was near the Burlington and Union Pacific Railroad lines, and there was always the chance of getting a train photo as I got my meal.
The neighborhood of the original Runza Drive In was not ideal. Next door was a pony ride, and horse droppings made for lots of flies. During warm months, it was wise to roll up your car windows to eat your food. The workers inside were protected by screens, so this apparently never became a food sanitation issue.
The history that brought Runza to Lincoln
As an undergraduate at the University of Nebraska majoring in history, I took a course about the history of Russia. In the 1700s, the Russian serfs were largely uneducated, and the whole country was far from modern. Czar Peter the Great was determined to change this and invited skilled Germans to come to Russia. He promised that they would 1) not pay taxes, 2) not be subject to the military draft and 3) be free to practice their religion rather than having to become Russian Orthodox. His enlightened policy was continued under Catherine the Great.
As a result, many Germans went to Russia and taught the Russian serfs many skills. Germans living in the Volga River area of Russia soon devised a new, hearty sandwich to cope with the harsh Russian winters. This sandwich consisted of beef, cabbage and onions enclosed in homemade bread.
When Alexander became czar, he reversed all previous policies concerning the Germans, and many Germans, angered at the breech of earlier promises, emigrated from Russia to the U.S.
Alexander and Sophia Brening moved from Russia to the United States in 1907 and 1910, respectively. Their daughter, Sarah "Sally" Brening, was born in Sutton, Nebraska in 1912. Sally's mother taught her how to make sandwiches from the family recipe that were later named Runzas.
First Runza restaurant opens in Lincoln
With jobs scarce following the rampdown after World War II, Sally decided to open a hamburger stand in west Lincoln on the way to Pioneers Park. By doing so, she provided jobs for her brother and brother-in-law. She proved to be a good businesswoman, and through hard work the new drive-in became a success.
It was Sally who came up with the name "Runza," which is now a registered trademark. Others have sold similar sandwiches under other names, like "bierock," and German Russians who went to Canada called them "grout kucha." For many years, churches in Lincoln with large German Russian memberships hosted dinners featuring this unique sandwich from Russia with homemade pies for dessert.
In 1966, Sally's son Donald Everett Sr. opened a new Runza restaurant at 56th and Holdrege streets. As franchising became popular in the 1970s, Everett recognized the potential for expanding the Runza chain, with the first expansion going to Grand Island.
Today, Runza has 87 locations in four states. Sadly, the original Runza on Park Avenue closed due to street revisions on Van Dorn, and the building was torn down in 1992.
In addition to Runza sandwiches, for many years Runza Drive Ins offered Polish dogs, which I consumed in large quantities, as did many of my friends. Suddenly, they disappeared from the menu, and I went to the national Runza headquarters in Lincoln to protest. I was told that not enough Polish dogs were being sold at the stores, and often cooked but unsold Polish dogs remained at the end of each day – hence their discontinuance. It is my fondest hope that someday they will return to the menu.
Specialty Runzas, like the Italian and the Cheeseburger, are featured from time to time for a month or two. Tom, a friend of mine, lives for those days when the Cheeseburger Runzas are offered.
I tasted my first Runza in the fall of 1958 and have been a loyal Runza fan for over 60 years. I hope my love affair with Runza continues for many more years.