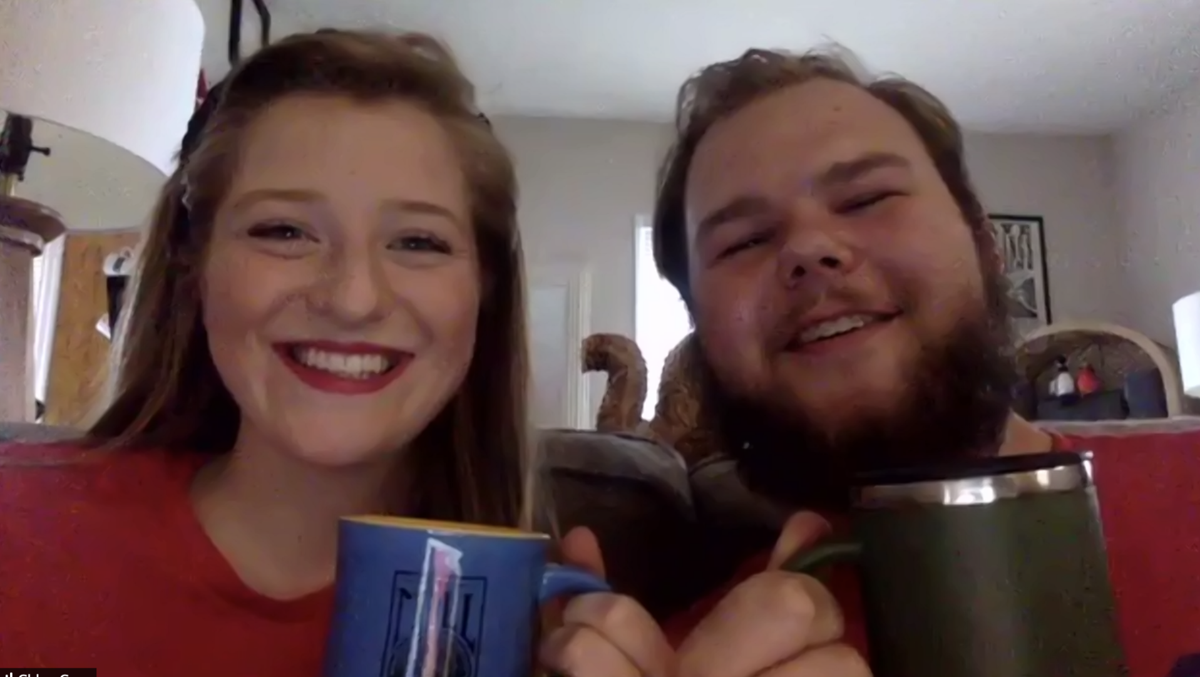 Nebraska natives The Wildwoods, a band from Lincoln, bring a pioneering sound to Americana Roots Music.
Formed in 2012, The Wildwoods released their first album, "A Little Sweeter," in 2014 and have since released three more albums independently: "Take A Chance" (2016), "Sweet Nostalgia" (2017) and their newest album, "Across A Midwest Sky" (2019).
The two lead vocalists of the group, Noah and Chloe Gose, also released a duo EP titled "Birdie and Goose" in late 2017. The Goses were married in May 2018. They are both students at the University of Nebraska-Lincoln. Chloe's major is psychology with a music minor, and Noah's major is composition with a music minor in guitar.
What's the most rewarding part about what the two of you do?
Chloe: For me, it's being able to make a living and do what I love with the one person I love most in the whole world. Sometimes we get messages via email or social media, or even from people we meet while we are on tour, and they tell us how our music has helped shape an aspect of their life or helped them through some hard time. It's amazing to see the power that music has on people's emotions and lives, and it's extra rewarding to see the goodness it brings about. Spreading joy, positivity and creativity is our main goal.
Noah: Of course, it's incredibly rewarding to know that we're able to have a connection with our followers solely through our music. But I'd say the most rewarding aspect would have to be that I'm able to do everything with Chloe right by my side. We perform together, we book/promote shows together, and we live together, which makes it easy to practice on a whim whenever inspiration strikes. She's my partner in pretty much everything I do in life, and it's a fantastic feeling!
What is the biggest challenge about what you do together?
Chloe: It's figuring out how to afford all of the instruments we want to own and how we can afford to tour full time after graduation. Two married musicians whose only source of income is from playing or teaching music is a bit of a struggle sometimes. We have had to figure out how to be creative and frugal with our money to be able to afford the type of life we want to live and all the adventures we have gone on/plan to go on. We often joke that our lives would be so much easier if we each had separate spouses with full-time, well-paying jobs to support us when we are on the road! However, jokes aside, we have always been able to figure out life and its many challenges together, and that's one thing that I love and appreciate about playing music with Noah.
Noah: The biggest challenge would have to be the stress of getting a steady income once we graduate from UNL. We love living this kind of musician lifestyle, but it can be trying at times to be frugal with our money to make it work. Our plan once we graduate is to tour around the country full time to hopefully build a bigger following. So many things could go wrong, but we're willing to put in the blood, sweat and tears to make it happen!
How are you adjusting in this era of COVID-19?
Chloe: This era has been so strange. Since we make most of our income from playing live shows and teaching music lessons, we have had to figure out how to compensate for our many canceled gigs. We have switched our lessons to be fully online with all of our students, all of whom have been very good and understanding about the whole situation, and we have started playing livestream concerts where we have a virtual tip jar set up on Facebook. It's amazing to still see the love and support there from everyone who listens to our music. People have been very generous and understanding to us during this time.
Noah: It's been a strange and difficult time for everyone. Along with teaching, gigging makes up a major sum of our income. We've done a handful of livestreams on Facebook, and it's been amazing to see how supportive and generous a lot of our followers are, leaving tips knowing that we've hit a hard loss with all of our gigs being canceled. We put a ton of time and effort into booking and promoting shows/tours, so it hurts to know that all of that time spent went to waste. I'm aching to get back out there to play and connect with real people! Luckily, pretty much all of our students have been totally fine with switching to video lessons instead of in-person lessons.
What is your favorite part of Lincoln and why?
Chloe: It's the community of friendly and loving people that this city cultivates. Noah and I have dreams of moving away someday, but I always get very sad when thinking about all of the amazing people we have met here that we would be leaving behind.
Noah: The music community here in Lincoln is definitely my favorite aspect of this great city. I've met so many great people and have made so many wonderful friends since we started performing and attending shows in the fall of 2012. People are incredibly kind and generous to each other most of the time, and it's a great feeling to belong to such a great scene.
Is there something that people don't know about the two of you?
Chloe: We have another project that we have started called "No Motion Picture" that involves some of our very closest musician friends here in town. We are working on the release of a funk/jazz/soul EP that will be done very soon! Noah and I are debuting a set for "No Motion Picture" for the online streaming festival for Lincoln Calling.
Noah: In October of 2018, I started posting 1-minute videos showcasing short funk/jazz/soul songs on my Instagram page (@noahisnoah) and would call them "Instajams." It began as a songwriting exercise to come up with a complete, 1-minute song within the span of 15 minutes, but I decided to make fun little videos for every tune I would write. Since posting the videos, I've gained 700-plus followers on Instagram and am currently working on finishing the music as full songs. The group is called "No Motion Picture," and I'm hoping to have our first EP done by the end of June, and hopefully we'll start performing the songs by the end of the summer. The group will include four other musicians as well as Chloe and I. We have one full song currently on Spotify at https://spoti.fi/3cgQRgx.
How do you both take your coffee?
Chloe: I've loved to drink cappuccinos ever since we got back from Europe. However, when I'm drinking normal coffee, I love a little cream and a little sugar to satisfy my sweet tooth.
Noah: Always black! I don't have much of a sweet tooth.
Be the first to know
Get local news delivered to your inbox!