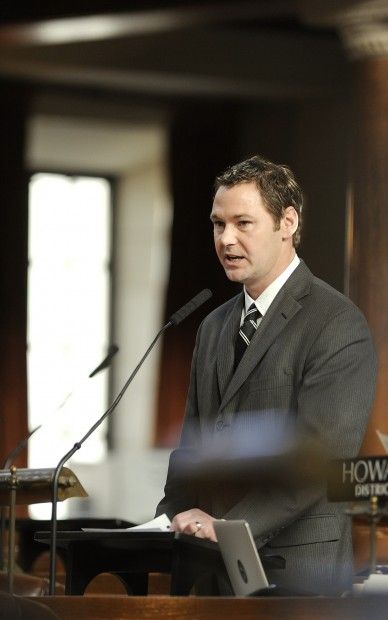 A bill that would have required Nebraska voters to show identification before voting is dead after supporters failed to end a filibuster against the measure on Wednesday.
"It's dead. It's over," Speaker Mike Flood of Norfolk said minutes after a vote to end the filibuster against the measure (LB239) by Fremont Sen. Charlie Janssen failed.
Janssen needed 33 votes to end the filibuster. The vote was 30-16.
He said he had been trying to work out a compromise to get the bill advanced from first-round debate, but "we ran out of time."
Janssen said he will work after the session to tweak his idea and perhaps reintroduce it next session.
"Vow is a big word," he said. "Priority 1 is to get re-elected, then work in the interim to look at our voting laws."
Janssen's proposal was introduced last year and originally would have required people to show ID when they vote as a way to head off voter fraud and ensure Nebraska uses what he calls the "best practices" when holding elections.
But opponents said his plan would disenfranchise some voters -- particularly the poor, elderly people and minorities -- who do not have driver's licenses, because they would have to pay $26.50 to get state-issued photo IDs. They said requiring people to buy state IDs to vote would amount to an illegal poll tax.
Janssen later amended the bill to require the Secretary of State to inform local election commissioners how many people in their counties are registered to vote but do not have driver's licenses or state ID cards. The bill would have required local election commissioners to mail those people so-called "acknowledgment of registration," which would allow them to vote. There are an estimated 30,000 such voters statewide. Mailing the acknowledgments would cost 50 cents each, he said.
Voters without IDs or acknowledgment cards would have been given provisional ballots that would not be counted until their voter registration was verified.
Omaha Sen. Scott Lautenbaugh, a former Douglas County election commissioner, rejected the argument that requiring an ID would disenfranchise voters.
"Anyone who would be disenfranchised or discouraged by that far-from-onerous requirement, would be discouraged by a rainy day from voting," he said.
Omaha Sens. Brenda Council and Heath Mello and Lincoln Sen. Bill Avery led the filibuster against the measure.
"I don't believe this bill is deserving of the time given to it, because such fraud does not exist," Council said just before the vote to end the filibuster failed.
Janssen said requiring voter photo ID was a key recommendation of the Commission on Federal Election Reform, co-chaired by former President Jimmy Carter and former U.S. Secretary of State James Baker, in their 2005 report, titled "Building Confidence in U.S. Elections."
Gov. Dave Heineman said he had supported the bill.
"You know, in order to get on a plane at Eppley Airfield you have to show your ID and prove to them who you are. It would seem to me this is a reasonable approach to ensure we don't have any voter fraud regarding voting," he said. " I don't think we have much in Nebraska, but I don't think this is an unreasonable request to make sure we exercise the most fundamental right we have in America to elect the president or other elected officials, that we show some evidence that demonstrates who you are.
"And I want to be very clear. In no way do I want to impede any voting opportunity for any legal citizen in this country," he said.