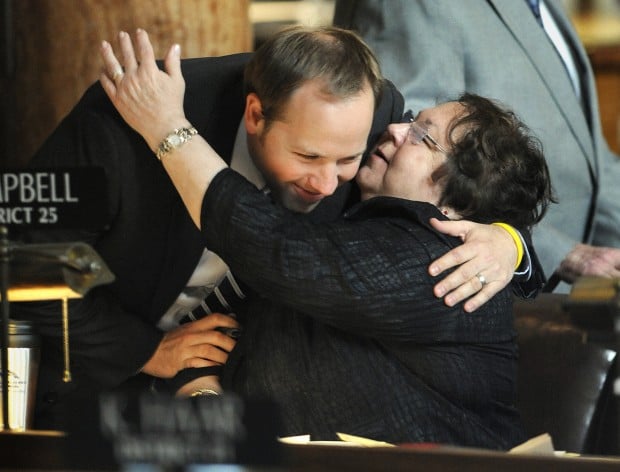 Lincoln Sen. Kathy Campbell dabbed at tears of happiness and relief Wednesday afternoon after senators voted to override Gov. Dave Heineman's veto of a bill (LB599) that would restore funding for prenatal care for many undocumented women in the state.
"It was amazing," she said of the 30-16 vote.
Campbell said she couldn't thank Speaker Mike Flood enough for his personal commitment to the bill and the override.
"His leadership made all the difference," she said.
The Legislature last week passed LB599 on final reading 31-15. It will provide prenatal care to an estimated 1,162 unborn babies each year at a cost of about $654,000 in state money and $1.9 million in federal tax dollars.
Campbell said the state should see a return to the program it had for more than 30 years, before the federal government told state Health and Human Services Department Medicaid officials they were providing the care from the wrong funds.
"I'm very hopeful that moms don't wait, that they go in and get prenatal care, and we can cut down on the cost in (newborn intensive care) units and what happens to those babies -- because prenatal care matters. It matters for a lifetime," Campbell said.
In a statement, Heineman took issue with Wednesday's override votes, which included overriding his veto of a bill (LB357) that would allow cities to raise the local option sales tax with a vote of people.
"Today, the majority of the Nebraska Legislature decided their priorities are providing taxpayer funded benefits to illegal immigrants and increasing the sales tax rate on the citizens of Nebraska," he said.
"Providing preferential treatment to illegals while increasing taxes on legal Nebraska citizens is misguided, misplaced and inappropriate."
Nebraska Right to Life Executive Director Julie Schmit-Albin said there was drama most of the day on whether the override votes could be sustained.
"People from all different backgrounds came together and said this is about protecting the life and health of unborn children, and did not decide which babies deserve care and which babies don't," she said.
The organization has expressed disappointment that some senators who call themselves pro-life, and have been endorsed by Nebraska Right to Life, voted against the bill.
President Sandy Danek said the organization will revisit its endorsement process between the primary and general elections. The current process allows for a politician to "flex," she said.
"And that's not what our pro-life supporters want," Danek said. "They want a senator that is going to be strong on the issue and consistent. And if he deviates, they want to know how and why."
Supporters of the bill had spent the week since the Legislature recessed talking to constituents and others across the state to try to ensure the 31 senators who voted in favor of the bill would maintain their votes.
Only one of those, recent appointee Sen. Les Seiler of Hastings, changed his support and voted no on the override.