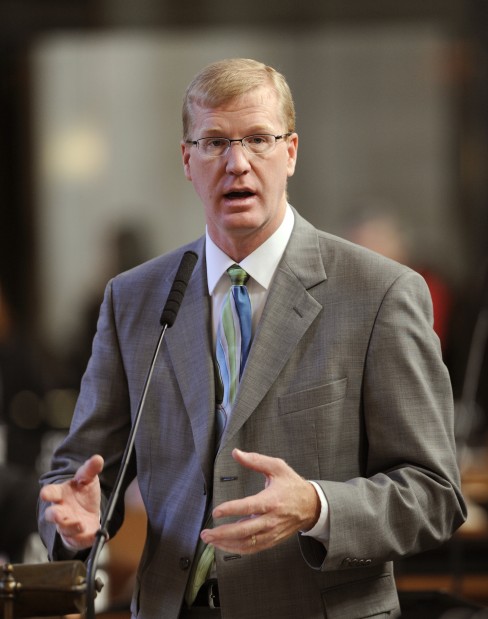 The Legislature's Natural Resources Committee emerged from an executive session on Tuesday with an adjusted process for a state environmental review of a new route for the proposed Keystone XL pipeline.
The latest committee work could be the beginning of a breakthrough for TransCanada in building the $7 billion, 1,700-mile connection between the oil sands of Alberta and refineries along the U.S. Gulf Coast that it announced almost four years ago.
One key element in Tuesday's bill refinements is approval by Nebraska Gov. Dave Heineman of a route agreement between TransCanada and the state's environmental watchdog.
Because the six-page committee amendment would be a substitute for the bill (LB1161), already forwarded for action by the full Legislature, any voting on the amendment would involve all 49 members.
Committee Chairman Chris Langemeier of Schuyler said the new language clarifies earlier efforts meant to allow the Department of Environmental Quality to work with TransCanada on a new route without a memorandum of understanding with the U.S. State Department.
After the 20-minute committee discussion, Langemeier said the amendment is meant to break through "a chicken and egg" situation. On that point:
The State Department, in charge of a companion federal review, has been unwilling to enter into a memorandum of understanding with the state because it doesn't have a route application from the Calgary-based company.
President Obama denied TransCanada's original application in January and said he was doing so because a 60-day timetable for action set by Congress didn't give Nebraska enough time to conduct its review of an alternative to the original route through the Sandhills.
But the Legislature came out of a special session in November with a law that requires a memorandum of understanding before DEQ involves itself in an environmental review.
"They won't negotiate an MOU because there's no permit (application)," Langemeier said.
Shawn Howard, a TransCanada spokesman at its Calgary headquarters, said later Tuesday that the natural resources panel is on the right track in following through on the company's willingness to do "a 100-mile or so realignment" around the Sandhills.
"We're supportive of this," Howard said. "These changes are required, so that the state could continue to do its part, which was part of the agreement that we entered into with them back in November."
The intent, Howard said, "is to give Nebraska DEQ legal authority to move forward with the review they've already started, regardless of what happens at the federal level."
President Obama said his denial was not based on the merits of the project, and Howard reiterated on Tuesday that TransCanada will file a new federal application.
You have free articles remaining.
That can be expected in the next 4-6 weeks, he said. But that could mean the Legislature already will have adjourned from its regular session.
"Nebraska has to complete a review of the in-state portion of the Keystone XL pipeline," he said. "That has to happen, no matter what."
As has been the case with so many aspects of the controversial project, there was a quick dissenting view on legislative intent on Tuesday. It came from Ken Winston of the Nebraska chapter of the Sierra Club.
Winston said the real problem isn't about a chicken and an egg. It's about having a cart before the horse -- meaning a state review with no active federal application.
Winston said a related quandary is the state already has agreed to cover what's expected to be the $2 million cost of a review of a route alternative around the Sandhills.
"The state could spend $2 million reviewing this," he said. "And then the federal government, because there's no MOU, because we're doing it on our own ... could say, 'That's nice, but that's not what we wanted. Go back and do it over.'
"There's no obligation from the federal government," Winston said, "to accept an environmental impact statement from a state agency without an MOU."
However, Tuesday's proposed language calls for reimbursement from TransCanada if it doesn't file for a federal permit or if it chooses not to rely on the state review.
In a related development in the executive session, Langemeier circulated a copy of a letter from DEQ Director Mike Linder in which Linder explained how his agency would proceed with a review.
The 1½-page letter alluded to two rounds of citizen scrutiny of any proposed state route changes for Keystone XL, the first coming after TransCanada had offered its route preferences.
DEQ then would offer its initial feedback to TransCanada, Linder said.
"The ball would then be in the applicant's court to finalize an alternative route that it wanted to be evaluated by NDEQ and its team," he said.
That would lead to a Draft Supplemental Environmental Impact Statement and a second round of public information meetings.
In its special session, the Legislature decided that any new applications for oil pipelines would be routed to the Public Service Commission.
Langemeier acknowledged that a separate understanding with TransCanada could trigger a legal challenge alleging that it amounts to unconstitutional special legislation.
"Anybody in Nebraska can file a lawsuit over anything," he said. "We have to do what we think is best."