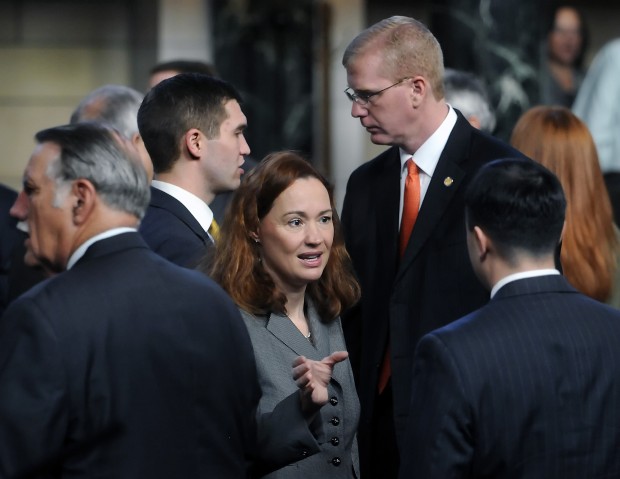 Republican Gov. Dave Heineman's proposed tax-cut plan continues to shrink and now sits at less than one-third of what he proposed just a few weeks ago.
Sen. Abbie Cornett of Bellevue, chair of the Legislature's Revenue Committee, unveiled the newest version of the proposal (LB970) Tuesday, which lawmakers later advanced from first-round debate on a 36-6 vote.
"It represents a down payment on tax relief that the governor and I promised to Nebraska taxpayers in January," Cornett said.
She also said it represented a compromise brokered by Speaker Mike Flood of Norfolk with Omaha Sens. Jeremy Nordquist, Heath Mello and Beau McCoy and with Sen. Lavon Heidemann of Elk Creek, chairman of the Appropriations Committee, "in light of the concerns a number of you have regarding the fiscal uncertainty" faced by the state.
While Heineman's plan -- which he's touting as a way to put money into the pockets of "hard-working low- and middle-class Nebraskans" -- has been tweaked and reduced, many lawmakers worry about how to pay for it.
If passed, it would push the shortfall lawmakers will face next year when they begin building a new, two-year budget from $492 million to $589 million.
"Next January ... you are going to be begging and pleading and scratching and clawing for every dime," Omaha Sen. Burke Harr warned his colleagues. "We don't have the money."
Heineman's plan originally would have cost $327 million over three years. It was then pared to $148 million and then to $97 million on Tuesday.
The amended plan axed a proposed reduction in corporate income tax rates and jettisoned the governor's plan to eliminate inheritance taxes, which are paid to Nebraska's 93 counties and amount to as much as $48 million a year.
An analysis from the non-partisan OpenSky Policy Institute said the state cannot afford the plan.
"We should be focused on getting our fiscal house in order and addressing the ... deficit, not adding to it," said Renee Fry, OpenSky's executive director. "Tax revenues have increased from recent lows in 2009 and 2010, but current projections show low revenues through at least 2015. It would be unprecedented to enact a major tax cut when the state is facing a deficit as large as today's.
According to a handout distributed by Nordquist, the amended plan would lower the tax bill for a married person earning $50,000 a year by $67.02.
Sen. Colby Coash of Lincoln spoke in favor of the plan.
"As modest as it is, it means something to a lot of the working families of my district," Coash said.
Heineman has said the state can afford a tax-cut package if spending increases are kept at or near the historical average of about 3 percent. The Revenue Committee and OpenSky have been using projections that show spending increasing a bit more than 7 percent -- the bulk of which already is called for in existing state law.
The bottom line: If Heineman's plan is adopted, other programs, including state aid to schools, will have to be cut.
"We continue to eviscerate our revenue base, the projections for the deficit grow deeper, and you say 'Don't worry about it. It's not gonna impact real people. ... We'll be able to manage,'" said Sen. Danielle Conrad of Lincoln. "Be skeptical. I'm skeptical."
Cornett said the plan sets priorities for spending and provides needed tax relief to low- and middle-income Nebraskans.
"We need to give back to the people," she said.
The bill faces two more rounds of consideration.