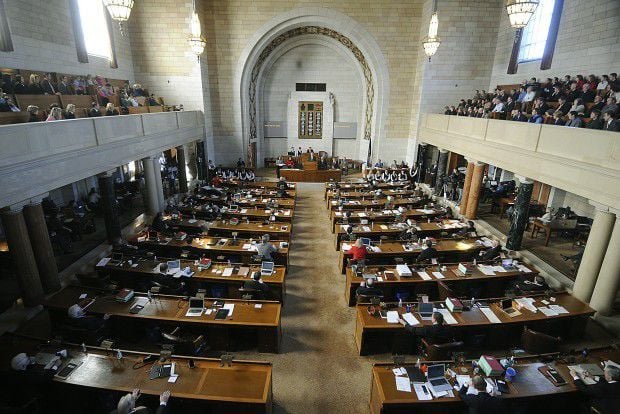 Here's the long and short of it.
A long list of bills, some worth noting, never made it past the gatekeepers in this two-year session of the Legislature. They were blocked by the 16 standing or special committees that determine whether to advance bills to the full Legislature for debate.
The bills related to illegal immigration, the Pledge of Allegiance, divorce, predatory towing, freedom of conscience, sex education in schools and lanterns that float in air -- to name a few.
A few bills died or were pulled or never debated once they got there, including one (LB276) introduced by Omaha Sen. Brenda Council that would have replaced the death penalty with a sentence of life in prison without parole and another (LB203) that was amended into another bill that would have allowed for a petition for commutation of a life sentence for inmates convicted before they were 18.
A bill (LB239) introduced by Sen. Charlie Janssen of Fremont that would require Nebraska voters to show identification died after supporters failed to end a filibuster against it.
During the 102nd Legislature, senators introduced 1,172 bills. Exactly 271 passed last year, and the final number this year will be determined Wednesday when senators try to override several bills vetoed by the governor and pass another (LB807) on final reading that would return certain firearms that had been seized to their owners.
During the 87-day 2011 session and the 60-day 2012 session, 558 bills were held in committee and will die when senators adjourn for the final time Wednesday.
Nearly 20 percent of the bills held back were in the Judiciary Committee, which traditionally receives a large number of bills.
They included proposals that have been controversial, both here and in other states, including these:  
* An Arizona-style illegal immigration bill (LB48) that would have required law enforcement to check the immigration status of a person lawfully stopped, detained or arrested when it was reasonable to suspect he or she was in the country illegally. At the same time, it prohibited profiling based on race, color, religion, sex or national origin.
Another bill (LB569) would have required all employers and contractors to verify any new hire's status. And a resolution (LR39) would have urged Nebraska's congressional delegation to create a workable and humane immigration system.
* A bill (LB275) that would allow for prosecution for escaping from a regional center.
* A "stand your ground" bill (LB298), like the controversial Florida law, that would allow a person to use force in self defense, outside a home or car without the obligation to retreat.
* The Freedom of Conscience Act (LB461), which would have required a hospital or clinic to accommodate employees' religious or moral beliefs and practices related to abortion, except when a patient would be in danger of dying or being injured without it.
* A ban on the use of any foreign laws (like Sharia laws) in Nebraska court decisions if they violate U.S. or Nebraska liberties, rights or privileges.
* Prohibition of novelty lighters (LB469) and floating lanterns (LB1119).
* The ability of a personal representative for someone who has died to take control of or terminate digital account, such as Facebook (LB783).
Bills that would die in other committees include these:
* The so-called "winner take all" bill (LB21), that would award all presidential electoral votes to the statewide popular vote winner. The bill is stuck in the Government, Military and Veterans Affairs Committee, with four members in favor and four opposed. At least one member will be replaced next year due to term limits.
* A proposed constitutional amendment (LR375CA) that would give the Legislature authority to legalize casino gambling, allowing Nebraska to build casinos within 60 miles of a border state -- unless the border state agreed to share some of the tax revenue.
* A bill (LB123) that would make cyber bullying grounds for long-term suspension, expulsion or mandatory reassignment in school.
Bills that die at the end of a session can be introduced again -- with changes if the introducer chooses -- in the 2013 session.