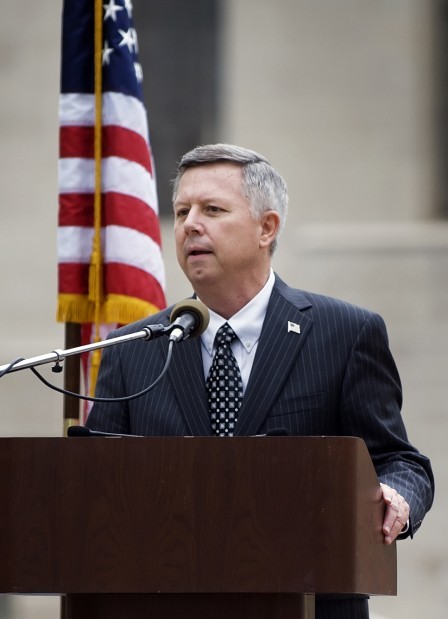 Gov. Dave Heineman signed the roads funding bill into law Tuesday but at the same time said he was concerned about whether the state could afford it.
"This was a difficult decision," he said in a statement Tuesday night.
Heineman acknowledged that the state needs more funding for roads but said he still does not like the delayed implementation of the bill (LB84). Collection of the quarter of 1 cent from the existing 5-cent sales tax for roads projects would begin in 2013.
"Recent revenue forecasts have been encouraging, and now it is possible that the state may be able to afford increased roads funding," the governor said. "If not, I have received assurances from many state senators that they will make the appropriate adjustments in the 2013 budget process."
The governor previously had said that Sen. Deb Fischer of Valentine, the bill's sponsor, wanted to move quicker on the proposal than he did. The state should wait until next year at a minimum before making a decision, he said. 
"I don't have a crystal ball about 2013," he said last month. 
Fischer was convinced the proposal represented a more predictable way to pay for new roads and improvements by designating a small portion of the existing 5-cent sales tax. On the second round of debate, she reduced the amount of sales tax to be earmarked for roads from a half-cent to the quarter of 1 cent.
Collection of the tax could bring in $65 million or more annually and an estimated $1.3 billion over 20 years.
You have free articles remaining.
The delay would give the Roads Department time to plan projects. It has a list totaling about $815.9 million of roads construction and improvements that have been delayed.
Tuesday night, Fischer said she was glad the governor signed the bill. She acknowledged that road construction and improvements are expensive, but providing good, safe roads is a core responsibility of government, she said.
"My concern has always been safety," she said.
"I think now we can move forward together." 
Ten senators voted against LB84 on final reading. Opponents had maintained the bill was fiscally irresponsible and flawed. It would take money that was critically needed from other core responsibilities of government, including education, public safety and human services, they said.
They filibustered the bill on two rounds of debate.
Omaha Sen. Heath Mello said Tuesday night he was shocked the governor signed the bill after the statements Heineman had made during its debate a month ago.
Heineman had called Fischer's plan bold but risky and unaffordable in the current economic climate.
"This is the flip-flop of flip-flops," Mello said.