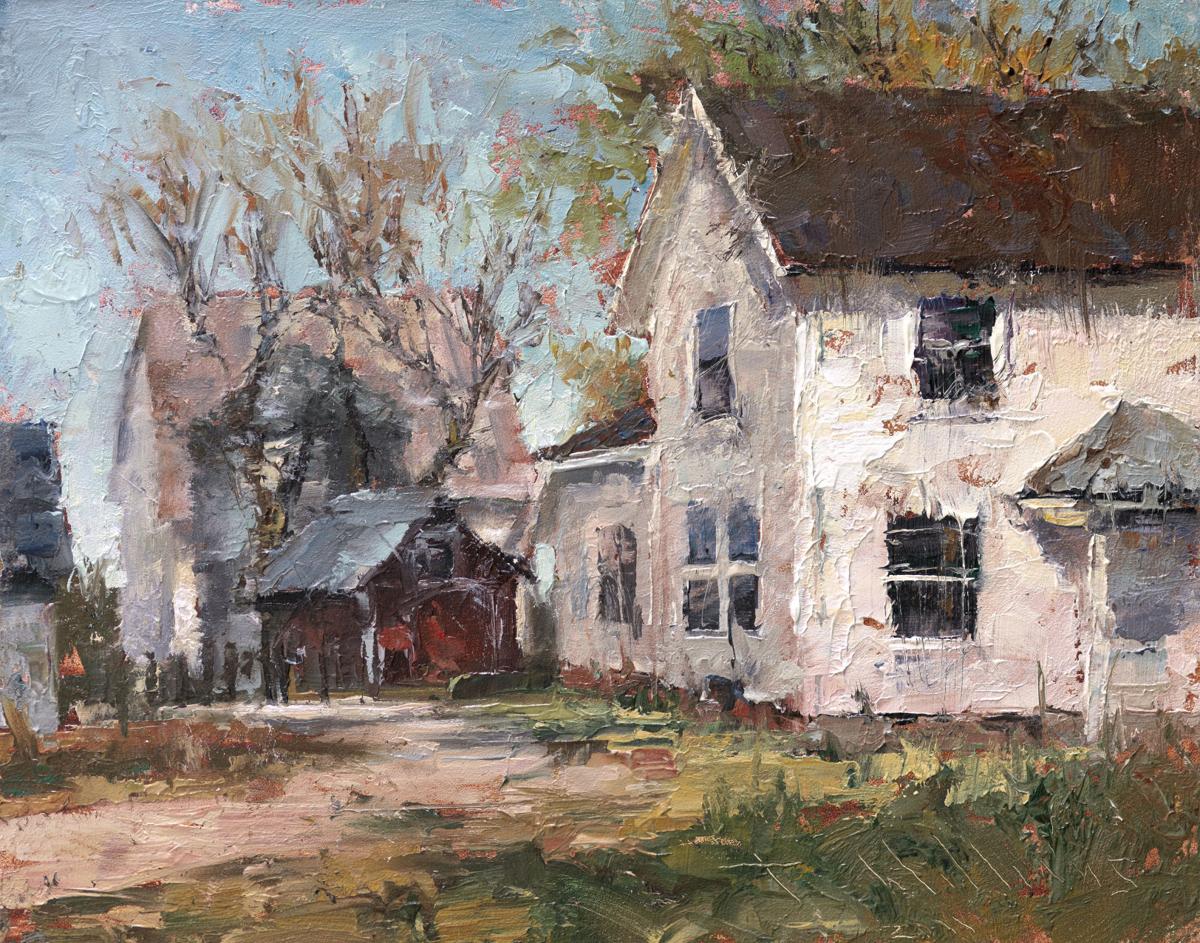 Are you feeling nostalgic about your home state? There are numerous opportunities throughout the year to celebrate 150 years of Nebraska.
One of the signature events captures images from all of the state's 93 countries. Todd Williams, a Central City native inspired by the awesome sunsets of his childhood, created 123 paintings now on display at the Nebraska History Museum through June 4 as part of the state's sesquicentennial celebration.
The paintings cover a range of subjects from portraits of famous Nebraskans, likely drawn from photographs, such as a teenage "Johnny Carson" spreading a deck of cards on a Norfolk street in Madison County; young author "Mari Sandoz" looking straight at the viewer from Sheridan County; Howard County baseball pitcher "Grover Cleveland Alexander" winding up; and an impressive portrait of "Standing Bear," from Dixon County, one of a handful of images of Native people.
The exhibit, Painting the Legacy of Nebraska, will be at the Stuhr Museum of the Prairie Pioneer in Grand Island beginning June 17, and in August, the collection will be displayed at Gallery 1516 in Omaha. This is the last time the whole collection will be together. After that, the exhibit will split up into five groups, and venues in David City, Lexington, Beatrice, Fremont and Scottsbluff will each display some of the paintings.
Here are some highlights of Nebraska 150 signature events. (Find more at ne150.org.)
* April 1-2: "Nebraska Poetry: A Sesquicentennial Anthology, 1867-2017." The book will debut with a launch and readings at UNO's Criss Library on April 1, with the official statewide launch at the Jane Pope Geske Heritage Room of Nebraska Authors at Lincoln's downtown library April 2. The Nebraska poetry anthology encompasses 150 years of the state's literary history, featuring 80-plus poets and more than 180 poems.
* Starting April 7: Truckin' Through Nebraska. A mobile children's museum will visit 42 communities and teach thousands of kids about Nebraska's history — and its future — through interactive games and activities, including a butter-churning, cow-taming and wheelbarrow-pushing farm chore competition.
* June 1-3: Dedication of the National Willa Cather Center, and the Willa Cather Spring Conference in Red Cloud, celebrating the life and writings of the Nebraska-born Pulitzer Prize winner. The Willa Cather Foundation is creating a state-of-the-art archive, museum and arts center.
* June 17: Nebraskaland Days. Nebraska 150 has partnered with the event to stage the official grand parade of the sesquicentennial. "It will be even bigger and better than it normally is," said Nebraska 150 Director Regan Anson.
* Aug. 4-6: NE 150 Whistle Stop Tour. A Union Pacific Streamliner locomotive will travel border-to-border, carrying Nebraska dignitaries and speakers. The train will leave Omaha and stop at rallies in Columbus, North Platte, Ogallala, Sidney, Gering, Kearney and Grand Island before returning to Omaha. Sorry, the railroad isn't offering tickets or tours.
* Sept. 22-23: Salute to the Good Life. Two days of performances, music, food trucks and a tailgate party before the Nebraska-Rutgers homecoming football game. 
* Oct. 13-14: Steamboat Trace Festival and Gran Fondo. The Gran Fondo (long-distance bike race) will begin at Arbor Lodge and end in Brownville. Cyclists will see farmland at or near harvest, the Missouri River and bluffs, flora and fauna, and share in events and festivals in three historic towns -- Brownville, Peru and Nebraska City, Buses will run between towns.
All year: "Bridges Sharing Our Past to Enrich the Future." Traveling exhibit of 93 photos, one from each county, that were selected from more than 800 submissions. On display June 1-July 28, Seward Civic Center; Aug. 1-Sept. 22, North Platte Prairie Arts Center; Sept. 7-Oct. 26, Norfolk Art Center; Sept. 26-Nov. 10, Carnegie Arts Center in Alliance; and Nov. 24-Jan. 7, Durham Museum in Omaha.
Other Nebraska 150 events
* Nebraska Impact, which encourages each Nebraskan to volunteer 150 hours or more in 2017. The website allows people to sign up for volunteer teams, compete against other teams and find volunteering opportunities across the state.
* NE150 Challenge, a partnership with the Nebraska Sports Council that asks people to complete 150 miles or more of physical activity. People can register online, log their miles, convert miles for non-distance activities such as yoga or weight-lifting, form teams and compete with other teams.
* Now You Know Nebraska, which features 150 short videos with random facts about the state and its history.
* I Am Nebraska, an oral history project that will solicit people's stories about the state and will include videos of select stories. People can also submit their own videos.
* Nebraska by Heart, a statewide project where participating artists transform 6-foot fiberglass hearts into individual sculptures. The projects are funded by private individuals, groups and companies.
* Nebraska Lottery players can buy $2 scratch tickets with the Nebraska 150 theme. There are 15 top prizes of $1,000, and 500 tickets worth $150.