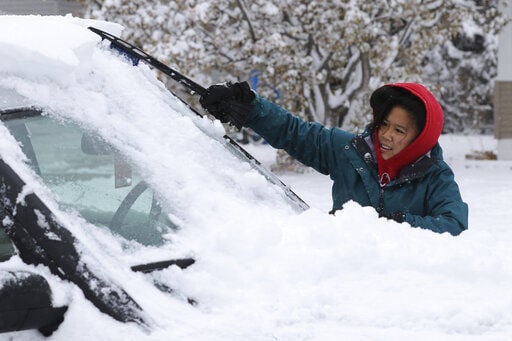 A foot of snow blanketed areas of Nebraska ahead of the long Thanksgiving holiday weekend, part of a storm system that closed highways from California to near Lincoln and forced more than 1,000 travelers to sleep overnight in Denver's airport.
By Tuesday evening, there were reports of 12 inches of snow at Kimball in the Nebraska Panhandle, where the snow began falling Monday.
Harrisburg saw 11 inches, Oshkosh recorded 10 inches, 9 inches fell near Mullen and Benkelman, and Holdrege got 8 inches, according to reports to the National Weather Service.
"The weather hasn't affected us too much, but we definitely have a lot of snow out there," said Kenny Brent, manager of the Sidney Motor Lodge. "The one thing I have noticed is there isn't a lot of traffic, and the roads seem to be pretty empty."
The same was true in Nebraska's ranch lands.
"People pay attention to the weather more now than in the past, so they'll stay put if it's bad," said Patty Glidden, who runs the Sandhills Motel in Mullen.
The weather service included most of the state in a winter storm warning, and the threat of bad weather led several school districts to keep their band and students at home instead of busing them to Lincoln to cheer on their teams in state football title games.
As the snow moved east, 7-inch totals were reported in Kearney and Grand Island, with snow still falling in those areas at 6 p.m. Heavy snow was expected across northeast Nebraska as well.
At 9 p.m., Interstate 80 was closed in both directions between Kearney and York, due in part to poor visibility in the area. Lanes were open by Wednesday morning.
You have free articles remaining.
Lincoln, as expected, saw a mixed bag of precipitation, including rain, sleet and snow. High-traffic areas saw little accumulation by mid-evening, although grounds crews grabbed shovels to clear the yard lines at Memorial Stadium ahead of Tuesday night's Class A championship game.
As of 9 p.m, Lincoln officials said in a news release that trucks continued applying salt and anti-ice brine to arterial streets, school and bus routes. Heavily traveled street surfaces were expected to remain above freezing Tuesday night, but slick spots were possible in untreated areas.
The snow was expected to end in Lincoln overnight.
At Denver International Airport, about 10 inches of snow mixed with winds that limited visibility prompted the cancellation of about 30% of the airport's average daily 1,600 flights.
A Southwest Airlines spokesman said it would take "a couple of days" to get stranded passengers on other flights during the pre-Thanksgiving travel crush.
About 1,100 people spent the night at the airport, including many cadets from the Air Force Academy near Colorado Springs who either missed flights or wanted to get to the airport before road conditions deteriorated, airport spokeswoman Alex Renteria said.
Among them was cadet Sadie Luhman, whose trip to the airport took three hours — twice the normal driving time. She got to the airport at 1 a.m., 10 hours before her scheduled flight to Chicago.
The Associated Press said airport workers handed out blankets, diapers, baby formula, toothbrushes and toothpaste to passengers who camped out on floors and in chairs.
The storm dumped nearly 3 feet of snow in parts of northern Colorado and closed long stretches of highways there and in Wyoming. One person was killed, and two others were injured when a tractor-trailer jackknifed and was hit by two other trucks on Interstate 70 near the Colorado ski town of Vail.
Photos: Snowstorm sweeps across Nebraska
The Associated Press contributed to this report.
Reach the writer at 402-473-2647 or molberding@journalstar.com.
On Twitter @LincolnBizBuzz.