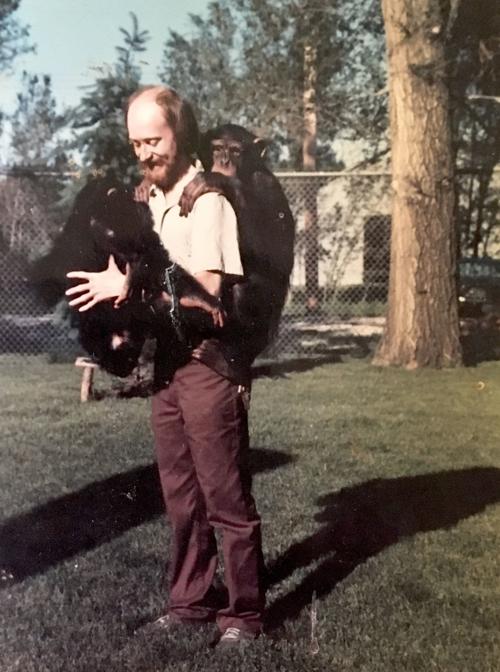 They were rolling down Highway 20 in the late summer of 2009, returning to his girlfriend's house in Plainview after exploring Antelope and Pierce counties.
Carson Vaughan didn't know anything about this part of the state. It was still unfamiliar ground to him.
"When you grow up in Broken Bow, you don't spend a lot of time in northeast Nebraska," he said this week. "There's not much of a reason to."
And the English and journalism major also didn't know that what his girlfriend would say next — as they slowed for the wide spot in the road called Royal — would make this his second home for the next 10 years.
"Mel just very nonchalantly threw her thumb out the window and said, 'Oh, hey. That's where Reuben got shot.'"
"And I was like, 'Who was Reuben?'"
Reuben was a chimpanzee, of course, a celebrity in rural northeast Nebraska.
He'd been killed four years earlier when he escaped the enclosure Johnny Carson's money built in one of the smallest of towns.
But Reuben would also become the reason the UNL senior returned to Royal the next weekend, and kept returning for years — driving northwest from Lincoln on weekends as an undergrad, flying from North Carolina while getting his master's — to ultimately spend hundreds of hours untangling the story of the Royal Zoo.
Reuben would first serve as a supporting character in Vaughan's senior honors thesis, which would lead to a project more complicated and more demanding than he could have ever imagined that moment he heard the chimp's name on Highway 20.
"I'd go the first day thinking this was just about a chimpanzee escaping in a small town," he said. "Then I find out those four chimps are retired entertainment chimps from Los Angeles."
And then he'd find out about one man's passion for primates and his distaste for zoos, even though he'd founded Royal's. About the small-town dynamics at play in the background. About the decisions that led to the chimps setting themselves free that day, opening their own gate, sealing their own fate.
"The more I talked to people, the more those layers began to reveal themselves."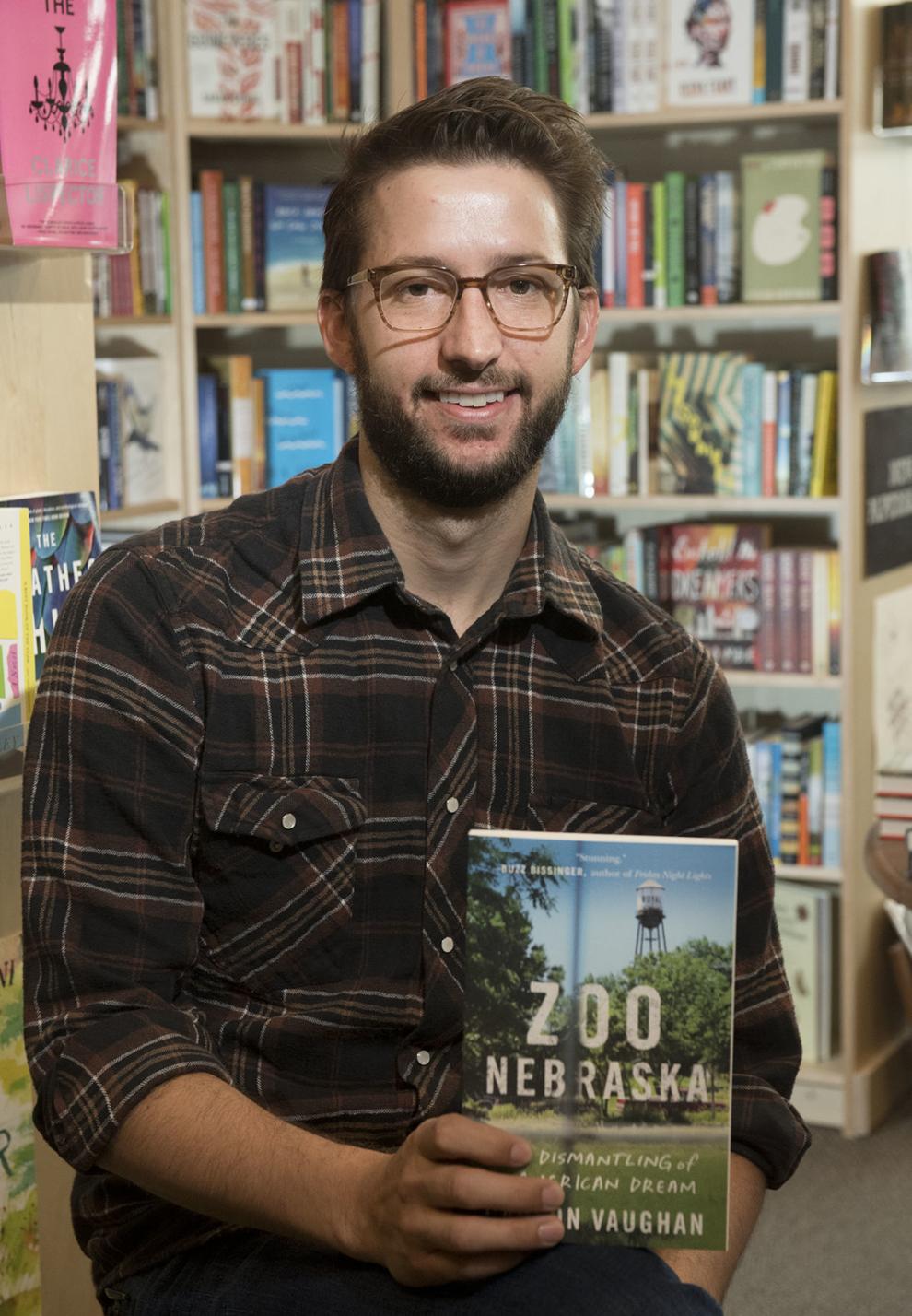 Then, finally, after successes and setbacks, he'd find himself reading from his book — "Zoo Nebraska: The Dismantling of an American Dream" — in Chicago, and across Nebraska, and getting ready for gigs in Kansas City and Milwaukee, all because his future wife had stuck her thumb out the car window and pointed.
But it took him a third of his life to get here.
He finished with a detailed, thoroughly reported book, but here's what Vaughan knew when he started: Four chimps escaped the small-town zoo and briefly terrorized Royal in September 2005, and three were shot.
He also knew he was desperate for something to write about for his journalism senior honors thesis.
That day his girlfriend, Melissa Dohmen, pointed out where Reuben was shot, Vaughan learned the zoo was selling it all — a calving shed, the 8-foot fence, the ground itself — at an auction the next weekend.
He showed up and felt the glare of the locals. A young outsider with questions. But after spending just a little time in Royal, he also felt like he'd stumbled onto a story worth telling.
"You could feel a tension simmering under the community. When I would ask people about the zoo or about Reuben or about the shooting, people clammed up on me," he said. "It didn't feel like they had accepted what had happened yet."
The more he reported, the more he realized what had unfolded in Royal, despite its population of 65, could support the weight of a book. He discovered a cast of colorful and controversial characters, the type of bitter histories that can fester in small towns, an unexpected cameo by Johnny Carson, the climactic scene — and a protagonist.
But Dick Haskin wasn't talking.
Haskin had been an eighth-grader in Royal — the only student in his class — when he had an epiphany watching a National Geographic filmstrip about Jane Goodall's work with chimpanzees in Tanzania.
Haskin carried his obsession to the university in Lincoln, and then to Folsom Children's Zoo, where he met Reuben, and almost went to work for Dian Fossey in Africa.
He started what would become the Royal Zoo in 1986 with a tunnel-vision goal of creating a primatology research center, he and Reuben traveling north from Lincoln in the back of his father's farm truck, the chimpanzee moving into a corn crib.
Haskin was the heart and the muscle of the struggling zoo for years, working long hours for little pay. But he was also naive and underfunded and overwhelmed, becoming as captive to the zoo as the animals it held. He finally fled in 2000, telling the zoo's board that if he didn't, he was going to die.
And now, a decade later, he had no interest in talking with a first-time author about his dismantled dream.
Vaughan tried. And tried. He drove north to meet with Haskin, got shut down and drove home.
He kept reporting, hunting down minutes from the zoo board meetings, requesting squad car dash cam video from the day the chimps escaped, meeting people who were willing to talk but finding just as many who weren't.
He finished his first book in 2014 and was buoyed by the response. Three publishers were expressing interest. But then they retreated, and it seemed like whatever spark his book had had gone cold.
Nobody wanted it. He feared he'd wasted years, trying to tell a story nobody wanted to hear.
"I definitely lost hope," he said. "I basically shelved it."
And then he and Melissa spent a year pulling a camper around the country, logging 60,000 miles and returning home to a pair of pleasant surprises.
First, a new editor at Little A — Amazon's literary fiction and nonfiction imprint — wanted to publish Vaughan's book.
And Dick Haskin was ready to talk. Vaughan spent three days on Haskin's land north of Royal, adding to the story he'd already spent so much time on, turning Haskin into a three-dimensional character.
"He told me literally everything I wanted to know about the zoo and the tragedy," he said. "Obviously, I had to redo it."
Vaughan's been busy since the book came out in April. He's given a dozen readings, finding the scheduling and self-promoting more exhausting than the work that goes into finishing a book. But also, in some ways, just as rewarding. He's meeting strangers who are interested in what he wrote.
"You spend 10 years writing a story that no one has read but your wife, you start to think you're probably going crazy," he said. "When you see the impact it had on people, that's pretty cool."
He's had his literary heroes — Joe Starita and Buzz Bissinger and Susan Orlean — contribute dust jacket blurbs. He's had favorable reviews and coverage in New York magazine, the Los Angeles Review of Books, Publisher's Weekly.
But he treasures most the email Haskin sent him. The man who built the Royal Zoo had read an advance copy, and told Vaughan he did a wonderful job.
"Then he said, 'I hope you write a second book, and I hope I'm not in it.'"