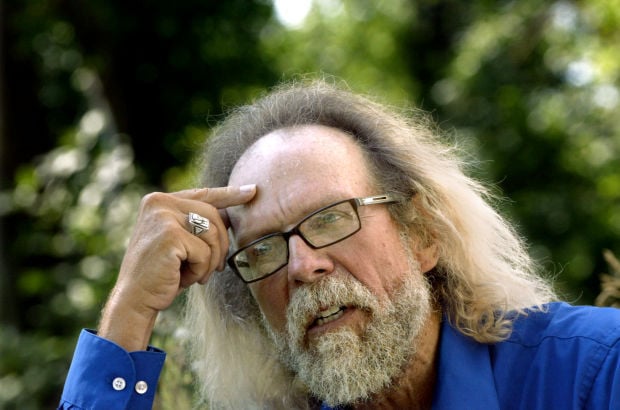 A white supremacist with a criminal history and reputation for terrorizing his neighbors has people in both Nebraska and Kansas on edge for fear their communities could be the next target of his effort to create an enclave.
Paul Craig Cobb surfaced this month in several towns with populations of about 1,000 in south central Nebraska and north central Kansas.
Officials in the Kansas towns of Smith Center and Lebanon are warning people not to sell property to strangers offering cash after a man believed to be Cobb tried and failed to buy buildings in those towns.
But he snapped up three properties at a Sept. 23 sheriff's tax sale in Webster County, Nebraska. According to the district court there, Cobb paid $125 for two properties in Red Cloud and $3,410 for one in Inavale. The paperwork has to be approved by a district judge, which is expected to happen in November.
And in August, a Facebook page dedicated to creating an enclave in Franklin appeared. Last week, pictures posted there showed a man who appears to be Cobb posing in front of homes and landmarks, one with the caption, "Ahhh Franklin, NE, what a great town for a PLE!"
The acronym stands for Pioneer Little Europe, a euphemism for an all-white community. 
After news spread of the Red Cloud purchases, the town of 1,200 called an emergency meeting that drew nearly 100 people Tuesday night, Mayor Gary Ratzloff said.
Red Cloud doesn't want Cobb, said Mike Goebel, who lives there, but there's nothing the community can legally do at this point to keep him out.
"The way they are promoting hate through Facebook, we don't want to see that in Red Cloud. I don't want our children to be raised in a town where that is out in the open," Goebel said.
Cobb has been known to publish the names and addresses of people who disagree with him, and has mentioned Goebel and his wife on social media.
Goebel said it's a clear attempt at intimidation, but he's not losing any sleep.
Webster County Chief Deputy Sheriff Ron Sunday said law enforcement is aware of Cobb's history and community concerns, but it's not illegal to buy property.
Cobb lives in Sherwood, North Dakota, where he is on probation after pleading guilty in 2014 to one count of felony terrorizing and five misdemeanor counts of menacing people in the town of Leith.
Cobb began buying dilapidated houses in the tiny hamlet, population 20, in 2012. By the time he announced plans to create an all-white home for neo-Nazis, he owned a dozen properties.
He gave plots to some of America's most infamous white supremacists but only convinced one family to move to Leith, said Ryan Lenz, a senior writer at the Montgomery, Alabama-based Southern Poverty Law Center that has followed Cobb for years and broke the Leith story.
Cobb eventually was arrested with Kynan Dutton after they threatened people with rifles while patrolling the town.
Earlier this year, Cobb tried to buy property in Antler, North Dakota, but the city spent $35,000 to buy up more than 20 properties to keep him out, according to the Grand Forks Herald.
It's not clear what Cobb intends with his recent scattershot approach to buying land in Nebraska and Kansas.
He could be trying to reassert his credentials with white supremacists, he could be trying to restart his dream of an all-white enclave or he could have other motives, Lenz said.
"He may just be looking for a place to live, but I don't think that is the case," he said. "It is quite possible Craig Cobb seems to be by all accounts a person who likes to go in and stir things up, shake people's perspectives on things and get them angered. It's a shock-value thing."