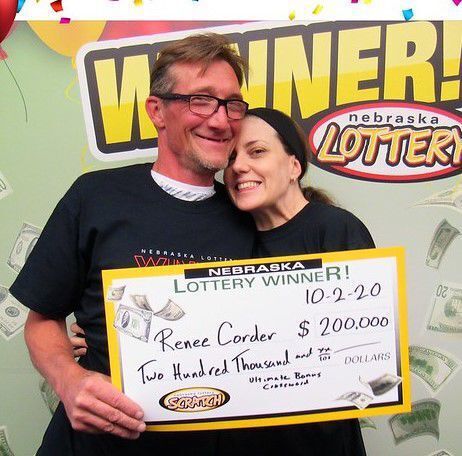 Renee Corder's dad heard a funny noise when he was talking to his daughter on the phone recently.
Corder had bought a $20 Ultimate Bonus Crossword Scratch ticket from the Nebraska Lottery at a Casey's convenience store.
"He asked, 'What's that noise?'" Corder told lottery officials in Lincoln Friday when she stopped in to claim the prize. "I joked that I was scratching off a $200,000 winner."
Turns out it was no joke.
At first, Corder thought she had won $500. Nope, $1,000? Maybe $5,000? 
Then she realized she had won the game's grand prize: $200,000.
Corder and her dad were both stunned. So was her husband, Jeromy.  She beat odds of 1 in 90,000 against winning the Ultimate Bonus Crossword jackpot.
The Corders plan to use their winnings to pay off some debts.
"We are blessed," Renee said. "The Lord blessed us."
Corder broke a bit of a dry spell for the Nebraska Lottery. She was the first to claim a six-figure prize since Mya Win of Omaha won a $140,000 Pick 5 prize Aug. 20.
There is a recent prize that remains unclaimed. Someone bought a winning Pick 5 ticket at the Kwik Stop on North Jeffers in North Platte for the Sept. 29 drawing. The winning numbers were 8, 10, 21, 28 and 29. The ticket is worth $138,000.