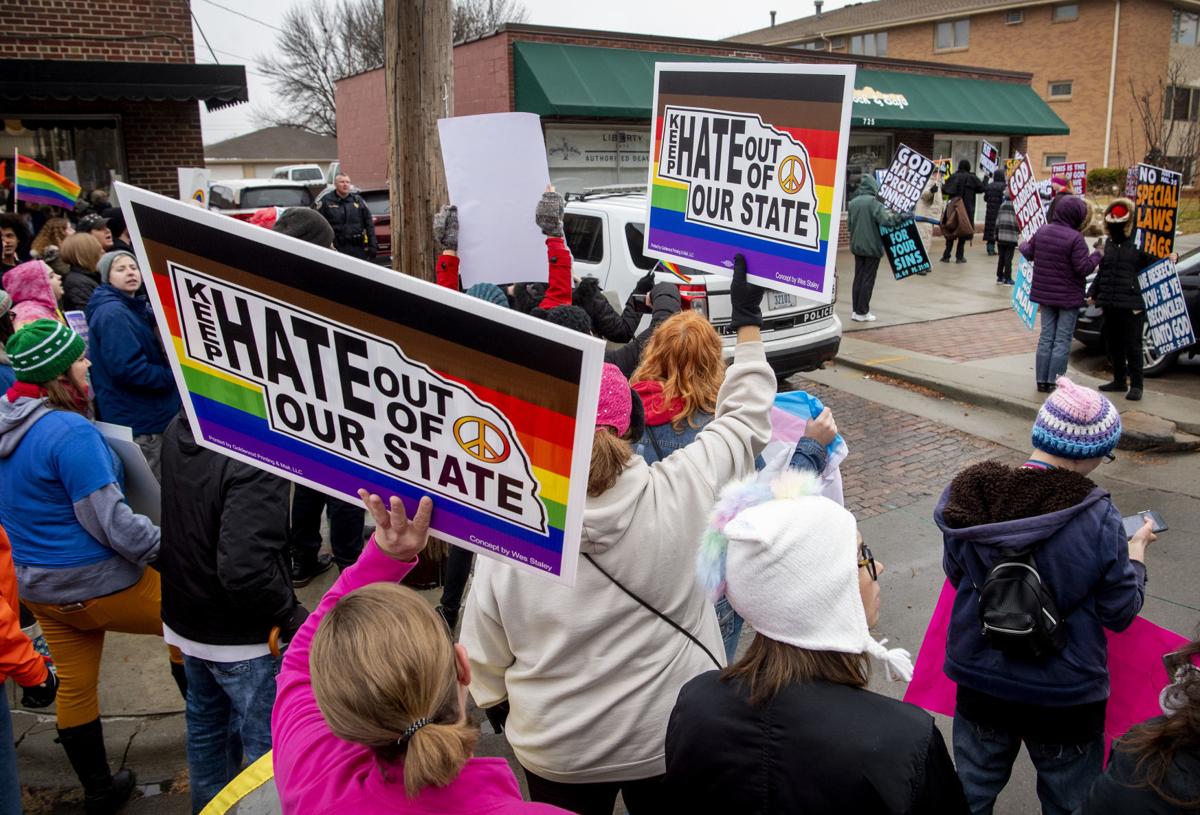 The Westboro Baptist Church arrived to protest a coffee shop south of downtown Lincoln on Friday with oversized, laminated signs that read "God hardens your hearts" and "Most people go to hell" in block lettering.
Waiting for them in front of Cultiva Coffee on a cold, drizzly morning after Thanksgiving were more than 100 people with their colorful, handmade signs conveying messages like "Homophobia is NOT groovy" and "God is love."
For the next half-hour, members of the Kansas church known for its anti-gay stance and picketing the funerals of military service members stood silent and largely with their backs turned to the counterprotest that quickly transformed into a pep rally.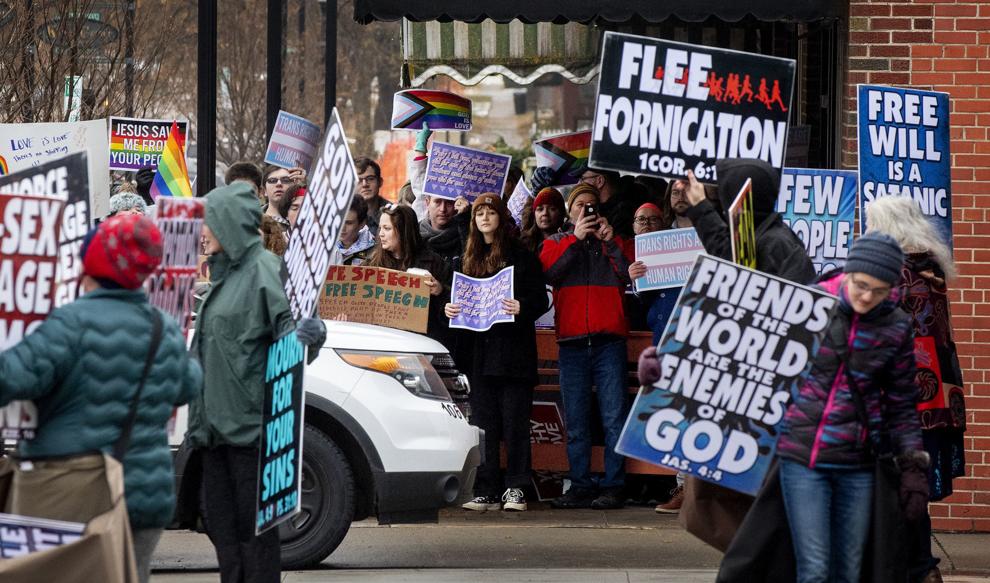 "Hey, hey, ho, ho, Westboro Baptist has got to go," the protesters chanted to a staccato beat of a drum across an alley that served as a buffer zone between the two groups. "Black, white, gay, straight, we do not discriminate," another chant went.
Michael Marcheck, who helped organize the response, said the goal of Friday's event was to create a barrier between the group the Southern Poverty Law Center calls "arguably the most obnoxious and rabid hate group in America" and the coffee shop, which serves a racially, socially and politically diverse clientele.
"The goal was definitely to outnumber them," Marcheck said. "I think we've done that."
Earlier this year, Cultiva Coffee was thrust into the middle of a political and cultural firestorm after an employee yelled at a conservative activist and employee of Nebraska Family Alliance to leave the store where several workers are members of Lincoln's LGBT community.
Natalie Weiss, who is transgender, was immediately fired by Cultiva for the incident. Weiss, who also helped organize Friday's counterprotest, apologized for her "unprofessional" behavior toward the customer, but said she did not regret standing up for Cultiva's staff.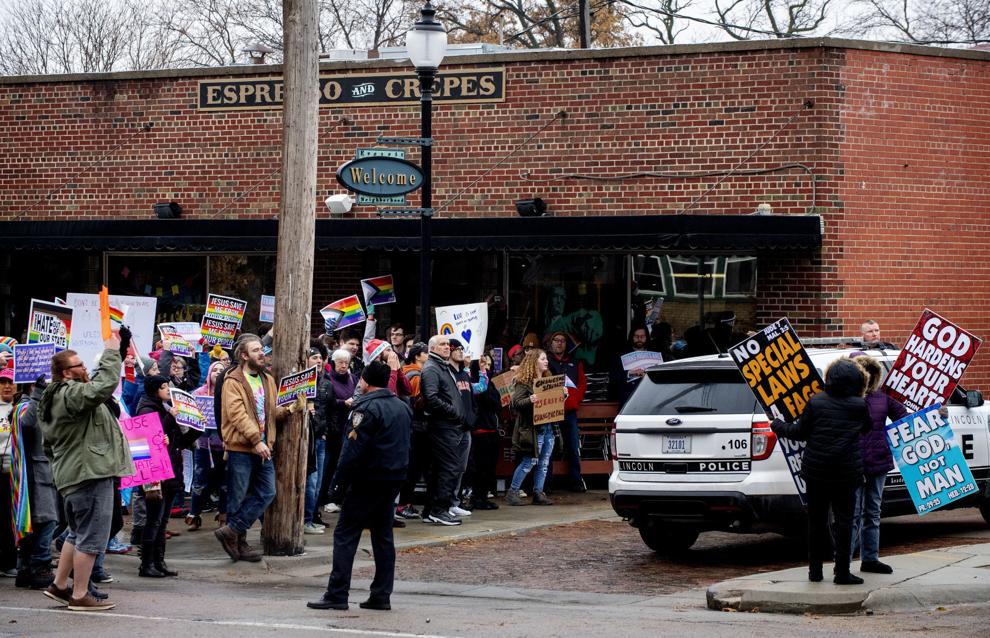 The coffee shop's owners later said their goal was to make a place where everyone feels welcome, adding later they are "proudly liberal … and believe in human rights and diversity to the fullest degree," which prompted backlash online and landed the store on Westboro Baptist Church's radar.
But shortly after the church announced its intention to add Cultiva to its list of planned protests in Lincoln — members, including children, also picketed near Memorial Stadium on Friday — a counterprotest soon began to gel via social media.
Standing on the curb in front of Cultiva, Emily and Kyle Elder said they wanted to show Westboro that "there is no room for hate in this state."
"We're here and we're Nebraskans," Emily Elder said. "We want Nebraska nice to be a real thing for everybody."
That so many Lincolnites and others showed up to support the LGBT community and to block the church should be taken as a signal of real change, Kyle Elder said.
"We're seeing the death throes of what was before the community grows into something new," he said, "which is people loving their neighbors."
About halfway through the protest, Lanie Schlueter snapped a photo of friend Markuz Oziminski holding a sign that read "I'm with stupid" with the Westboro protesters in the background.
The two said they had seen plans for the counterprotest across social media all week and decided Thursday night they would attend.
"This is something I'm really passionate about, so I thought I'd come out here and express my opinions," Oziminski said. "It's disgusting that people actually think like this, that we deserve to die and God hates us.
"Everyone deserves to live, which I think is just a baseline human right," Oziminski added.
In a statement Friday, the Nebraska Family Alliance called the church "an awful, repugnant organization that has absolutely no association or affiliation of any kind with Nebraska Family Alliance or its staff." 
Separated by an alley and a Lincoln Police cruiser and under the watch of a half-dozen uniformed officers, the relatively brief protest and counterprotest remained peaceful.
As church members slid their signs into canvas bags and loaded into a pair of vehicles with Kansas plates at precisely 11:30 a.m. bound for their next picket line, the counterprotesters outside Cultiva bid them a musical farewell: "Na, na, na, na, hey, hey, hey, goodbye."