Wayne's power couple: A struggle for small-town identity, and the story of their success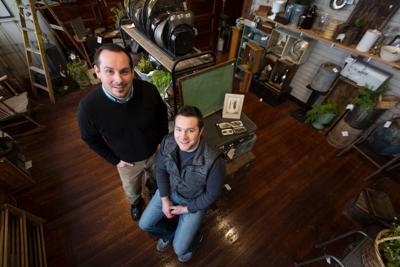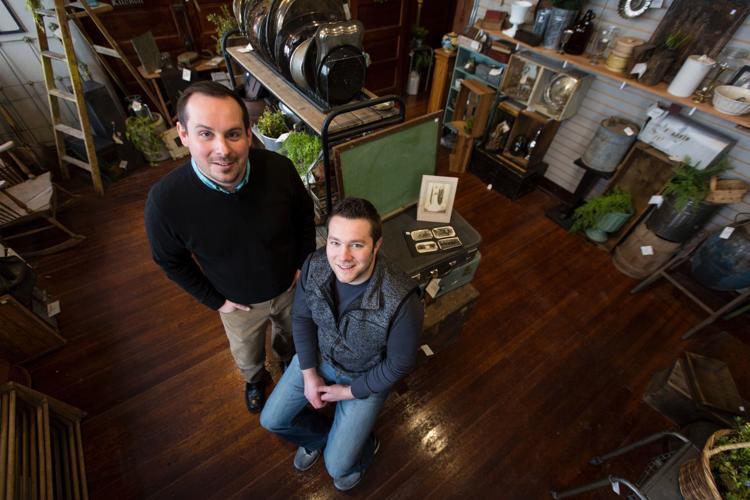 WAYNE — The dreary light of a February morning paints his face in the floor-to-ceiling windows. He gazes out at the small town's scorched-cement sidewalks and plain red-brick storefronts. But that's not what he sees.
Instead, Lukas Rix visualizes bed and breakfasts, pop-up boutiques and furnished apartments with a hillside view of downtown Wayne, a community of 5,000 nestled between miles of corn and soybeans in Nebraska's northeast corner, a place best known for its annual Chicken Show.
The 29-year-old and his business partner, Mark Kanitz, 31, have opened four businesses here in the last six years, drawing shoppers from miles away and helping jump-start a once-faltering downtown economy.
Rix stands in one of those ventures now: the original Wayne City Hall, built in 1912 and renovated to sell "rural hipster" decor. The others, a coffee shop, antique store and thrift store, are nearby. On good days, he estimates they draw enough traffic to comprise nearly one-fifth the town's population.
But life in Wayne also comes with a stark footnote for the two entrepreneurs.
It comes in the form of a stinging slur that walks through their doors in broad daylight or stands under a dim streetlamp outside a local bar. It's the feeling that people look at them differently or expect something momentous. The tension they feel every time someone asks what they are.
"We're not (seen as) the gay power couple of Wayne, Nebraska, like we should be," Rix says.
Despite establishing award-winning businesses in less time than it takes most kids to learn to read, Rix and Kanitz still endure the ignorant comments and token treatment that comes with being openly gay in small-town Nebraska.
Some, like Tanner Shopke, who knows firsthand how hard it is to grow up gay in Wayne, was shocked when he heard they wanted to open a business here in 2012.
"Everyone was like, 'Did you hear about the gay couple?'" remembered the 24-year-old, now one of their employees. "It was just like, 'Wait — there's gay people here? In small-town Wayne?' Like, why would they come here of all places?"
But they're still here six years later, gutting, plastering and painting future businesses, fighting for a downtown farmers market — Rix uses five "reallys" to describe how badly he wants it — and not letting up.
But it's not just about business. It's also about giving back. They've offered tours of their home for fundraisers, served on local boards and shepherded young entrepreneurs, in addition to employing 14 full- and part-time staff. In January, they received the local Business of the Year award.
And while they see the irony of putting so much into a place where they feel so different, the answer to "Why Wayne?" is bigger than that.
It's part of the same spirit that carried covered wagons through snowdrifts and scorching heat more than a century ago. The homesteaders who overcame adversity because they saw possibility in the plains. And although neither Rix nor Kanitz can till a field or drive a tractor, they feel one with that lineage.
"These were genius people who could see things before they even existed, and that's what an entrepreneur is," Rix said. "You find a market that nobody else sees."
When he was still in elementary school, Rix grabbed a pair of scissors and walked around his hometown of Lyons, a community of 800 people 30 miles southeast of Wayne, cutting flowers out of gardens and selling them back in vases.
"Do you know what Lukas has been doing?" he remembers his aunt asking his mother when she learned of his first business plan.
Wes Blecke, Wayne's city administrator, remembers meeting him in August 2008 during a business fair at Wayne State College, where Rix was a student, studying business and marketing. As large retailers and online marketers forced many businesses in Wayne to shut their doors, Blecke wanted to hear ideas to reverse the trend.
"I remember vividly that Lukas Rix came up to the table, pounded his fists and said, 'What this town needs is a consignment store,'" Blecke said.
Stores like that had come and gone, he thought. It won't work here.
In 2012, Rustic Treasures and its aisles of homey furniture and eccentric thrift items opened in downtown Wayne. Soon it moved across the street to a larger location with a coffee shop next door. In 2016, Rix and Kanitz relocated the thrift section to a new home, Thrift Warehouse. In 2017, they opened the 1912 Emporium, an explosion of greenery against "farmhouse industrial" decor that feels like the set of an HGTV show.
"He had it figured out way before any of us did," said Blecke, now Rix's mentor.
Along the way, others were swept up in this new vision for Wayne. Josie Broders quit her job as a human resources employee to design a 15,000-square-foot event center that will open in April and is a mix of an opulent cathedral and exposed-beam barn. Greg Ptacek quit his job and liquidated his 401(k) to start a craft brewery here after seeing his college friend Rix's success.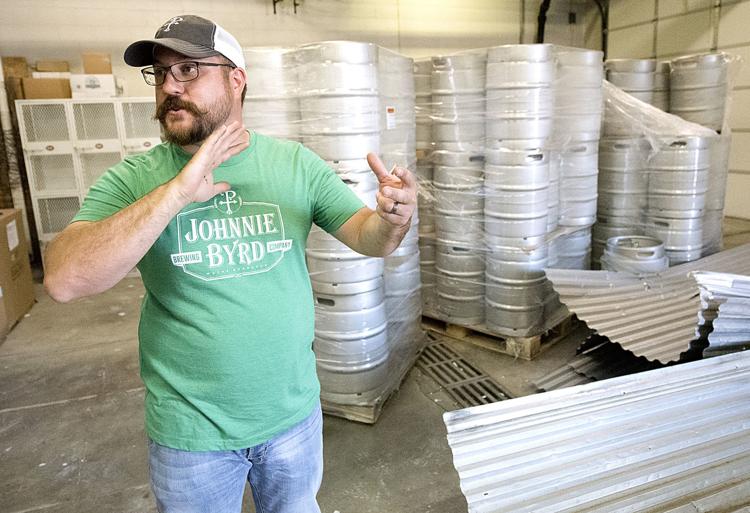 "It's been kind of a catalyst for a lot of other opportunity," said Luke Virgil, executive director of Wayne Area Economic Development. "Several different people can see the possibility, but someone has to jump off the cliff first to know that there is something down below."
But although Rix's risk-taking, "entrepreneur-on-steroids" personality is an advantage in business, Blecke said it needs a calming counterbalance.
Kanitz grew up in Wayne in a Lutheran family with a pastor father. He studied parish music at Concordia University in Seward and later become a part-time church music director.
He met Rix online in 2010 while living in Grand Island. For their first date in Wayne, Kanitz expected dinner or a movie at Rix's place. He got a paintbrush instead.
"I said, 'By the way, the front (of the house) has to be done by the weekend, so we have to get going on this,'" Rix said.
That brazenness still wins Kanitz over.
Since then, they've spent summer nights gutting century-old buildings, chiseling varnish off the stairs of a Victorian-era home and putting sweat and grit into everything they do. But at the end of the day, they crave silence in their home — drawn blinds, a comfy couch, their favorite movie or TV show.
There they don't have to guard against showing affection, worried about what someone might think. There they feel free of the gawkers who want to champion them but see their sexuality before their humanity.
There, they're just Lukas and Mark.
The couple stepped out of the bar's back door late on a summer night in 2017. Thick, warm air enveloped them as they ambled home, guided by streetlights, holding hands.
"What are you guys? Faggots?"
When they turned around, they saw a man who looked college-aged and drunk. Kanitz talked Rix out of starting a fight, but he still wanted to show the man how it felt to feel small. So he berated him into climbing into the trash, literally.
"I convinced him to get in the dumpster," Rix said. "I said, 'This is where you belong. If you're going to use words like that, this is where you belong.'"
In 2015, the couple received an anonymous letter. Including their lifestyle in the Wayne Historical Society's Tour of Homes had ruined the annual event, it read.
A year later, a newsletter from a neighboring coffee shop drew derision online with its advertisement of coffee for "REAL MEN."
"Reproduction Potential: Must marry a lady with similar ideals; because the liberals don't like reproduction, marriage, babies or kids, and are not willing to share the earth's ozone layer with others," read the description for a "right-winger" blend.
Melodee Younts, the owner of the building that houses Miss Molly's Coffee House and Country Store, said the anger was misplaced. The company values diversity and participates in charity work, she said. It doesn't discriminate. It had been selling the blend for a year-and-a-half before the description — clearly labeled as tongue-in-cheek humor — took off online.
"Because it's all labeled as being funny we saw it as being like a Hallmark card," she said, referencing that company's blunt humor on some select greeting cards.
Even the men's wedding was complicated. After the Supreme Court's ruling on marriage equality in the summer of 2015, acquaintances expected invitations, their church wanted to invite the entire congregation, friends wanted to invite state senators. 
Although they loved the idea of a big wedding, it wasn't right. Too much spectacle.
So, instead, on Dec. 11, 2015, they worked until 6 p.m., headed to church and 20 minutes later, were married in front of a handful of family and close friends. Kanitz saw cellphones out, but if pictures exist, he hasn't seen them.
"As much as we live our life in full openness, there's also certain areas we have to hold on to," he said.
For them, those are the compromises of living where they do, but it's not unfamiliar territory.
Neither came out until his junior year of college. When Rix finally said the words, he cried for two hours. It was as if a crushing weight was off his shoulders. A professor at Concordia opened his eyes: Despite a religious upbringing, Kanitz didn't have to be ashamed.
But he didn't receive unequivocal acceptance, and the topic remained tense years later when he and Rix got engaged.
"You can imagine what it was like telling your conservative, Lutheran pastor father you're marrying a man," Kanitz said.
The conversation amounted to, "You know, I'm happy for you, but you know my thoughts on this." It was the last time they spoke before his father died of a heart attack a month later.
Kanitz doesn't live with unresolved feelings, though. Even after he came out, his dad never stopped giving him the same big hugs he got growing up.
Rix has never talked specifically about his sexuality with his dad, although his father was at the wedding.
But those things aren't important to Rix. Living authentically is.
"It's probably an ego thing for me, but I don't ask permission for anything," he said. "I just do it."
That brings its own challenges in towns like Wayne, which they believe needs at least another generation to break down existing barriers. But others already see progress they never thought possible.
Shopke once felt isolated because of his sexuality. Now he sees kids more open about who they are. Part of that is the shifting social atmosphere, he said, but it also has to do with seeing people like him succeed and make a home here.
"That definitely opens up my world views," he said. "Anything's possible, really."
Tonight there's a chill in the February air. A snowstorm is expected early in the morning, so the town is quiet. But Rix and Kanitz are warm inside their home: curtains drawn, on the couch, illuminated by the soft light of an overhead lamp.
Outside, their talk is consumed with expanding business, increasing revenue and convincing more local stores to open on Sundays.
Kanitz points to where he could imagine their kids playing with Legos. Rix proudly recites the history of their Victorian home. Built in 1893 by the owner of a local brickyard, it had seen many generations before they bought it in 2013 and spent countless hours over two years stripping and chiseling it toward restoration.
They're giving it up to downsize, though, and both say they're not sad to leave it behind. It's a hard thing to imagine, given the work that went into it, but not if you know their mission in business and life.
"You don't just think for yourself," Rix said. "You think for the community."
As in boosting small-town business. Propping up other young entrepreneurs. Restoring historic buildings so new generations can look on them with pride.
It's who they are — a fundamental tenet that explains not only them, but also this town and the people who founded it.
It's why a story like that of Lukas Rix and Mark Kanitz happened in Wayne, Nebraska. Because,  although there's no little house on the prairie or wagon train stretching westward, it couldn't have happened anywhere else.
The writer is a senior journalism major at the University of Nebraska-Lincoln and a former Journal Star intern.