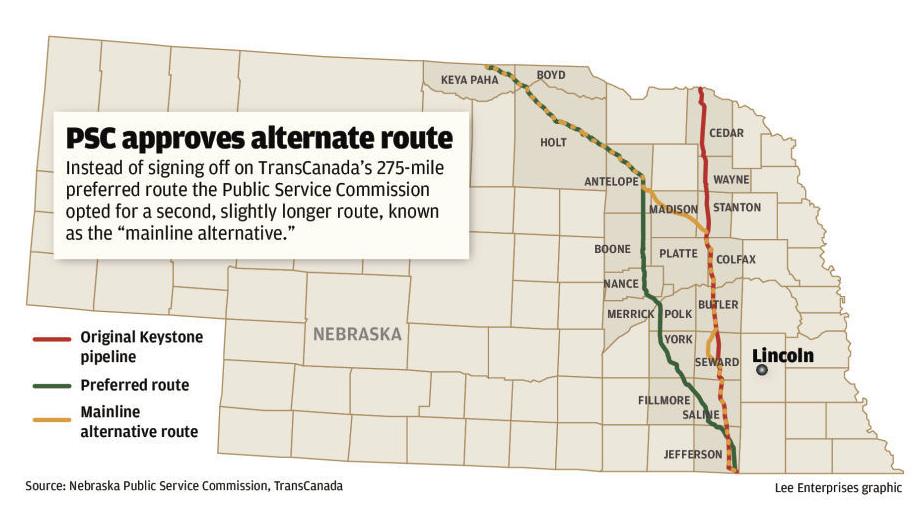 If TransCanada still wants to build the Keystone XL pipeline on its newly approved route through Nebraska, the company might have to go through Dennis Witzel first.
Witzel, a retired mail carrier, isn't certain the new pipeline route crosses his 240 acres of corn, beans and grass in central Madison County. TransCanada hasn't shared a tract-level map of the route, and no one from the company has contacted him or, to the best of his knowledge, his neighbors. 
But the call could come any day, he says: "We're right in the middle here."
Monday's decision by the Nebraska Public Service Commission — approving the pipeline, but on a different route than the one preferred by TransCanada — raised the developer's stakes considerably if it continues to pursue the project.
TransCanada would have new landowners to deal with, more pumping stations to plan and build, more regulatory red tape to cut and the probability of fresh legal challenges from pipeline opponents, who argue the commission's decision was in error.
CEO Russ Girling said Monday that TransCanada "will conduct a careful review" of the decision "while assessing how the decision would impact the cost and schedule of the project."
The 36-inch, $8 billion oil pipeline would run 1,184 miles from Hardisty, Alberta, to Steele City, Nebraska, where it would connect with the existing Keystone pipeline, carrying Canadian oil sands to the U.S. Gulf Coast. President Donald Trump breathed new life into the project in January.
Its new route through Nebraska, called the mainline alternative, was part of TransCanada's application to the Public Service Commission but drew little attention during the months of public meetings, formal testimony and evidence submission since then.
The reroute closely follows the original Keystone pipeline, which was completed in 2010, in four Nebraska counties: Colfax, Butler, Saline and Jefferson. And it mirrors TransCanada's preferred route for the Keystone XL across most of another four counties: Keya Paha, Boyd, Holt and Antelope. 
But landowners in other counties — particularly Seward and Madison — would be be dealing with TransCanada for the first time. 
The number of those landowners almost certainly exceeds 40, the estimate given by TransCanada consultant Jon Schmidt during a formal hearing in August. Schmidt's comments weren't clear, based on the transcript from that hearing.
It is also unclear how many new easements TransCanada would need to negotiate with landowners in places where the Keystone XL would closely follow the original Keystone pipeline. Some of those easements might accommodate a second pipeline; others don't.
Seward residents Jon and Bonnie Kruse said they avoided being in the Keystone XL's path in part by working with a lawyer, who ensured their easement for the first Keystone prohibited additional pipes. About 90 landowners in their area worked out similar deals, they said.
The Keystone XL would also be subject to a new review by the Nebraska Public Power District, to determine how it could meet the energy needs of the six new pumping stations required by the mainline alternative route.
"We'll have to go through a whole new study," a process that can take months or longer, said Mark Becker, an NPPD spokesman.
TransCanada hasn't said whether it has scouted locations for pumping stations along the reroute. And the company hasn't provided a map that shows precisely which properties the pipeline would cross along the mainline alternative route.
Keystone XL opponents are preparing for another drawn-out battle, trying to identify landowners who might stand in the pipe's new potential path.
They previously accomplished that work on the preferred route by going county-to-county, sleuthing with pencils and hard-copy maps, said Jane Kleeb, founder of the anti-pipeline group Bold Nebraska.
This time, they're enlisting someone with GIS map expertise, and will again hold gatherings in those communities with the hope landowners will show up.
If anyone from TransCanada comes knocking on Dennis Witzel's door, he isn't sure he knows what his answer would be.
"I think probably not," he said. "I don't know why they should be able to take private property for a private entity like that."
"I suppose it depends on the money."
Of course, TransCanada or the pipeline opponents could also appeal the Public Service Commission's decision.
Those involved in the case have 10 days after Monday's order to petition for a rehearing. There is also a 30-day window for the decision to be appealed directly to the Nebraska Court of Appeals.
A third option that would have been available to TransCanada — reapplying with a different route within 60 days — was scuttled by the commission's decision, because it didn't reject the pipeline outright.
Sen. Jim Smith of Papillion, a pipeline backer, said while he hoped for a "much more definitive, straightforward decision" that raised fewer questions, he can find no problem with the process the commission followed in reaching its decision that might invite a legal challenge.
Smith had a hand in crafting that process, the Major Oil Pipeline Siting Act, as a member of the Legislature in 2011.
He wouldn't venture a guess as to how heavily Monday's decision might impact TransCanada's plans.
"This project is billions of dollars in cost, and every day that passes, I'm certain that there's a concern of what it's doing to the financials of their company and also to the relationships with their buyers and suppliers," Smith said.
"It's a very expensive decision to make for TransCanada."