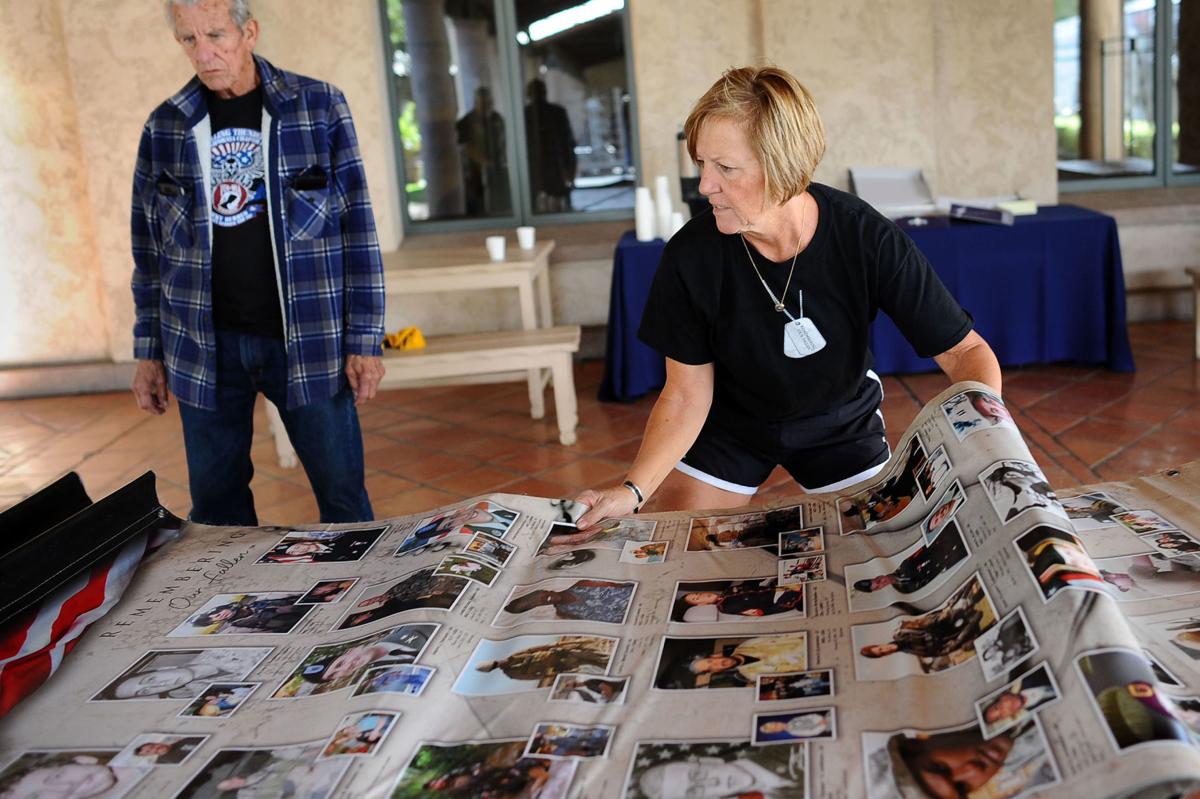 She greets her oldest in every new city, after they empty the trailer and assemble the 10-foot towers.
Noala Fritz could be in New York, Washington, a Cabela's in Kansas or at the Cumin County Fair. She's always close to 1st Lt. Jacob Fritz.
Her 25-year-old was killed in Iraq in 2007, but he lives in the pair of photos she's carried across the country for nearly a year now, to both coasts and all around the heartland.
In the first, an official military portrait, he's giving the camera an unabashed toothy smile, cheeks bulging. In the other, he's grinning from the passenger seat of a Nebraska farm pickup on a bitter-cold day, warming up after moving cows from pasture to field.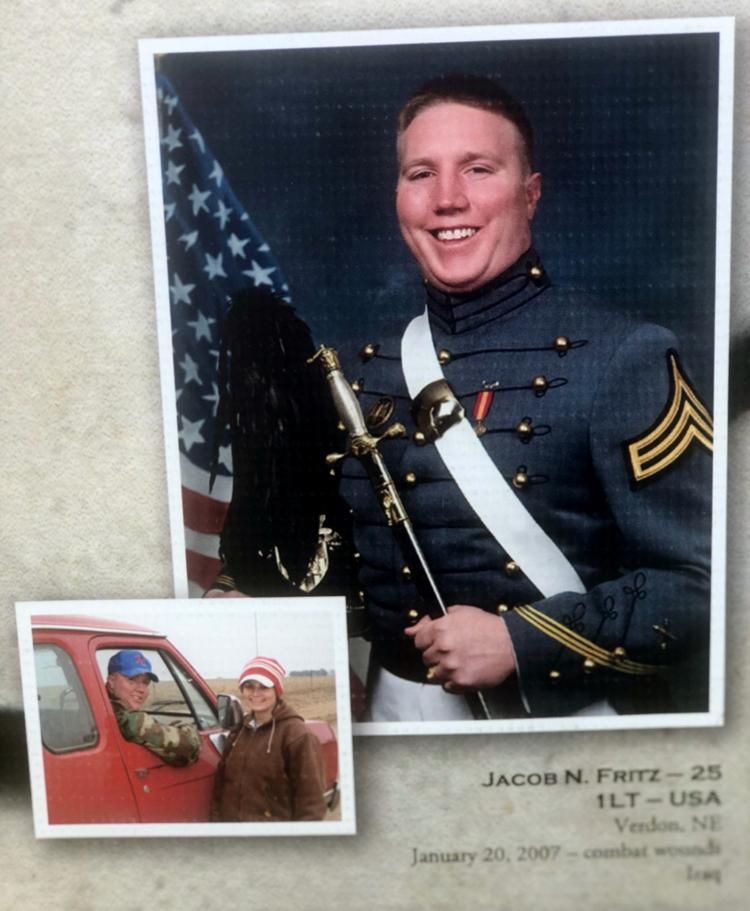 If she doesn't see him right away, she'll seek out his photos. "I make sure I say hello to Jake," she said. "He's still very much a part of my life."
Since July, Noala Fritz has served as the heart-spoken ambassador of the Remembering Our Fallen National Memorial — 31 canvas-paneled Tribute Towers displaying the hard cost of the war on terror since Sept. 11, 2001.
The retired Falls City teacher helps set up the exhibit of 5,000 U.S. service members who died in Iraq, Afghanistan and in related missions and tragedies. She speaks at opening ceremonies, telling her son's story. She welcomes strangers, and she soothes those who show up to honor their own sons and daughters, husbands and wives, parents and comrades.
Then she helps load up to get to the next city.
And after 11 months on the road — living in hotels, waiting for the next washing machine — all those faces on the towers have become her family.
She's learning their names, and their stories. The Marine who rode bulls. The brothers who died a few years apart, each at the age of 21. The young parents who never saw their children grow.
"I feel like what I'm doing is such a good thing for those who have given the ultimate sacrifice," she said. "I have no excuse for not doing it. They're my own, and I want you to see them and I want you to have that opportunity to meet them and remember them and honor them."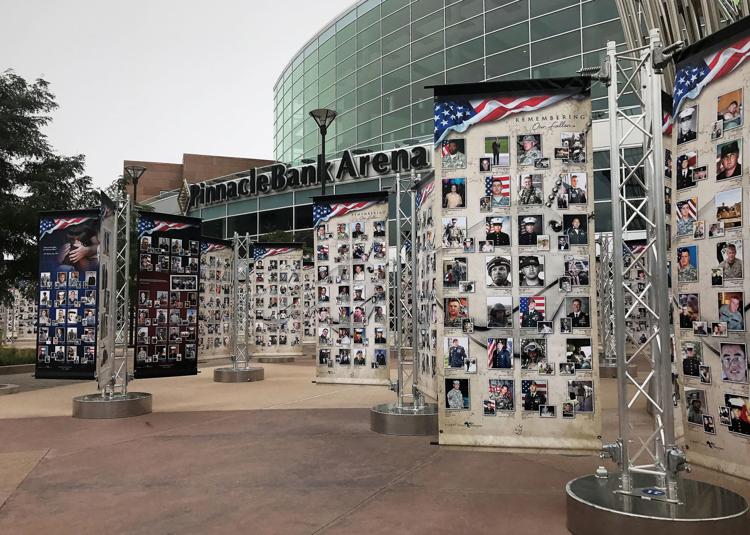 If she traces it far enough, this started in 2010, when Bill and Evonne Williams needed photos of Jacob to include on their Remembering Our Fallen Nebraska Memorial.
Sure, she said, giving them directions to her farm near Verdon. Let yourself in and take some off the wall.
When her husband, Lyle, died in 2011, she was impressed that Bill Williams took the time to attend the funeral. A few years later, she was invited to speak at Benson High, which was hosting the Nebraska exhibit.
Bill Williams approached afterward, impressed. They needed a spokeswoman for the Nebraska memorial, and an eloquent Gold Star mother would be a good representative.
Two years ago, they approached her again. He and Evonne had plans to build a national memorial to tour the country, and they wanted her help.
Fritz was skeptical. "I'm like, 'Yeah, sure. Is this really ever going to come to fruition?'"
But Bill and Evonne Williams have a history of pulling off ambitious plans. They've taken 3,400 Nebraska veterans on free trips to Washington, and they're organizing another honor flight in September, solely for women who served. Before they had the idea of the national memorial, they'd built 19 state-specific displays.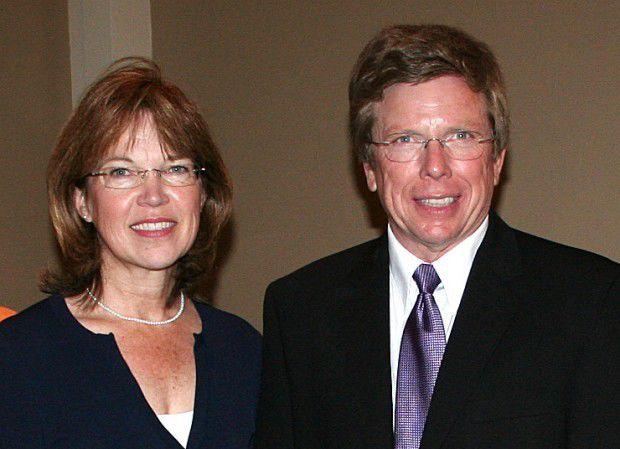 The $200,000 national memorial came together. All they needed was a driver. Fritz's fiance, Rick Ward, solved that problem: He has a commercial driver's license.
The national memorial debuted in Lincoln last summer, and then Ward and Fritz loaded it into a trailer, bound first for Minnesota and then wherever Bill Williams could book a showing.
"Off we went," Fritz said. "Early on, I couldn't imagine I would ever be doing this. Now that I'm doing it, I can't imagine ever doing anything else."
The salute from the fighter jets was a surprise.
Fritz and Ward are used to escorts as they carry the memorial, rolling down the road surrounded by riders from the Patriot Guard, VFW, American Legion, Rolling Thunder, Combat Veterans or Vietnam Veterans motorcycle groups.
The veterans care about the names and faces in the trailer. "They say, 'These are our brothers and sisters, and we want to escort them in,'" Fritz said.
In January, on the road to Ridgecrest, California, after a showing in Pasadena, Fritz had just closed her eyes when she heard a roar.
"And these two F-18 Hornets just drop down and they come in from behind the riders, right up alongside, and it seems like they were below the telephone poles. And they tipped their wings in a salute and roared off. It was absolutely unbelievable."
Fritz and Ward have refined setup and tear-down. She decides where the towers go, he directs the heavy lifting. With enough volunteers — and strong water pressure, because the bases are weighted with water — they can put up the towers in three hours. With not much help and a standard garden hose, it can take more than five.
You have free articles remaining.
The display keeps growing. They carried 21 towers at first, with room in the trailer for Ward's Harley. But Evonne Williams keeps finding fallen soldiers and sailors, and coaxing families to give their blessings and their photos, and they've added 10 more.
They now include service members who died stateside, in mission-related training accidents or plane and helicopter crashes.
Last fall, they also started honoring those who took their own lives after serving in combat zones. Families have embraced that, because their loved ones went unrecognized, but it's heart-wrenching work for Evonne Williams.
"You start breaking it down, one by one, and hear each story, and you want to cry," she said. "It's a tragedy."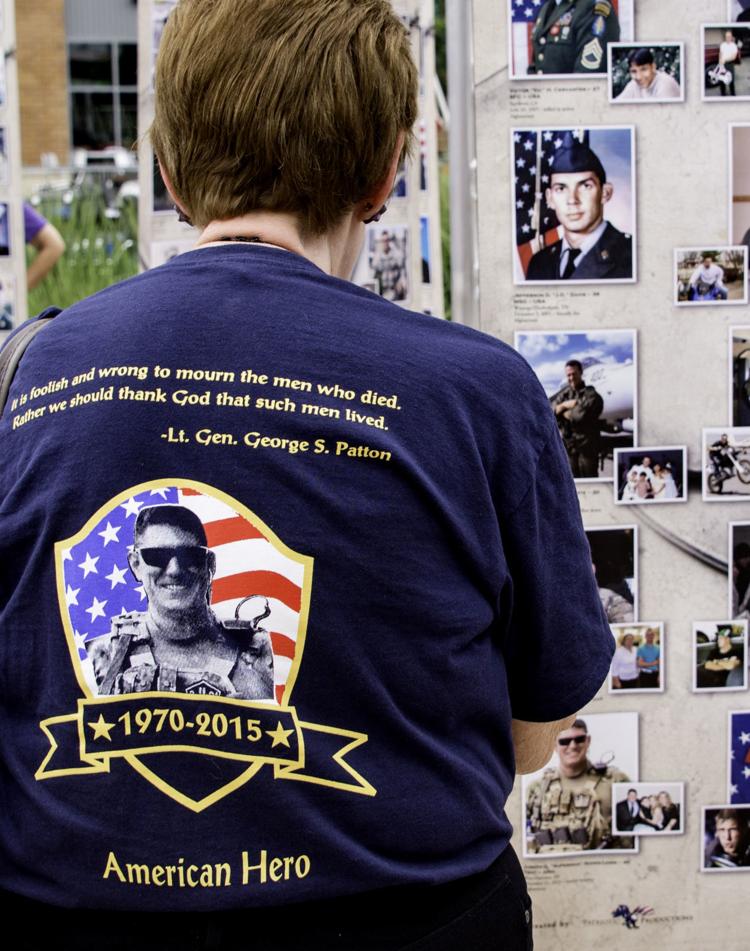 Fritz and Ward don't have to stay with the towers. Bill and Evonne Williams urge them to go to the hotel, to take some time.
"We say, 'You don't understand. We do stay, we do want to talk to the people. We want to listen,'" Fritz said.
She knows what it's like to hear the knock on the door, and she speaks a language few will ever learn. She knows those who do might need her help, or at least her time.
"You meet the families and hear their stories and share their stories," she said. "You listen to them talk about what their sons did, and their loss. I think there's a therapy. You wanted your kid on a hall of fame, not this."
Their stories are her stories now. And so is their pain.
The father who carried his son's combat boots to the memorial. "He said, 'I don't know what to do with these. Here.' And he just left."
The former soldier with the names of fallen comrades tattooed on his arm, and who came to say goodbye to them.
The young man in Kansas, whose dad was killed in Iraq when he was 11. He stumbled upon the memorial, not knowing it honored his father. "And it was like his dad had died all over again," she remembered. "He just lost it."
The soldier who came to say goodbye. Fritz could tell he was having a hard time; he'd packed up his comrade's bunk, and inside a Bible he found a letter his friend had written to his girlfriend but never got the chance to send.
"It was troubling him. He didn't know whether to send it to the girlfriend or leave it in the Bible."
The soldier who carried a list of 19 fallen comrades. "It was all I could do to hold it together," she said. "I went and found Rick and I just sobbed. No one should have to be looking up 19 names. But that was his chance to say goodbye."
That wasn't the first time she's cried. Under the towers, Fritz is on the front lines of raw emotion, a mix of grief and pride and honor.
And she's the best person to untangle it all, said her middle son, Nebraska Army National Guard Capt. Dan Fritz, an ROTC instructor at UNL.
As a military mother — her youngest, Ethan, is also in the Army, a lieutenant in Iraq — she understands the value of service. As a Gold Star mother, she understands the price.
"She's more than just a representative of the exhibit," Dan Fritz said. "She's someone a lot of people can relate to, people who lost a loved one. It's something they have in common."
His mother is seeing the full effect of the war, he said, how the grief they felt in Richardson County is shared by so many others, and in all corners of the country.
It can be hard on Noala Fritz. It can be healing, too, she said.
"There are days when I leave with a heavy heart," she said. "But not a discouraged heart."
They were home for most of February and March, but they've since been on the road nearly nonstop. Their itinerary isn't easing. Michigan and Ohio last week, now Louisiana and Oklahoma and Texas.
This fall, they'll set up at the Army-Navy football game in Philadelphia, and at games in Tennessee, Kentucky and Coastal Carolina.
It's still unreal — and a long way from Verdon — for Noala Fritz. She spoke at the Reagan Library, and ate in Ronald and Nancy's private apartment. They were in New York City's Veterans Day Parade. "One of the announcers gave us a shout-out: 'There's Noala; she's a Gold Star mom.'"
But she can't imagine doing anything else.
"It's what I do. I can't leave these boys and girls."
Her boys and girls. And her oldest son.
She greets him after every exhibit. When they're disassembling the towers, she pauses before rolling up Jacob's panel.
"I'm still a mom," she says. "And I still give him a kiss goodbye."