CORTLAND — Rick and Teresa Meints knew this year's harvest would be different when their soybeans and corn were planted in fields south of here this spring. 
Rick Meints, 60, recognized his recovery from back surgery in April would keep him out of the combine. So a few friends planted his crops.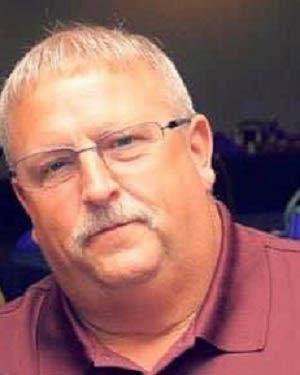 On April 26, the day after surgery, Rick Meints told his wife of 34 years he didn't feel well. He died of a pulmonary embolism a few hours later.
After Meints' unexpected death, harvest still posed a challenge, as neither of his two adult sons live in the area and his farming equipment was sold in August.
But Meints' best friend, Jeff DeBoer, made a few calls.
Farming friends pledged eight combines, six grain carts and seven semis to the 220-acre effort. 
And during the middle of harvest season, as many as 40 Cortland-area farmers took a break from getting their own crops out and came to help finish the last of Meints' soybeans Wednesday.
"Today's his day," DeBoer said.
The turnout overwhelmed Teresa Meints, who called it a testament to the Cortland community and their good-hearted friends. 
But DeBoer and other farmers said it really was a testament to the kind of good friend and family man Rick Meints was.
He enjoyed playing pitch and other card games with his friends, DeBoer said. 
The Meints' next-door neighbor, Todd Papke, 57, has known Rick Meints his whole life. 
Meints always remained level-headed, an asset to him as a career farmer, Papke said.
"It's not what you're dealt," Papke said. "It's how you handle it." 
Teresa Meints wiped away tears and praised as incredible the support their friends have shown in the months since her husband's death. 
He loved everything about farming, being outside, being his own boss and most of all, harvest season. 
When he wasn't in the field, "we did everything together," Teresa said. 
Vacations in Mexico with their friends were regular highlights for the couple, who began dating 35 years ago when they met through friends, she said.
This fall they'd looked forward to spending extra time visiting their four grandchildren. Two live in Colorado, and the other two in Elkhorn. 
The Meintses loved their Cortland life together in a brick home surrounded by corn and soybean fields. 
The volunteer effort on a sunny fall Wednesday will get Meints' soybeans out while it's dry enough, DeBoer said. Friends will be back in a few weeks to finish the corn.
And if Rick Meints could see all the help his fields received he might not be surprised, his wife said.
Be the first to know
Get local news delivered to your inbox!