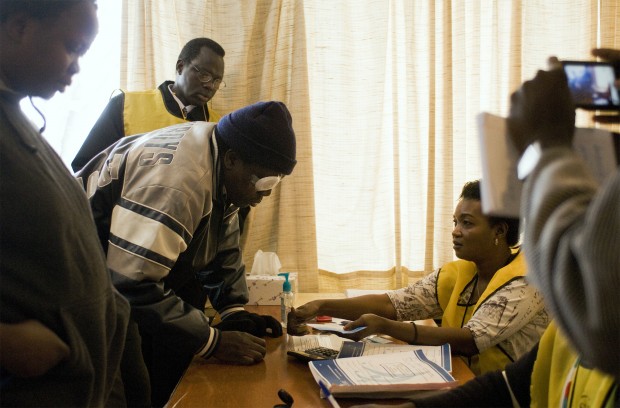 OMAHA -- On his 190-mile, three-hour pilgrimage to vote here, Abdo Ramadan lost control of his car on icy Interstate 29, pin-balled between guardrails and flipped, careening over a bridge near Sioux City, Iowa.
Ramadan and his three other Sudanese passengers landed in a Sioux City hospital for two days. Ramadan wears an eye patch as a result of a four-hour eye surgery.
They weren't worried about the car or their injuries -- they were more concerned about making it to Omaha in time to cast their vote for Southern Sudan secession.
To create a new country and heal from a civil war that killed more than 2 million people and displaced 4 million Sudanese.
Friday, the four Sudanese refugees from Sioux Falls, S.D., placed their ballots in the box.
They smiled as they dipped their left pointer fingers in ink -- a symbol of voting and a method to guard against voter fraud.
Hakim Kane, a passenger in the vehicle, said he wouldn't have cared if he died in the car accident.
"I'd be happy in heaven, as long as I know Southern Sudan is free," he said. "I don't worry about the car damage or the pain -- I worry about my children and their future."
Others traveled from as far as Minnesota, Ohio, North Dakota and Colorado to put their thumb prints on the ballot, signifying their vote.
The commitment and dedication the Southern Sudanese show toward voting is unparalleled in America, some poll workers say.
It's the kind of dedication that has led multiple precincts across the world to have nearly 100 percent turnout. Some stood in line for six hours to vote on the first day in Omaha.
Officials expect similar scenes to unfold Saturday night, the last day of the weeklong vote.
A traumatic car accident is the least of what the Sudanese have gone through, says Linda Duckworth, who runs the Omaha polling place in conjunction with the International Organization for Migration.
They've lived through civil war, genocide and displacement from their war-torn home.
It makes for an emotional process, says Lu'bakare Matayo, who works for the organization.
"They're excited, there's jubilation," Matayo said. "Every voter reacts differently. They cry, dance, sing.
"One man fell to the ground in tears after he cast his vote -- the whole room started crying."
Since Sudan gained independence in 1956, protracted conflict rooted in deep cultural and religious differences has slowed the nation's economic and political development and forced massive internal displacement of its people, according to the U.S. State Department's website.
Northerners, who have traditionally controlled the country, have sought to unify it along the lines of Arabism and Islam despite the opposition of non-Muslims, southerners and marginalized people in the west and east that has caused many to flee to other countries, the website says.
The referendum vote is an extension of a 2005 peace agreement that ended a 21-year war between northern and southern Sudan.
More than 3,000 registered to vote at north Omaha's St. Richard's Rectory at 4320 Fort St., one of eight polling places in the United States and one of 41 worldwide.
Nebraska is one of the largest resettlement sites for Sudanese refugees in the United States. An estimated 3,000 live in Lincoln and 8,000 in Omaha.
The Southern Sudanese need 50 percent, plus one vote, to secede. They already have at least 60 percent turnout, required for a valid vote. Voters must be at least 18, provide documentation of Sudanese identity, of a sound mind and registered to vote.
"For these people to cast this vote, it's fighting to end the war," said Government of Southern Sudan adviser Erjok Mayor. "Their vote is louder than any bullet. Freedom drives us."
Secession seemed like a foregone conclusion on Friday -- many voters were speaking as if it was already a reality.
Nyahok Deng, 31, of Lincoln, left Sudan in 1996 and voted to secede Friday.
She described life in the east African country as horrible -- losing family, friends.
She hopes to return to her home country to teach young children their numbers and the alphabet. Help them get an early start at education and on the right track.
Deng said she isn't worried about the challenges of creating a fledgling country.
"We are strong people," she said. "We've been through war and can get through this."
Mayor said he hopes the U.S. will continue to help Southern Sudan. He said there is no infrastructure like schools or hospitals.
"We need help to build new lives," he said.
Saturday, the polls close at 6 p.m. and then the tallying and re-tallying begins. The official total has to be in by Feb. 9, but officials expect it to be finalized over the weekend.
Officials expect a crowd of Sudanese to form outside around midnight as they wait for the final count to be posted in the rectory's window.
"It'll be plenty emotional," said Yoakum. "It's a historic moment."
"It will be a big day for everyone," Kane said.