PLYMOUTH — The men who helped build this town were soldiers before they were farmers, Union Army veterans who laid a foundation of service in the northeast corner of Jefferson County.
"We've had someone serve in every armed conflict since the Civil War," said Tom Brandt, president of the Plymouth Improvement Association. "I can show you the tombstones of people who served in the Spanish-American War. We lost two guys in the first world war."
He begins with this history lesson, because it's important to the story he wants to tell about what's happening now, why Plymouth is up in arms over a long-lost war memorial.
So Brandt continues. They lost three men to combat in World War II. They had men serve in Korea and Vietnam. They lost one boy in Panama, another in Iraq. They even had a sailor aboard the USS Cole when it was bombed in Yemen.
Plymouth isn't a big town. The sign on the west end of the community puts the population at 477; on the east, 409. But it takes tremendous pride in the sacrifices it made for the country, Brandt said.
"All the veterans I've ever known here are pretty proud of their service," he said. "Every day is Veterans Day in Plymouth."
And every Veterans Day in Plymouth is big. It was a regional party for decades, with a parade during the day, a dance band in the auditorium at night. They still have speeches and ceremony, and they still draw hundreds of people.
But there's been a breach in this town's display of patriotism since 1960, when one of Plymouth's earliest war memorials, a gift from the Navy to honor the Union Army vets, was hauled down the highway on what was believed to be a temporary loan to the county historical society.
It's still there, on display 20 miles away at the Fairbury City Museum.
The rare 1880 Gatling gun — a deadly game-changer for the military after the Civil War, capable of spraying .45-70-caliber cartridges as quickly as a soldier or sailor could turn the crank — can be seen Saturday and Sunday afternoons in a corner of a former classroom, a $100,000 weapon in front of a mannequin wearing a Ku Klux Klan robe.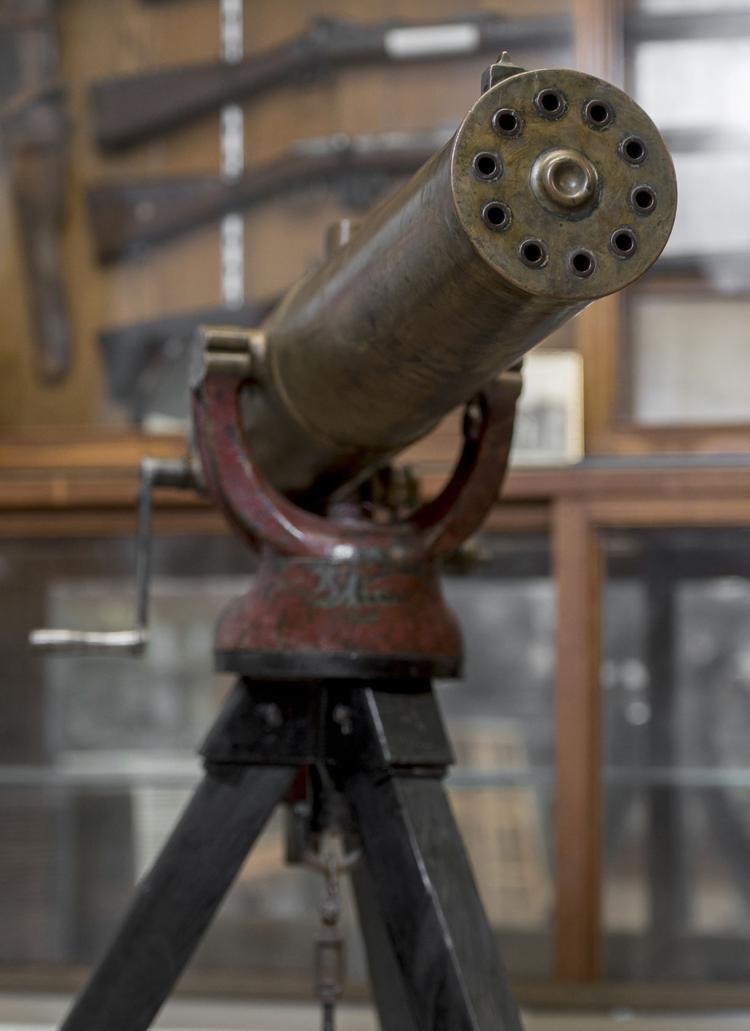 Brandt is a farmer — beans, corn, cows and pigs — not a historian. But he and others have spent months researching a gun he hadn't known existed, and how it ended up in Plymouth, and then in Fairbury.
"I grew up here and I didn't know a damn thing about this. About 15 years ago, I'm talking to a guy who runs the antique store. He's telling me this story about the Gatling gun and I'm thinking, 'He's full of it.' How could we have a Gatling gun and I didn't know it?"
The Civil War veterans who helped build Plymouth also chartered a Grand Army of the Republic Post — like an American Legion or VFW club, but for Union Army vets. The Strain Post 201 opened in 1885, named after Cpl. William Strain, a settler from Illinois.
In 1911, the post started planning a war memorial to honor fallen soldiers, and the Navy gave it a Maxim-Nordenfelt gun, a turn-of-the-century weapon that had been aboard the USS Kentucky. It was big, 600 to 700 pounds, and befitting of a war memorial.
All Plymouth had to pay was the $27 postage.
The Navy asked for it back four years later, returning it to service as an anti-aircraft gun during World War I.
The next year, it sent a Gatling gun to Plymouth as a replacement. The 183-pound weapon is often mistaken for the first machine gun, Brandt said. But a machine gun has one barrel; this one had 10, fed and fired with the turn of a crank.
"It was small compared to its predecessor, but it seemed to be in working condition," Brandt said.
It was also rare. Of 367 Grand Army of the Republic posts in Nebraska, Plymouth's was one of three to receive a Gatling gun, said Dave Wells, historian of the Civil War Veterans Museum in Nebraska City. Juniata got one, though it's disappeared, and Minden received two, which are on display in the courthouse.
"They never knew what they were going to get. If they would pay the shipping cost, they could have the gun."
Today, 130 to 140 Nebraska towns still have Grand Army of the Republic memorials — statues, cannons, obelisks, church windows. Many are in cemeteries.
Civil War vets were sending a message, Wells said: A country should never have to wage war against itself.
"They wanted something to remind all of the coming generations of what they had been through, and basically say, 'Don't make the same mistake.'"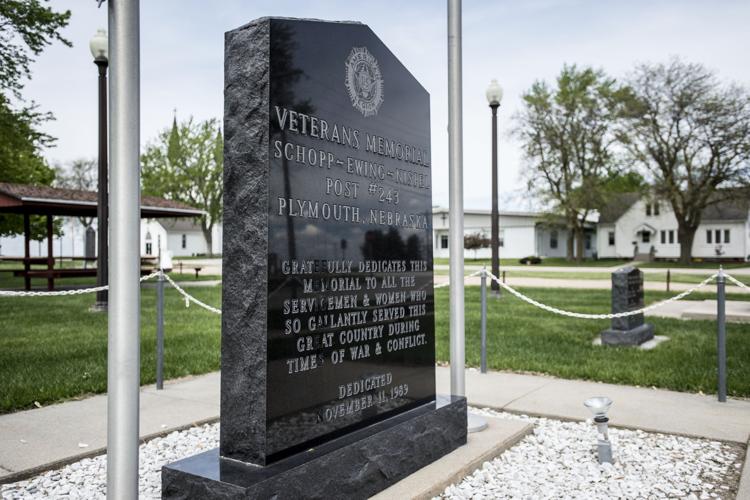 Five years after it got the Gatling gun, Plymouth's Strain Post 201 closed; all but two of the town's Union Army vets were dead.
Plymouth wasn't alone. All across Nebraska, posts were folding as their members died. The last man standing in the state was Michael Bondell; when he went to his grave in 1948, the final post, in Beatrice, went with him.
The Gatling gun moved around town for decades. Brandt gathered stories from old-timers who remembered it at the fire hall, the jail, the co-op, even outside.
"All the guys cranked this gun. I've got six guys in that time frame who played with that gun."
Like Darrel Niemeyer, whose father chaired the village board in the 1950s and managed the elevator.
"I touched it," the 73-year-old said. "And I turned the crank handle once or twice."
He can remember seeing the big, bronze gun inside his father's elevator — though only for a few weeks — and maybe at the fire hall. He thinks he saw it on a float at the Veterans Day parade.
But that's the trouble with trying to read the wisps of distant history. It's difficult to know what's real, Niemeyer said.
"The problem is, these memories are somewhat unreliable, going back 60-plus years."
You have free articles remaining.
In 1999, Paul Shada thought he was on to something. The former village board member had been studying old meeting minutes when he learned what had happened to Plymouth's Gatling gun, and when.
"It was a form stating it was on loan to the Jefferson County Historical Society. I thought I found a gold mine."
The minutes from the May 1960 meeting were clear: By a unanimous vote, Plymouth's board loaned the gun to the historical society in Fairbury, but stipulated it was to be returned at the board's request.
Shada went to Fairbury. "I brought the sheet along and said, 'Oh, by the way, this was on loan to you in 1960. I thought you should know.' A week later, they sent me a letter stating: 'Here's a copy of a letter that you gave it to us.' We basically lost all rights."
It was true. Two years after the board voted to loan the gun, chairman Ed Jacobs signed a paper making it permanent.
And this is where it gets a little contentious.
Fairbury is the county seat, where people in Plymouth pay their property taxes. But many of them work and shop in Beatrice, in Gage County, because it's closer.
Also, Fairbury's population peaked in 1950 with nearly 6,400 people; now it's almost half that. Plymouth's population has fluctuated — up in the 2000 census, down in 2010 — but it's held steadier.
"There's always been some friction. Plymouth has never been in Fairbury's orbit," Brandt said. "The joke is another 20 years, we'll just move the courthouse here, because we'll still be here."
So when Fairbury produced proof it was given the gun, Plymouth's promoters paused. They looked, and looked again, but couldn't find meeting minutes authorizing the mayor's action.
And by then, almost everybody from that era was gone. Plymouth had no way of knowing what had happened nearly 60 years ago. But it had some suspicions.
"This has always been the smoke and mirrors," Brandt said. "The drama. That Fairbury stole the gun."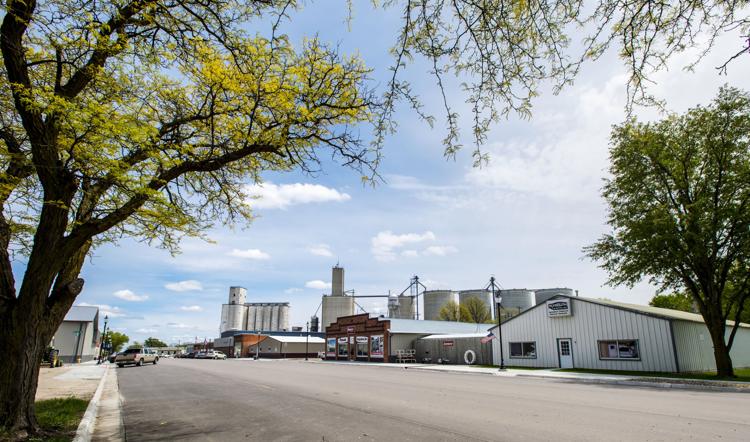 In Fairbury, the Gatling gun is on display in a old elementary school classroom filled with rifles, artillery shells, early Fairbury photos and the KKK mannequin.
Museum Board President Ben McBride spent hours — draining a can of WD-40 and a quart of motor oil — freeing the frozen gun, so it moves as freely now as it did when it was built nearly 140 years ago.
Recently, McBride was happy to show the gun in action, spinning the crank, rotating the barrels, smiling as the room filled with rapid-fire popping.
But he bristled when Brandt started talking to him about a recent appraisal from a firearms expert.
Brandt pointed to the base of the barrels: "We're missing the Colt badge here."
"I don't know why you keep saying, 'We,'" McBride said.
Brandt brushed it off. But later, he'll criticize its display. This was supposed to be a war memorial, available for all to see, not an exhibit in a museum.
"This gun just sits there; there's not even a sign saying it was donated by Plymouth. It just sits there next to a Ku Klux Klan mannequin. Really?"
For months, Brandt and others have been trying to convince Fairbury to let them return the gun for three days in August, for Plymouth's 125th anniversary.
"All we're asking for is to exhibit it so that these older people can see the gun one more time, and the younger people will know we had a gun," Brandt said.
But Fairbury has concerns. It needs to ensure the gun is safe if it hits the road, said city administrator Collin Biesler.
"It's not like we don't want to loan it. But if it's as truly valuable as some people believe, we want to make sure it doesn't wander off," Biesler said.
That won't happen, Brandt promised. Legion members would watch it during the day, and "these young hotshots" — who offered to bring their own guns — volunteered to guard it at night.
Plymouth also paid for its appraisal, hiring firearms expert Dave Sanders of Lincoln. His grandparents lived in Minden, and he remembers that town's Gatling guns outside the courthouse.
"One of the things that made me so happy to work on this, I spent a lot of time there as a kid. I remember climbing on them."
The former Cabela's gun library buyer inspected the gun in Fairbury, took photos and consulted with experts. He checked databases for comparable sales, though only a few change hands every year.
"It's a pretty interesting piece of history," Wells said.
And in pretty good shape. It's missing the Colt badge and magazine, but the action is free and it could likely shoot again.
His opinion: This gun is worth $100,000.
If Fairbury agrees to loan the gun, it will likely make Plymouth get it insured, Brandt said. If that's what it takes, and it's not more than a few hundred dollars, Plymouth will pay.
That weapon is interesting enough. Think about it, Brandt said. A Gatling gun. You only see those in movies. It's just cool.
"If I tell a 70-year-old guy I'm going to show him a Gatling gun, I can turn him into a 7-year-old in minutes," he said. "As stupid as that sounds, I'm right."
It's also important. This is a somber piece of history, a part of Plymouth's past that still exists today.
"I guess I got obsessed about it. Initially, it was about a Gatling gun. But it's become about a war memorial to me."