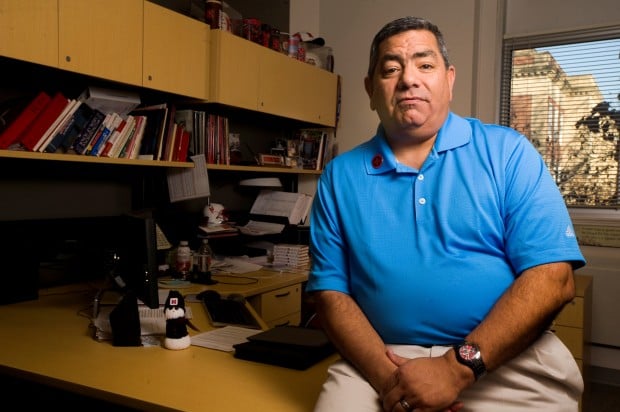 Rik Barrera retired from the Army 14 years ago after traveling the world and spending his last four years of military assignment with the ROTC at the University of Nebraska-Lincoln.
His family -- wife, LouAnn, and three children -- had fallen in love with the Midwest and its family-friendly atmosphere by the time he retired in 1998. That's after living in Europe, the East and West coasts and Texas.
So Barrera took a job with the university. He's now assistant dean of the College of Business Administration for business and fiscal affairs. But as the 57-year-old gets closer to his final retirement, he and his wife are not sure they can justify staying in the state financially.
They've gone so far as to start a list of potential places to move -- even with six grandchildren here and one on the way. On that list are San Antonio and Fort Collins, Colo.
Texas has no individual income tax. Colorado has a tax exemption for a portion of military retirement pay.
"While it doesn't seem like that big a deal, it adds up," Barrera said.
Tax reform is one the top issues on the minds of some lawmakers and Gov. Dave Heineman as the 2013 legislative session draws near. Heineman will release his plan in January, but has talked about the possibility of eliminating state income tax completely.
Omaha Sen. Bob Krist -- a retired military man himself -- said both retired military and retired folks in general who get Social Security income are people who generate revenue in the state. He will introduce a bill in January to exempt military retirement pay, military civilian retirement pay and Social Security benefits from state income tax.
Sen. Bob Krist
The state can't afford to lose military and military civilian retirees to other states, he said, both for the "brain trust" and the income they would spend here.
There also is an increasing market for government contractors who hire those who retire from the service at fairly young ages.
Paul Cohen, former assistant adjutant general in the Nebraska Air National Guard and past president of the Military Officers Association of America's heartland chapter, said taxing military retirement pay is a big factor for those people choosing to leave the state.
Although there are benefits to staying, he said, they will move if they can find a place in which their retirement pay goes further.
Twenty-three states, including states near Nebraska, don't tax that pay or tax only part of it. Seven of those have no income tax.
More than 9,000 people are stationed at Offutt Air Force Base near Omaha. An estimated 20,000 retired military personnel and dependents were reported in 2009 to live in the Omaha area. The state gets nothing from them if they leave, Krist said.
In the past several years, senators have introduced bills to exempt military pensions and Social Security pensions from state income taxes. The bills did not advance. In 2009, Sen. Abbie Cornett of Bellevue introduced two bills (LB69 and LB70) that would phase in exemptions for military pensions or give partial exemptions. That was estimated to ultimately cost the state $22 million to $24 million a year.
Those who opposed the bills wondered whether the state could afford to lose that revenue. And they questioned how other residents would view giving tax exemptions to military retirees who may make six-figure incomes, from the combination of subsequent jobs and those pensions.
In the 2012 session, Omaha Sen. Jeremy Nordquist introduced a bill (LB976) that would exempt taxable Social Security benefits -- which are about one-third of total benefits -- from state income taxes. That could eliminate an estimated $73 million a year in revenue by 2014-15, according to a fiscal note that accompanied the bill.
On the Social Security exemption, Krist said, taxing that income takes money out of the pockets of people who would otherwise spend it. Less than 10 percent of people can afford to put that money into savings or investments. It creates revenue.
Heineman has said he is considering a proposal that would do away with individual income taxes, and he may try again on eliminating inheritance taxes.
But Krist said that wholesale approach to tax reform would be difficult because the state would have to find ways to replace those taxes.
"Logically, we need to take it one step at a time," he said.
Tom Phillips, a retired colonel who served 36 years in the Air Force, said Heineman and Economic Development Director Catherine Lang have supported an initiative to induce veterans to come to the state to work. In addition to important skills, they bring a sense of loyalty, accountability, leadership and a service-before-self orientation.
But the attempt won't fully succeed without tangible incentives, he said.
What drew the 71-year-old retiree to Nebraska in 1996, at age 55, were his roots -- he grew up on a farm near 84th Street and Havelock Avenue -- and the helpful, friendly nature of people here.
While there are a lot of attractions here, surrounding states have those same attractions, plus income and tax incentives, Phillips said.
Be the first to know
Get local news delivered to your inbox!