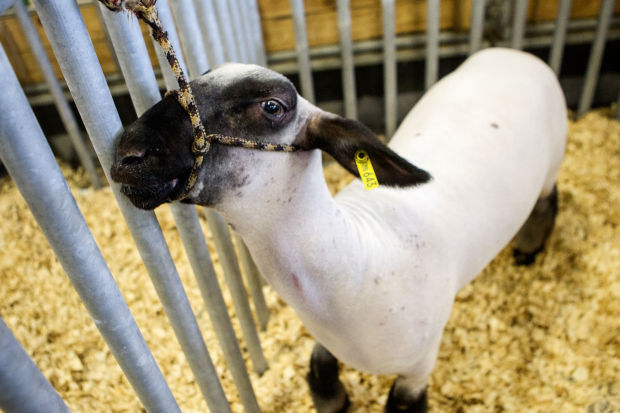 The Nebraska State Fair Board has stripped three of its top 2014 competitors of their titles in an effort to crack down on doping.
Animals have tested positive for drugs in the past, but this is the most found in a single year and the stiffest penalties handed out, said Livestock Committee Chairman Kirk Shane.
"It seems like if we don't do something it gets worse. And we have other people who come to us and say, 'Why haven't you stopped this?'" Shane said. "You don't do it in sports. And showing livestock, I personally, myself, believe that is a sport."
All Nebraska State Fair 4-H and FFA grand champion and reserve champion winning animals are slaughtered and the animals' blood tested for drugs.
This year two sheep and two swine shown by three exhibitors tested positive for prohibited substances. Those three competitors appealed the sanctions and had their cases reviewed by a Livestock Appeal Committee whose recommendation was adopted by the State Fair Board May 8 on an 8-2 vote.
The Grand Champion FFA and 4-H market lambs exhibited by Conrad Schelkopf of Geneva tested positive for the steroids dexamethasone, methylprednisolone and trenbolone. The Reserve Champion FFA market barrow shown by Grace Jacobson of the Fillmore Central FFA Chapter and the Grand Champion 4-H market gilt shown by Jesse Hoblyn of York tested positive for the anti-inflammatory drug flunixin and the sedative chlorpromazine, said livestock superintendent Bill Angell.
You have free articles remaining.
The competitors were disqualified, their premiums withheld and any of their future entries will be tested regardless of placing. Also, Schelkopf has been banned from showing at the state fair for two years and Hoblyn for one.
It is the exhibitors' responsibility to be sure the animals they show don't have prohibited substances in them, Angell said.
"We're trying to level the playing field so every exhibitor has an opportunity to show their animals and do well," he said.
"In market animals, those things are not supposed to be in the system when they're slaughtered. And that is why we drug test because according to the USDA, they are prohibited substances when an animal is going to harvest."
Lincoln attorney Steve Mossman, who represented Schelkopf, criticized state fair officials for not collecting enough blood to have a second test done. Testing a second time, he said in a letter to the State Fair Board, is standard practice and the inability to do so as part of the appeal violated Schelkopf's due process rights.
In the letter, Mossman also said the State Fair Board failed to follow its own procedures, which require a determination on the severity of the drug found by the State Fair Livestock Committee under advisement by a laboratory and the fair's attorney.
Mossman said his client was disappointed in the board's decision.