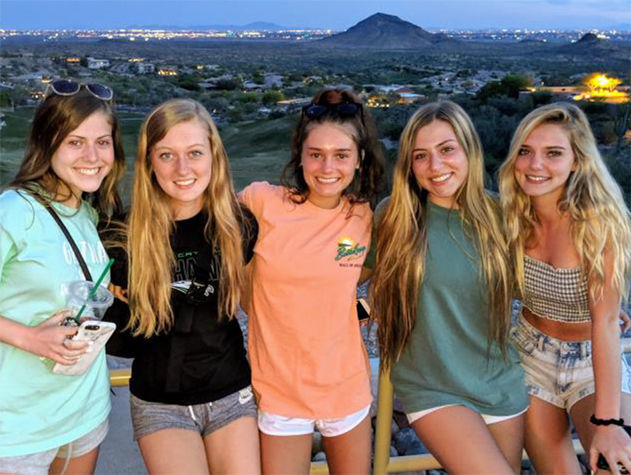 PAPILLION — More than six months after four Gretna High School students were killed in a crash along a county road, Sarpy County authorities have yet to make any arrests regarding where the students obtained alcohol.
But Sarpy County Sheriff Jeff Davis said it wasn't for a lack of trying and that authorities hadn't given up. To date, some 400 hours of investigation included 97 tips, 40 interviews and 22 search warrants being executed.
Though he'd heard discussion that his agency should just let the investigation go for the sake of the girls' loved ones, Davis said it's his responsibility to prevent such tragedy from striking more families.
"We can't let that go," he said. "Our job is to get to the bottom of it, to make sure nothing like this happens again."
Davis also said at a Monday morning news conference that the investigation had turned up two people of interest who were "of student age" but that both had lawyers and hadn't been interviewed by authorities.
Alexandria Minardi, 15, and 16-year-olds Abigail Barth, Kloe Odermatt and Addisyn Pfeifer died in the crash. Roan Brandon, 15, suffered severe burns but survived.
Shortly after 11 p.m. on June 17, Barth was driving a Ford Fusion east on Platteview Road between Gretna and Springfield when the vehicle struck the edge of a guardrail at a slight bend in the road just west of 180th Street. The sedan careened into a ravine near a creek and burst into flames.
Davis said the following month that speed and alcohol were factors in the crash. Barth had a blood-alcohol content of 0.09% — Nebraska's legal limit to drive is 0.08% — and all of the teens but Pfeifer had alcohol in their system. Authorities estimated the car was traveling about 90 mph at the time of the crash; the speed limit on that portion of road is 55 mph.
Despite the lack of success in identifying who provided the teens with alcohol, Davis said authorities have made several arrests in Gretna of minors attempting to procure alcohol. He said 12 juveniles had been arrested for attempting to shoplift alcohol from two Gretna stores, three others had been arrested for minor in possession of alcohol and another had been arrested with possession of a fake ID.
Though Davis said the girls were not at a party that night, as some had previously suggested, he urged parents to closely watch their children to prevent them from obtaining alcohol. He suggested parents:
* Know their kids' social media passwords.
* Check to ensure water bottles don't contain alcohol.
"The accident has had no ill effect on juveniles wanting to obtain alcohol, which is extremely unfortunate," Davis said.
Be the first to know
Get local news delivered to your inbox!