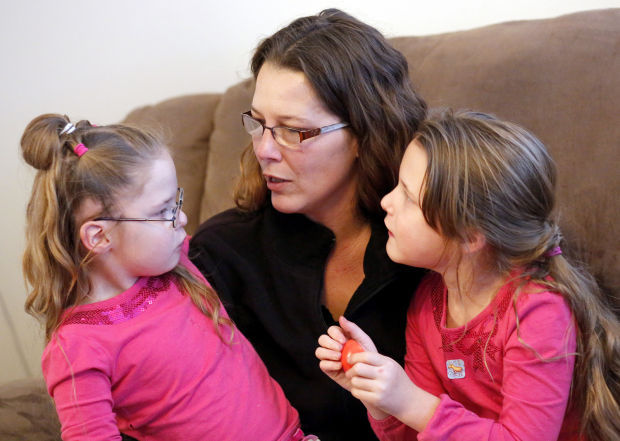 SIOUX CITY -- The day before her 10th birthday, Trista Leckband was dancing to music from the movie "Frozen."
"Trista, would you like to do a somersault?" Tiffany Leckband asked her energetic daughter. "I'll teach you how to do a headstand later on."
It's hard to believe that Trista had spent six days at Mercy Medical Center-Sioux City for a serious kidney infection in early September.
"Back then, Trista didn't have the energy to walk, talk or play," Tiffany Leckband said with a grateful smile. "You can see she's bounced back really well."
That's been the story of Trista's life.
Both she and identical twin sister Krista have an immune disorder called DiGeorge syndrome. Also known as 22q11.2 deletion syndrome, it has resulted in the poor development of the internal organs, including the heart and lungs, of both sisters.
"While Krista suffers chiefly from a cleft palette, Trista's problems have been far more severe," Tiffany Leckband said.
Since being diagnosed with the disorder a few weeks after her birth, Trista has undergone two open-heart surgeries and two tracheotomies.
"Trista spent nearly the first two years of her life in hospitals," Tiffany Leckband said, remembering her daughter's time at Children's Hospital & Medical Center and Ambassador Health Systems in Omaha. "She's been a fighter, but it's also been tough."
Trista was required to have a tracheostomy tube until shortly before she entered kindergarten. Both Trista and Krista are small for their age and experience delayed development with their behavioral and emotional skills -- all common traits associated with DiGeorge syndrome.
Tiffany Leckband said she is trying to keep her daughters' lives as normal as possible. That meant planning a birthday party with plenty of "Hello Kitty" toys (a favorite of Trista) and "Monster High" dolls (a favorite of Krista).
"I also want a guitar, drums and a piano," Krista said, adding items to an expanding list of birthday gift suggestions.
Tiffany Leckband can't help but laugh at her life spent with two such rambunctious girls.
"No parents would ever want their child to experience what Trista has been through," she said, quietly. "In my mind, she's a hero."
The staff at Mercy Medical Center agree. Following her stay at the hospital, they nominated Trista to be Kids Wish Hero of the Month.
Kid Wish Network is a national charitable organization dedicated to improving the quality of life in children who have experienced life-altering situations. Trista received a certificate, T-shirt and $100 Walmart gift card.
Although Tiffany Leckband said she and husband Brad Leckband always will need to monitor their daughters' health, she remains optimistic.