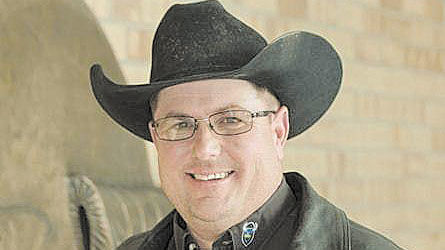 NORTH PLATTE — Garrett Nokes, a longtime rodeo cowboy who coached the rodeo team at Mid-Plains Community College, died Sunday.
According to a news release, Nokes had been released from the hospital last week. He had been receiving treatment after sustaining a head injury from a horse at his home in McCook after rodeo practice on the evening of Jan. 28.
"Garrett's strong work ethic was second-to-none. He led by example and held high expectations for his student-athletes to do the same," said Mid-Plains President Ryan Purdy. "Garrett will be missed, but the impact he had on people both inside and outside of the rodeo arena will live on through them forever."
Nokes was named the Great Plains region's coach of the year in May, the first time he had received the honor.
"One of the things I love about my job is that coaching in this region is pretty unique. Our environment is the most positive environment I've ever been around in college rodeo," Nokes said at the time. "All of the coaches want their kids to win, but there's not a coach in the region that won't help a kid from another school if asked."
Nokes became the school's rodeo coach in 2014, but he didn't stop competing on the local and national circuits. He won the Ariat World Series of Team Roping in Las Vegas in 2017.
Nokes also was named the Nebraska State Rodeo Association's "Rookie of the Year" in 1996 and its all-around champion in 2011 and 2014.
He won all-around titles at major rodeos such as the National Western Stock Show in Denver in 2005 and Cheyenne Frontier Days in 2006.
As a student at Oklahoma Panhandle State University, Nokes was a part of national championship teams in 1997 and 1998.
Survivors include his wife of 17 years, Laura, and their boys, Trevor and Parker; his father, Ray Nokes and mother, Brenda Morell.
Funeral services are Saturday at Kiplinger Arena in McCook.
PHOTOS: PBR RODEO IN LINCOLN IN 2020