After racing back from the gym to her Shady Lake home early on the morning of March 14, Dee Hanson was suddenly in the midst of helping evacuate her family, pets and numerous farm animals from approaching floodwaters. But something, in particular, caught her attention amid all the chaos.
"We were loading our critters in the kennel and I noticed the very pregnant mother cat was looking a little funny. So I asked my husband to check her out and he said, 'that's because the pregnant one is having kittens right now,'" Hanson recalled, with a laugh. "Our cat had kittens in the midst of all this as we're evacuating."
It was undoubtedly stressful, but Hanson isn't one to shy away from a challenge. Besides being a mom of two little ones and a wife, she's a successful marketing director for Bank of the Valley, an actress and director (with Platte Valley Playhouse), president of Next Generation Kiwanis of Columbus, runs in various marathons and volunteers significant time to numerous local nonprofits, among other things.
"It's really not as much as people think," she said on a recent afternoon. "I just want it (Columbus) to be a better place than it is now, and it's great now, but greater so the opportunities are endless for my children and others.
"I think if you just sit back and wait for someone else to do it, then you're missing a huge opportunity to leave your mark and to shape (Columbus) how you want to see it shaped."
Her experiences near and far shaped her mentality years ago. A Bruno native, a then-very-shy Hanson grew up living on the family farm and fell in love with theater early on. While attending Aquinas High in David City, she performed in many school plays that led to her pursuing theater as a career at Nebraska Wesleyan University in Lincoln. There, she continued to act and got opportunities to direct shows.
"There was nothing else I liked to do. The thought of studying business, finance or science, I just didn't want to be part of it — not that there is anything bad about those," she said.
Life in New York
After college, in 2005, Hanson decided to follow her twin sister, Michelle, to New York City. She was looking to make a name for herself in the theater world while her sister attended graduate school at New York University.
"I was going to go out there and I was going to make it like everybody else, but then you find out it's very hard to make it there, and again, I was a very shy, timid person," Hanson said.
The Hanson sisters lived in a small apartment in Washington Heights, a neighborhood in the northern portion of Manhattan. The apartment complex itself had more people in it than their entire home village of Bruno that had about 100 people. There was also a large concentration of those from the Dominican Republic living there, effectively making them the minority in their new neighborhood.
Then there was just adjusting to everyday life in The Big Apple.
"The culture there is different," Hanson said. "I wasn't used to living in the city. I didn't know how to ride the subway and I didn't know how to get a cab, so it definitely forced me to do a lot more."
Hanson spent her first year there living the theater life. She worked as a waitress at a coffee shop and went to audition after audition.
In 2006, her sister approached her about joining her at a branding firm in the city to do some work. It was initially just an internship, but it wasn't long after Hanson found another calling. It quickly transformed from a job to a career.
"I realized I liked that, too," she said. "There's a lot of creativity, lots of ideas, expression and interacting with people. I fell in love with that."
New outlook
In the spring of 2008, approximately six months after her twin sister, Hanson decided it was time to go back to the Husker state. She had for quite some time missed being able to regularly spend time with family and had developed an even greater appreciation for her upbringing in a smaller community.
"I think I knew within a few weeks of being there that it just wasn't the right place for me," Hanson said. "The big gigantic metropolis … having people close to you all the time but still feeling alone is a very real feeling you have.
"Plus, I had lived a very simple farm life. I think that's a big factor as to why I came back to the community — because I grew up with space and grass and trees, room to do my own thing. You miss that sometimes, especially if you move away."
Upon moving back, Hanson knew she had changed as a person. The once timid girl had no fear of social settings and was determined to get involved.
"The experience of New York was amazing. I always tell people before I moved to New York City … I couldn't go places by myself because I was just too shy," she said. "But then living there for three years, I completely turned that around."
She initially lived in Bruno and David City while working at a staffing agency in Columbus. She joined a rec softball team to make new friends and ended up meeting her now-husband and team pitcher, Derek, serving as his catcher.
"Horrible, absolutely horrible," Derek said about his wife as a catcher, laughing.
"Lies, lies!" Hanson quipped insistently back at her spouse.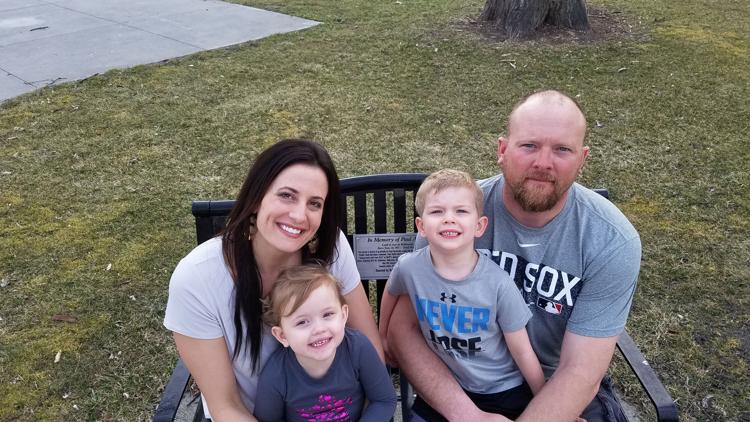 He finally relented, recalling her softball ability.
"She did pretty decent," he said. "I was a horrible pitcher, so that made her look a lot worse."
He said he knew early on Hanson was a special person.
"She's very outgoing, always willing to help people, eager to learn new things. She's kind," he said. 
For a short while she lived in Columbus and worked at the Butler County Chamber of Commerce before joining the Columbus Area Chamber as its Drive for Five workforce development coordinator. She served in that role for two years.
K.C. Belitz was then the local chamber's president and said Hanson and her marketing skills were tremendous assets to the organization. "A bit of a rock star," Belitz said, Hanson does a lot for Columbus.
"Dee has brought great energy to Columbus in both her personal and professional life since coming back home to Nebraska," said Belitz, who is now the chief operating officer of the Nebraska Community Foundation. "Dee is the type of dynamic person and community servant who can really make a positive impact on the places she works and the community she calls home."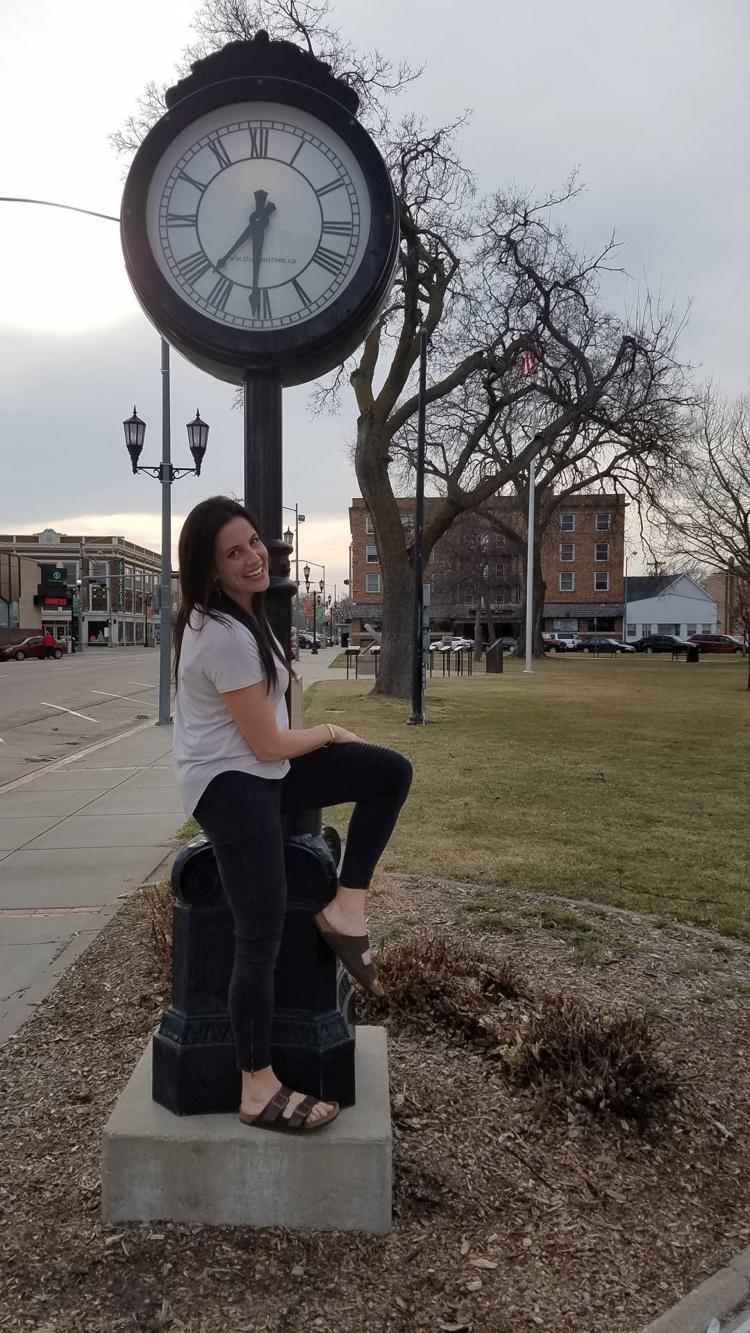 For the last few years, Hanson has worked as the marketing director at Bank of the Valley. She didn't know much about banking at first, but her marketing background allowed her to jump right in. In the role, she's helped get the business more involved with the community.
"This has truly been the career I was meant to do," Hanson said. "I truly love going to work every day because it's something I love doing, the people there are great. It's a good place to be."
Making it even sweeter is that she gets to put her acting and directing skills to good use as a marketing director — something she playfully points out to her father whenever she can.
"My dad said I would never use it, but I'm finding ways to still use that degree," she laughed. "I use it in every way — public events, being comfortable in front of a crowd."
Hanson also finds time to sing as part of St. Isidore's choir, serve as secretary of the Columbus Area Future Fund, is on the marketing committee for Platte County Relay for Life and the chamber's branding committee, as well as serves as assistant director of the Aquinas One-Acts team.
But family is what is most important.
"Family support — I couldn't do all of this without Derek and all of our family," she said. "They have all been phenomenal in supporting us as a family."
What she loves most is spending time on her Columbus farm with her husband, 4-year-old son, Dane, and 3-year-old daughter, Delaney, as well as their 19 goats, 10 chickens, three cats and two dogs. Oh, and those kittens. They're doing well and were given flood-inspired names: Noah, Avon, Julius ("The Ides of March") and Dory ("Finding Dory" fame).
"So we literally put them in a borrowed tote at our neighbors' house and kittens are coming out of her. Our kids were watching. They learned about life that day and how things happen," Hanson said, crediting friends Jake and Erica Gable for taking the entire family and their pets in during the evacuation. "The flood did not get the house, so we were very, very lucky. It could have been so much worse."
Hanson said she is proud to have seen Columbus blossom even more in the 10 years she has been back, noting the options for dining and entertainment have exploded. Although she is happy to be living in Nebraska, she's also glad she moved away for a while. Those years in New York are, in a way, why she is who she is today.
"I would not be the person I am if I hadn't seen what I saw and lived the life I did out there. I think you get a way better perspective, a better understanding on how everyone plays a part in the whole scheme of things," Hanson said. "It opens your eyes a ton. It opened mine a ton for sure."