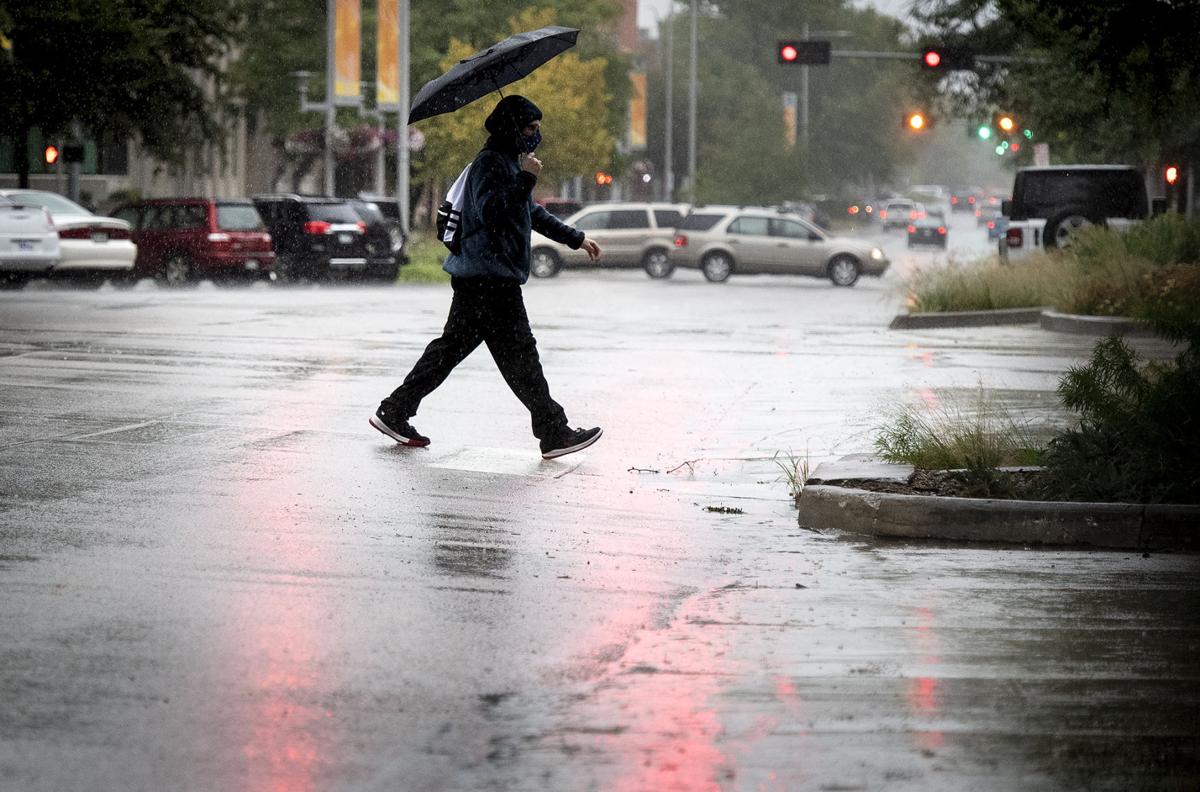 The cold front that swept across Nebraska on Tuesday may have been a shock to the system after triple-digit highs over the weekend, but it has brought some much-needed rain to the state.
After the driest August in Nebraska's history, drought continued to expand across the state last week.
According to the latest Drought Monitor from the University of Nebraska-Lincoln released Thursday morning, nearly 56% of the state was in some level of drought as of Tuesday morning, up from 48% a week ago.
More than a quarter of the state is in severe drought, up from less than 20% a week ago, and nearly 2.5% is in extreme drought.
The good news is that there's been significant rainfall the past three days in many areas that needed it.
Tekamah, which is in extreme drought, has gotten about 2¼ inches since Tuesday. Omaha, which is also in extreme drought, has seen about 1½ inches. Norfolk, which is in severe drought, got about 1¼ inches. Hastings, also in a severe drought, saw about 1.1 inches.
That rain will help parched areas, but a lot more is needed to eliminate the drought conditions.
"While the rain is very helpful for the short term, the fact is that a long-term drought remains," the National Weather Service's Omaha office said in a tweet Thursday morning.
Not everywhere saw needed precipitation, however.
Scottsbluff, which is in severe drought, had received only 0.14 inches as of Thursday morning. Sidney, also in a severe drought, saw less than one-tenth of an inch.
As of Thursday morning, Lincoln had received 1.27 inches of rain since Tuesday, which matches the amount of rain it got for the whole month of August. That was actually better than the state as a whole, which averaged only 0.78 inches for the month.
Still, Lincoln is much better off than many other areas of the state. All of Lancaster County is considered to be abnormally dry right now, but only a tiny sliver of the northeast part of the county is in moderate drought.
There is a good chance for more rain on Friday, especially in the eastern part of the state, but warmer and drier conditions are on tap starting Saturday.
Lincoln's forecast calls for upper 70s this weekend, with lower 80s returning Monday-Wednesday. No rain is in the forecast for any of those days. The long-term forecast calls for average precipitation and a slight chance of above-average temperatures.
Be the first to know
Get local news delivered to your inbox!