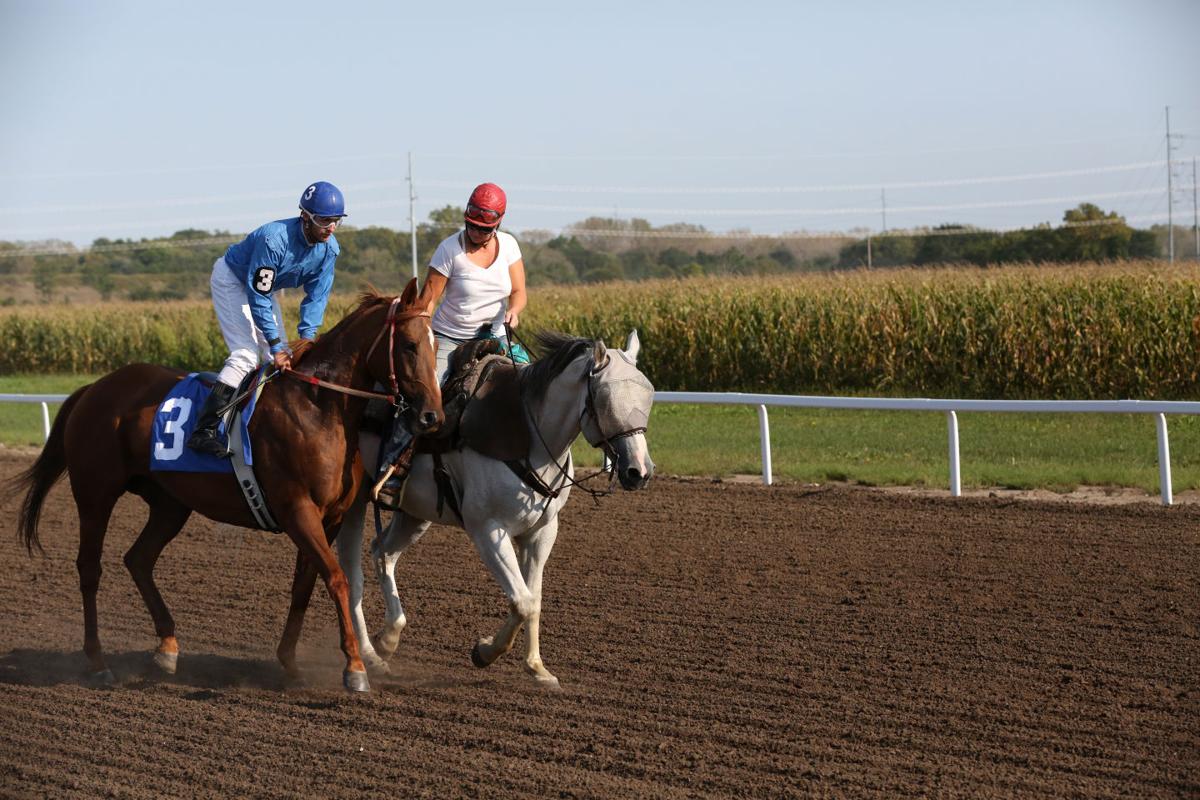 Casino gaming at Nebraska horse racing tracks would help keep gambling dollars in the state and potentially ease property taxes, say members of a coalition hoping to put the issue before voters next year.
The group, called Keep the Money in Nebraska, filed proposed petition language this week with Secretary of State John Gale and hopes to gather enough signatures from registered voters to place the issue on the ballot in November 2016.
The effort is limited to horceracing venues, and the state's constitutional ban on other forms of expanded gambling would remain in place.
"The casinos in Iowa have essentially killed the Nebraska horseracing industry and all the jobs associated with it," said Lance Morgan, CEO of Ho-Chunk Inc., the Winnebago Tribe of Nebraska's economic development arm and a sponsor of the petition effort.
Supporters of expanded gambling estimate Nebraska has missed out on some $5 billion in gaming revenue during the past 20 years, he said, and "I think it's prudent to get some of that back in the state."
Their proposal would require a $1 million license fee per operator and impose a 20 percent tax on gaming revenue., of which 75 percent would go to the state and 25 percent to local governments where the racetrack is located.
If voters allow gambling it won't stop at racetracks, said Pat Loontjer, executive director of the anti-expanded gaming group Gambling with the Good Life.
"It will blow this state wide open with Indian casinos," she said Friday.
"It's being sold as 'save the horses, only at the tracks' — that's not what's going to happen," she said. "The minute we change the Constitution ... that opens up the state to widespread Indian casinos, which are untaxed."
She pointed to the Ponca Tribe of Nebraska's ongoing effort to place land at 27th and O streets into a federal trust, which would prevent the city and state from enforcing many laws on the property. Larry Wright Jr., chairman of the Ponca Tribe, has said the tribe has no plans to attempt to put a casino there.
Morgan said supports want to allow gaming only at the state's five licensed racetracks: Lincoln Race Course in Lincoln, Fonner Park in Grand Island, Horsemen's Park in Omaha, Columbus Exposition and Racing in Columbus and Fairplay Park in Hastings.
Ho-Chunk Inc. has also said it plans to re-open Atokad Downs in South Sioux City, a thoroughbred track that closed in September 2012, and eventually operate a casino there.
The proposed petition language submitted Tuesday contains three questions: one would amend the state constitution and two would change state law.
The constitutional amendment would allow voters — but not the Legislature — to "allow for the operation of all forms of games of chance to be conducted with licensed horseracing within the state."
The statute changes would allow gambling at racetracks in rural areas, Lincoln and Omaha or the state's 30 first-class cities, and would create a commission to regulate gaming in Nebraska.
"Whether you support gaming or not, obviously some people are going to do it" — either in Nebraska or Iowa, Morgan said. "Nobody puts a gun to anyone's head and says they've got to go to a casino. ... It's a voluntary entertainment option."
Loontjer acknowledged attitudes toward gambling may have evolved in recent years, just like with other social issues. But a three-question petition drive can be confusing, she said.
"They better do a lot of extra signatures over the 80,000," she said.
Supporters would need about 113,900 signatures, or 10 percent of the state's registered voters, to place the proposed constitutional amendment on the ballot. The proposed law changes would each require about 79,700 signatures, or 7 percent of voters.
Petition sponsors include Ho-Chunk; the Horsemen's Benevolent and Protective Association, which represents Nebraska's horse owners and trainers and owns Lincoln Race Course and Horsemen's Park; and Omaha Exposition and Racing, which operates the Omaha and Lincoln facilities.
Barry Lake, president of the Horsemen, was reluctant to comment until the Secretary of State's Office gave the petition language the all-clear.
Gale's office turned over the proposed ballot questions to legislative bill drafters on Wednesday, and they have 10 days to review the language and suggest edits, said Laura Strimple, spokeswoman for the secretary of state.
Last year the Nebraska Supreme Court removed an item from the ballot that would have asked voters whether to allow betting on historical horse races, ruling that it violated the constitutional requirement that ballot issues address only a single subject.
"We've got to see what the secretary of state says," Lake said.