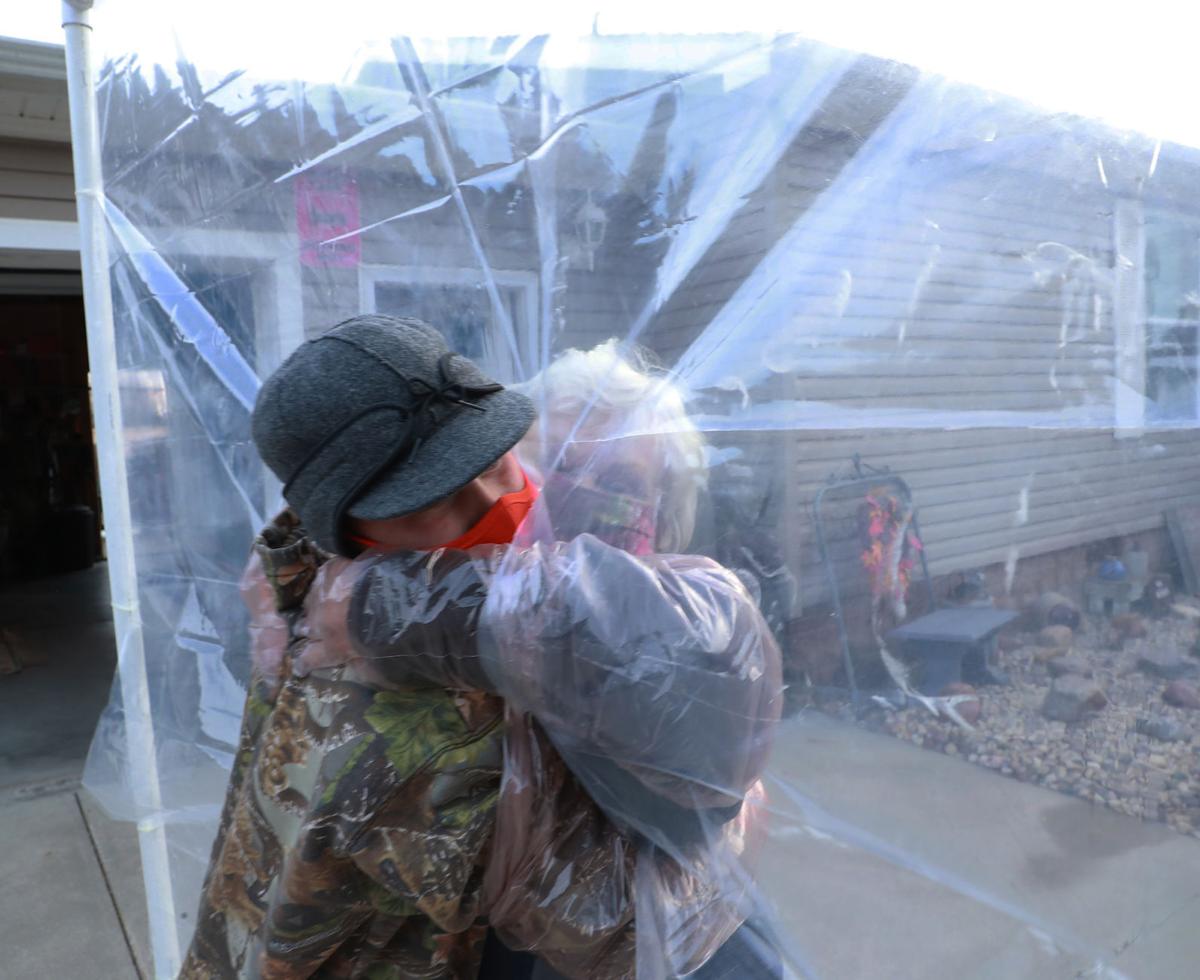 PALMER — After months of not being able to hug their grandparents, two Palmer boys now can, thanks to a homemade "hugging wall."
To hug Donna "Granny" and Rich "Popo" Myers, Brady Myers, 13, and his brother, Max, 7, both of Palmer, fashioned the hugging wall out of PVC pipe and a shower curtain. They all then put on breeder sleeve gloves to hug each other through holes in the shower curtain created as part of the structure.
Brady said he, Max and their mom, Jen, took supper out to Donna and Rich at their home south of Central City one night. He said that on the way home, "Granny" was crying because she couldn't hug them and hadn't done so since January due to the COVID-19 pandemic.
After noticing the emotional toll this took on Donna, Brady said, Jen found a video on Facebook of a "hugging station" and suggested the boys make something similar. Brady said his mom bought all the materials for about $10 and the boys got to work assembling it.
"It took the longest to make the frame. We used zip ties to hold up the shower curtain," he said. "It was a little bit on the easier side, but it took me about a half hour to make. The time was well worth it."
Jen said the hugging wall was delivered to Donna and Rich's house Nov. 2. She said Rich, who is battling bone cancer and is staying home due to COVID-19, had a cancer treatment the following day, "so the boys wanted to get it out there before he went to that."
"This was truly about two boys hugging their grandparents, one of which has cancer and can't afford to get sick over COVID," Jen said. "My kids have the biggest hearts and all they want to do is to have some quality interactions with all of their family without the fear of endangering them. The boys just wanted to give them that opportunity to give a simple hug."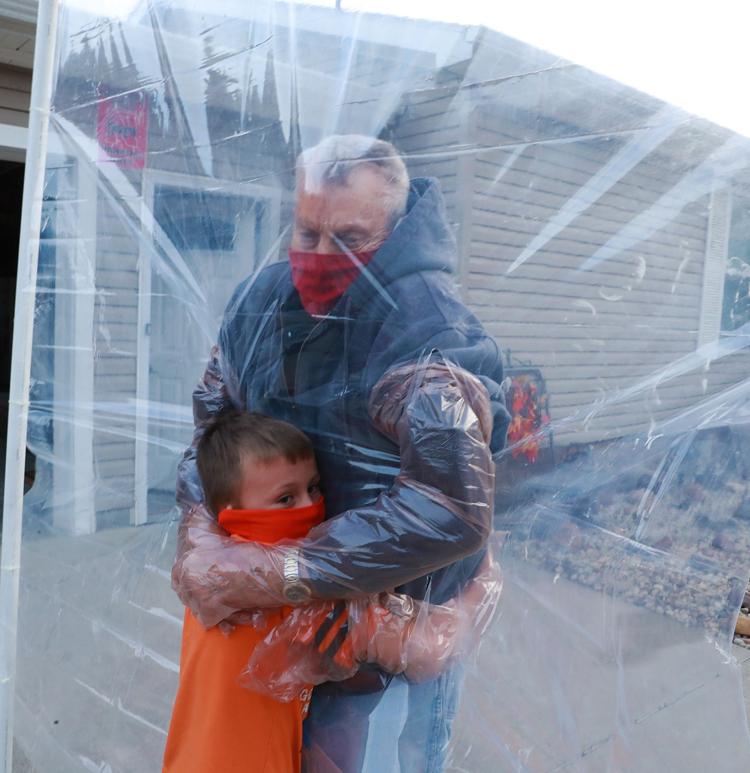 Rich said being able to hug his grandsons through the hugging wall is "wonderful."
"It (the night of Nov. 2) was the first time we knew anything about it," Donna said. "They came out, it was after dark and Brady called us and said, 'We want to see you out on the driveway.' I thought, 'What the heck?'"
Max said it was "pretty cool" for him to be able to hug his grandparents and that "they give the best hugs."
Like Donna and Rich, Max said he also became emotional during the initial hug through the hugging wall.
Brady said the hugging wall is kept in the garage of Donna and Rich's house. He added that whenever any other relatives visit them, the hugging wall is used.
"They've gotten some good use out of it," Brady said. "A number of family members can come out and then can use it."
Donna said she and Rich have used the hugging wall "two or three times more" after Brady and Max's visits. She said she sanitizes the hugging wall and the gloves after each use.
Brady encouraged others to make a hugging wall if they are in a similar situation as his family.
"If you have any other people who want to use it and you want to take it to their family members' house, I would strongly encourage it," he said.
Creating community during crisis
The show went on … a month early
Switching to hand sanitizer
Coffee for health care workers
Homemade masks for the mission
Red Cloud's parking lot graduation
Lunch date with a squirrel
Guard helps Food Bank of Lincoln
Red carpet for essential workers
Nebraska Strong PSA
Nebraska National Guard flyover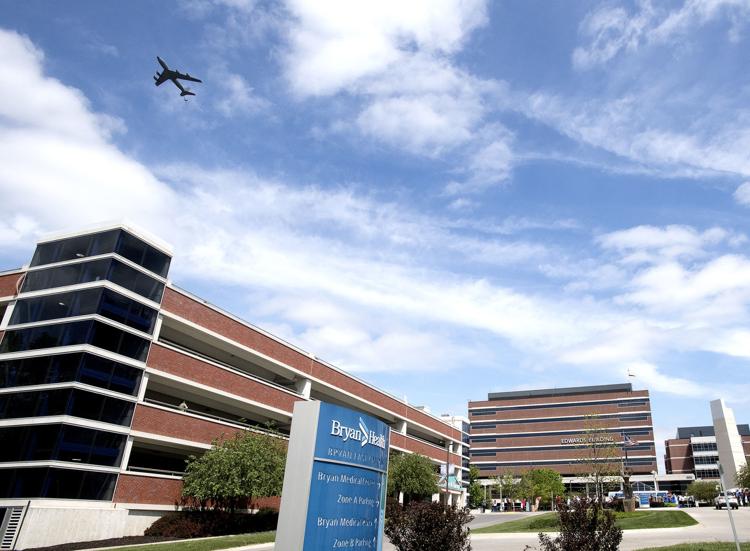 Lincoln East return and retrieval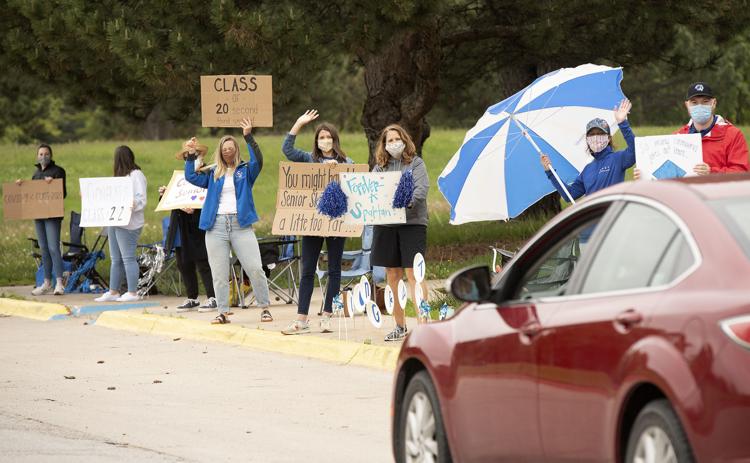 Watch Now: Screamers performance at Hillcrest Firethorn
Asian Center connecting with those in need
WATCH NOW: Parking Lot Plays
Corrections workers lend a hand
Watch Now: Lincoln churches unite in blessing