In some ways, Lori Cox will be like any other first-time visitor to the Nebraska State Fair when the gates open Friday morning in Grand Island.
She'll take a cruise through the carnival midway and the cattle barns, pass through the vendor areas and check out the food options.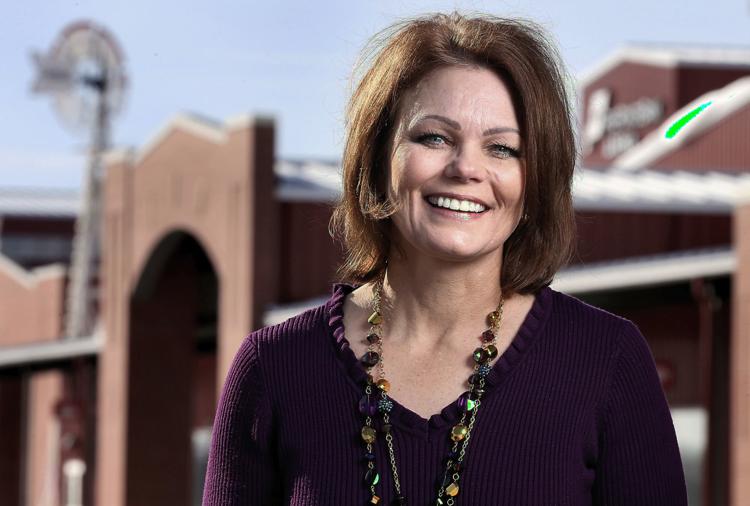 But at the same time, her first fair as executive director will also include monitoring traffic flow, evaluating congestion points on and off the fairgrounds, checking out security and bio-security measures and everything else that goes into managing the state's 11-day end-of-summer celebration.
Cox, who left her native Montana in January to take over the fair in Nebraska, said Thursday that the past eight months have been a bit like getting on a spinning carnival ride.
Early on, her focus was to get to know the fair's staff and what they do, and finalizing marketing efforts for the fair, which this month lured visitors with catchy slogans such as "Buckle your Meatbelt."
She ventured to counties all across the state, working to learn as much about Nebraska and its people as possible.
"As far as the fair goes, I just tried to stay out of the way," said Cox, noting that most of the concerts and other entertainment were already booked and that administration of the livestock shows were in good shape.
This year's fair, falling on an election year, will include two political debates. Candidates for U.S. Senate will square off at 9 a.m. Monday, followed at 3 p.m. Thursday by a debate between gubernatorial candidates.
The surroundings will include traditional fair entertainment, led by what's billed as the nation's third-largest carnival midway.
There are some new twists on fair food, including a pasta bar, and a fairgrounds tavern will tap 30 Nebraska-brewed beers for thirsty guests.
Kelly Clarkson and Sugarland kick off the fair's concert schedule, although wet grounds forced both weekend shows to be moved indoors.
Cox said the move, the result of a saturated infield at the Fonner Park horse track, is an example of what she'll focus on during this year's fair.
What can be done in future years to make things better?
She said the fair's staff and board members will be formulating a master plan to provide a blueprint for those improvements.
A year ago, attendance at the fair -- 379,108 people -- set another record since moving to Grand Island and approached the event's 20-year-old all-time record.
Cox said the fair hopes to continue that growth spurt, in part, by drawing more families by offering experiences you can't get anywhere else and providing more for every hard-earned dollar.
There will be 9,000 animals on the grounds at different times during the fair, she said, with a milking parlor and animal birthing pavilion offering unique experiences for guests.
The entertainment options of sea lions, sharks and jumping dogs should also be a hit.
"As a mom, I'll go as far as I need to go to provide the best experience for my kids," Cox said. "That's what we're hoping all families who visit the fair will experience."