The bank CEO found a formula for building businesses in the rural heart of Nebraska.
Choose a town, buy an old building on main street and turn it into a bank branch. Drive-thru lanes weren't necessary because customers like talking face-to-face.
In nine years, David Gale helped grow Sandhills State Bank from its original branch in Bassett to 10 locations in some of the state's smallest towns — such as Hay Springs, Hyannis, Keystone and Elsie — and expanded its assets nearly tenfold, to $238 million.
And all of those small-town main streets got him thinking: What could he do to help build a culture of creativity, too?
Young Nebraskans in the center of the state are isolated, hours from the nearest public art museum. They don't have access to the same triggers that can help them think beyond their own geography and outside of their own experiences.
"Without that spark, instead of having young people who can think strategically or think creatively or think outside the box, you find a lot of young people that are only comfortable inside the box," Gale said. "As someone who helps these operations and main-street businesses grow in the Sandhills, one little thing I thought I could do to provide that spark is through art."
And that's why a team of volunteers, many of them teens, have spent hundreds of hours renovating an old building on Bassett's main street, just north of the bar.
When the Old Feed Store Art Center opens Jan. 15, it will offer 3,200 square feet of creative space — permanent, exhibition and local artist galleries, studios, a classroom, workshop and sculpture garden — built for the community, and by the community.
"Maybe it was my idea," Gale said. "But a lot of people have worked on it and refined it."
Rock County Growth Inc., a nonprofit development group, bought the building for $25,000 with funds donated by Francis Kramer, a rancher who died in 2016. Rock County FFA members and Boy Scouts have spent six months getting it ready for next month's opening.
So far, the renovation has cost about $25,000, which was raised through cash donations, and the art center's board is trying to raise another $25,000 to finish the job. The center will then seek grants — from the Rock County Community Foundation, and others — to pay its annual operating expenses, Gale said.
The center will open with Joel Sartore's "Photo Ark" — on loan from the Museum of Nebraska Art —  in its exhibition gallery. Gale and his wife, Kristine, will move some of their own extensive art collection — including pieces by Jun Kaneko, Keith Jacobshagen and Robert Henri — downtown to begin building the center's permanent collection. And the Sandhills Gallery will give locals a chance to share, and sell, their work.
"We have so many artists in this area, the plan is to have local artists showcase their stuff," said Rachel Usasz-Keber of the Bassett Arts Council. "And they'll rotate every three months."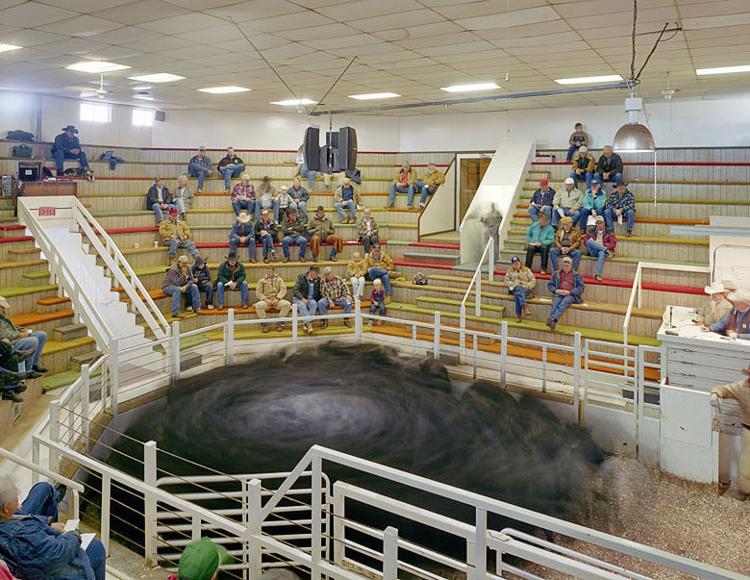 It won't be just for Rock County. Artists and art lovers from across the northern Sandhills — from Merriman to O'Neill — will be welcome to use the center, Gale said. And other towns could eventually get their own; he wants to explore the idea of replicating the Bassett project in other communities, to spread the access to art.
"If we can figure out this model, we can almost franchise out the Old Feed Store Art Center concept," he said.
Before that, though, the volunteers still need to finish their building's exterior and complete the classroom and kitchen. The old building needed work; it had hosted multiple Bassett businesses over the years. A real estate agency, an insurance company, a physical therapist's office.
But maybe not the feed store. Gale learned later that was likely the building next door. Still, they liked the name: Feed stores were traditional gathering spots in small towns across Nebraska, and the art center will serve a similar role. So they're keeping it.
"And the fact it may not actually be the Old Feed Store Art Center may be artistic in itself."
Be the first to know
Get local news delivered to your inbox!