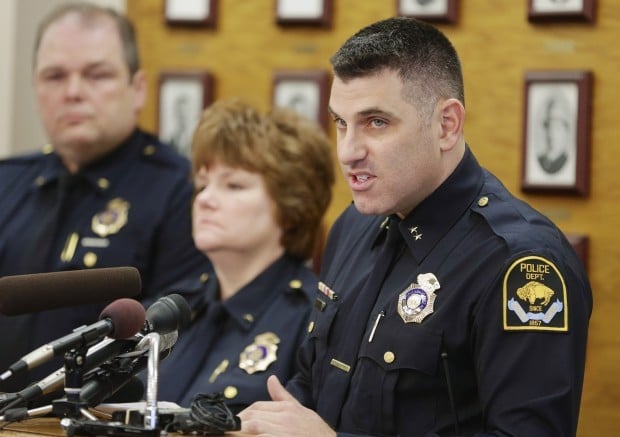 OMAHA — Four Omaha police officers have been fired following allegations they used excessive force, including punching a restrained suspect during an arrest that was secretly recorded, Police Chief Todd Schmaderer said Friday.
Three more officers were put on leave and another reassigned, he said at a news conference.
Schmaderer declined to name the officers, saying the department's personnel policy prevents him from doing so until the investigation has been exhausted.
Those fired include a command officer, he said. The firings remain subject to a termination hearing.
A neighbor recorded the March 21 arrests as officers responded to a parking complaint in a north Omaha neighborhood. The video showed an officer grabbing 28-year-old Octavius Johnson from behind, violently throwing him to the ground and punching him while he was restrained. Several other officers are seen chasing Johnson's brother, Juaquez Johnson, 23, into a nearby home.
Family members say police knocked over a woman in a wheelchair inside the home and confiscated a camera from Juaquez Johnson that he had been using to record his brother's arrest.
That footage has not been made public, but police began an internal investigation a day after the neighbor's video was posted online.
"Many of the police actions that took place that day are in violation of our policies and do not represent how I want our officers to conduct themselves," Schmaderer said.
The Johnson brothers were arrested, but online court records do not show that they face any changes stemming from the arrests that day. A third brother, 22-year-old Demetrius Johnson, was arrested in the home on an outstanding warrant for a drug offense. Court records show he also faces a misdemeanor obstruction charge from the March 21 incident.
Schmaderer did not address questions about whether the investigation had determined what action police took inside the house, saying the investigation is ongoing and police are more concerned about the action seen in the video outside the house.
Some community activists applauded the firing of the officers.
"I think the chief did his job," said Robert Wagner, whose own videotaped arrest in 2011 outside an Omaha hospital led to accusations of police brutality. "If nothing else, it's saying we have a standard we need to maintain."
A hospital security camera captured images of several Omaha police officers pinning down Wagner in the parking lot, and seemed to show one officer kicking him while he was restrained on the ground. Two officers were fired, but one was later reinstated following arbitration.
D'Shawn Cunningham, a write-in Omaha City Council candidate who has been vocal about police abuses, lauded Schmaderer's investigation and firing of the officers, but said the city needs to reinstate an independent police auditor. Omaha has not had a public safety auditor since the last one was fired in 2006.
"These kinds of police abuses happen all the time, but there's rarely video of it to prove what happened," Cunningham said. "We still end up in the dark on a lot of these things."
ACLU of Nebraska Executive Director Becki Brenner noted that trust between the Police Department and people in Omaha has been strained since the incident.
"While the action in this instance is admirable, it will take more to build the trust of the community," she said in a statement Friday afternoon. "We hope that this sparks a series of reforms from the Omaha Police Department and that they actively work with community leaders moving forward."
Mayor Jim Suttle said he stood behind the chief's actions.
"The Police Department has policies and procedures that must be adhered to all times, especially when dealing with the public," he said. "Chief Schmaderer's determination to uphold the department's professional standards is admirable."
The Douglas County Attorney's Office has been reviewing the case for any criminal violations by the officers or others, and police continue to investigate.