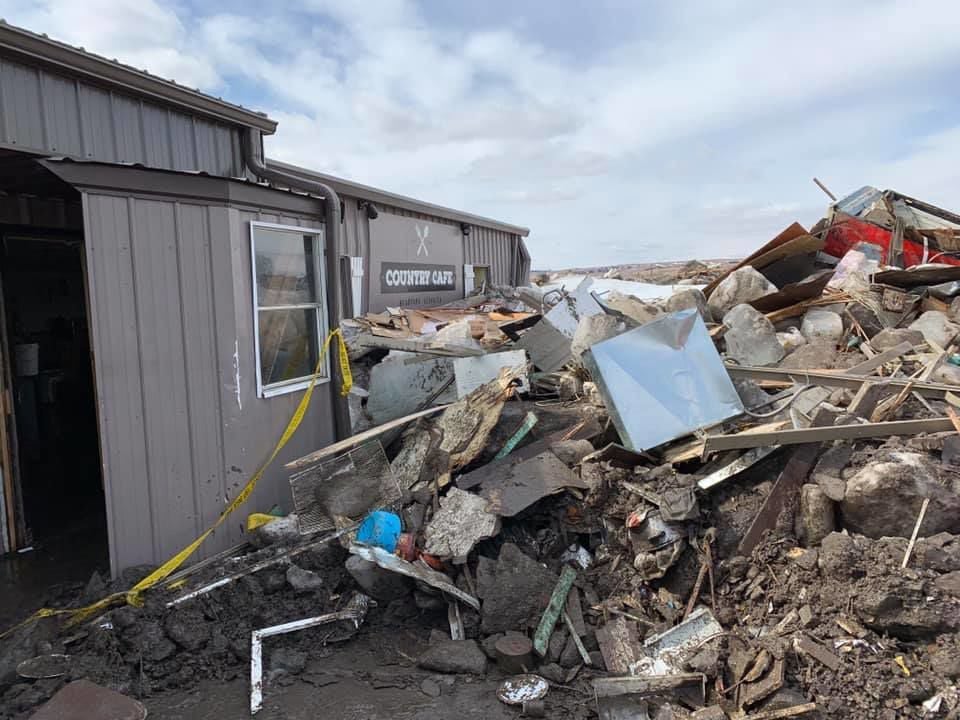 After the wall of ice-spiked water wiped away her family's livelihood, Ruth Janak would sometimes search the debris field along the Niobrara River.
"I'd go exploring whenever the weather was decent," she said. "And if I knew I wouldn't get stuck in the mud."
She found V-belts from Vic's Service, the repair shop she and her husband opened 25 years ago on the low-lying edge of Niobrara. She found a $5 bill that must have come from their spare change box.
She found a sign from Angels' Straw Bale Saloon, the bar that disappeared with one of its owners when the 90-year-old Spencer Dam failed nearly 40 miles upstream.
She found her fax machine and microwave in the mud, a few candy bars and bottles of pop. But she couldn't find the pop cooler, or their work benches, or much of their main shop building.
And after they thought about it, she and her husband couldn't find a reason to rebuild and reopen on the piece of land they'd occupied for a quarter-century.
"We did not feel like taking those chances of having flooding issues all the time, especially with the dam gone," she said. "Anywhere from Wyoming to here, anyone getting a huge amount of rain, it will all end up here."
Four months after an 11-foot surge of ice slabs and floodwater all but erased a corner of Niobrara, the Knox County town is starting to resemble its old self, said Jody Stark, the village chair.
They reopened most of the roads, cleaned most of the debris. They restored the water system and repaired the sewer. But something is still missing: The visitors that fuel their economy.
"There's just not a lot of people around," Stark said. "That's our biggest thing. Everything's normal. Everything's fixed. It's the tourism that's affecting us now."
The problem, and the solution
The water hit so hard that Thursday morning in mid-March it unmoored the Mormon Canal Bridge — the town's connection to the west.
A small crowd gathered at the river and watched it go, the short but critical length of Nebraska 12 floating to the nearby mouth of the Missouri like a concrete barge.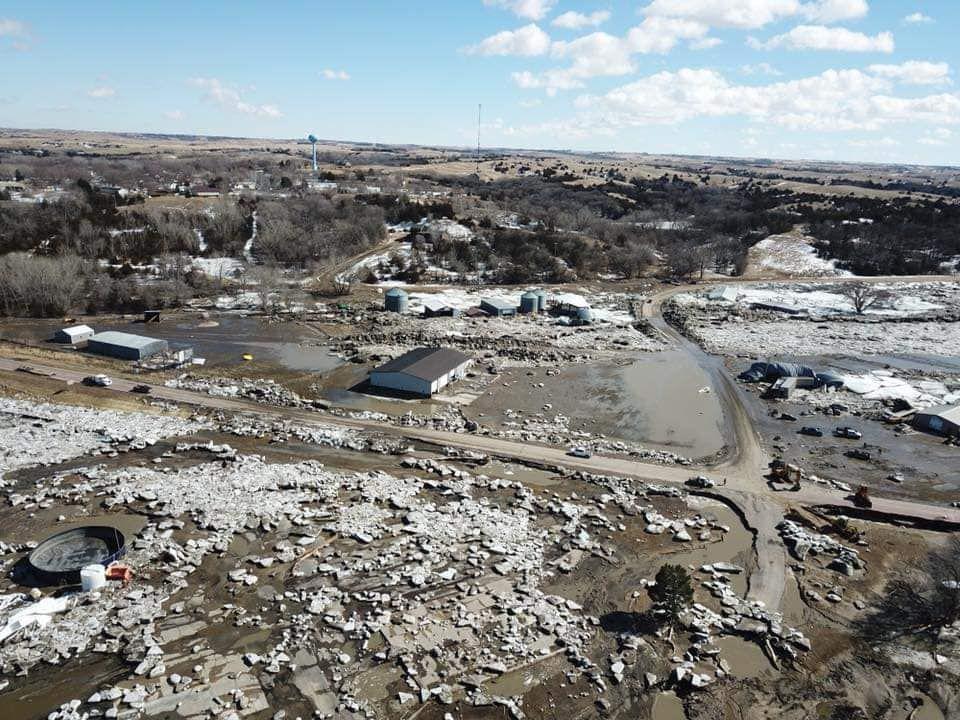 The impact was immediate. Ranchers who lived in town were forced to take 100-mile detours through South Dakota to care for their cows on land normally 15 minutes away. Students and teachers were severed from the school.
The trip is shorter now. Rural roads dried and were repaired, and the Knox County Economic Development staff worked with the Plainview News to make a map highlighting alternate routes.
Still, the missing bridge is keeping some west-siders from coming to town to buy gas and groceries, and locals say it's deflating the number of visitors to Niobrara State Park, although the Nebraska Game and Parks Commission could not provide attendance numbers or comment on visitation.
The town of Niobrara, and the northern part of Knox County, rely on tourism, primarily from the state park and Lewis and Clark Lake.
The busier the parks, the better for retailers. A strong summer can help sustain them through the winter, said Megan Hanefeldt, the county's economic development director.
"That is really the bread and butter of our communities," she said. "We're seeing people coming in, but not at the numbers that they should. It's a little concerning."
It's too early to measure the decrease, she said. And the cool, wet early summer likely didn't help. But she's also heard from those who are avoiding the area because they don't want to get in the way of recovery efforts.
Get up here, Hanefeldt said. "I've told people the last couple of months to come see us. That's the best way they can support the area."
And there's hope on the calendar. A crew from Hawkins Construction has been busy, building a temporary connection across the river.
"It's kind of a Lego bridge," said Kevin Domogalla, an engineer with the state Department of Transportation: A one-lane deck set on bridge piers, traffic controlled by stoplights.
But it will restore Niobrara's link to the west, and the project should be finished by the Aug. 15 deadline, five months after the flood.
"They've made, in my opinion, incredible progress," he said. "They're moving right along."
After that, they'll start work on the permanent two-lane bridge, working against a November 2020 deadline.
One business stays, one goes
Vic's Service is back in the business of car repair, but this time up the hill — the high and dry part of town — in what used to be Greg's Motor and Marine.
There's symmetry here. A quarter-century ago, Ruth and Vic Janak bought their riverside repair shop from Greg Jones. On the last day of April, they bought another shop from him.
"That's a story right there," Ruth Janak said. "And we don't have to worry about flooding ever again."
They'd lost too much at their old site, and the cost of rebuilding was too high. The ice cakes had folded over their gas pumps and damaged their diesel tank. They were facing a $10,000 electrician's bill just to be able to sell fuel again.
Now they have three service bays in one building, a bigger office, working pumps and tanks.
Business has been good since they reopened in early May. They're grateful for customers so loyal they go out of their way to buy tires from them. And it should get better when the bridge reopens.
They plan to use what remains of their old shop for storage. A new owner would just be a target down there, she said.
"I don't see a reason to sell and have someone else have a headache."
But her longtime neighbor, Laura Sucha, couldn't imagine doing business anywhere but the low-lying corner of town.
"Everybody's moved on, but not me," she said. "I'm staying right here."
She's spent a quarter-century on the edge of town, either working at, leasing or owning the Country Café. The flood battered her restaurant — dislodging the roof, jamming the dining room with ice, tearing away walls — but left it standing.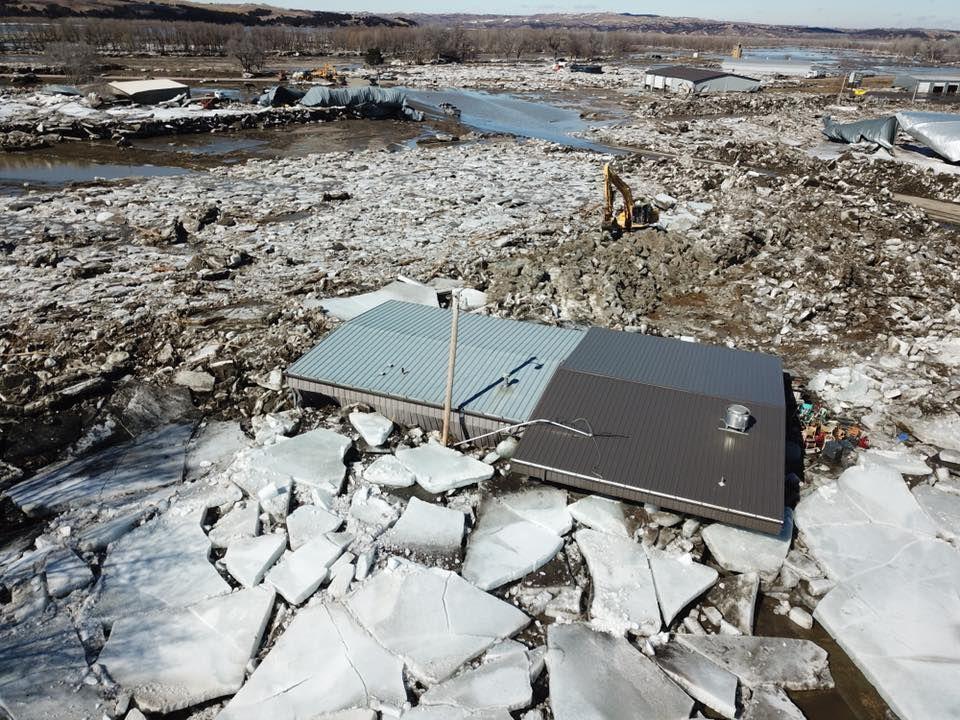 Her family and the community helped with the cleanup. Lincoln's Brester Construction donated a week's worth of work and materials, and Sucha reopened the first week of June.
She's been serving enough food to put her one full-time employee and seven part-timers back on the clock, as if her customers are making an effort to keep the café busy.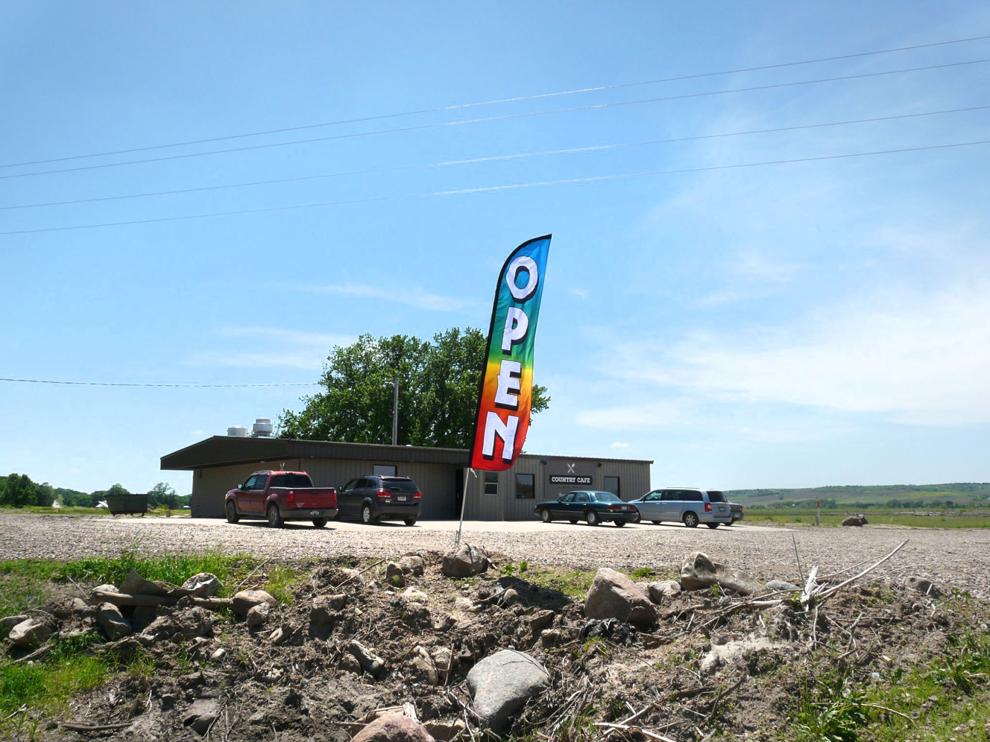 "It's way better than we expected," Sucha said. "But the tourists, they're just not around. We relied on a lot of vacationers and they're not just coming."
Damaged trails, empty water
During the week, Stacy Kreycik Miller helps coordinate Knox County's tourism efforts. On weekends, she's helped give tours of her family's elk and bison ranch.
"My dad, he loved elk," she said. "He used to go hunting and he decided, 'Forget that, I'm going to raise them myself.'"
Every summer for 23 years, their tractor-pulled covered wagons would carry thousands of customers through the hills west of Niobrara, putting them face-to-face with elk calves and bison bulls.
But not this year, at least not yet. "The flood did us in, kind of the straw that broke the camel's back," Kreycik Miller said. "We just decided this will be our last year."
The wet spring caused two problems. It soaked their hills, rejuvenating springs that washed away the trails. Tours wouldn't be safe.
"Either we would bury the tractor," she said, "or we would dump the wagon."
And even if they had been ready, the roads would have kept customers away, the gravel detours too rough for small cars and tour buses.
Her family hopes to salvage part of the season, but there's still so much work to be done.
"This is not how we envisioned our last year to be," she said. "But I guess you can only do so much."
Down in the river valley, Diane and Calvin Krupicka have no hope of opening their Niobrara Adventures this season, and maybe not next summer, either.
For a half-dozen years, they've put up to 3,000 people a year in tubes and kayaks to float a half-mile of Verdigris Creek and then 4 miles of the Niobrara, pulling them out near the Mormon Bridge.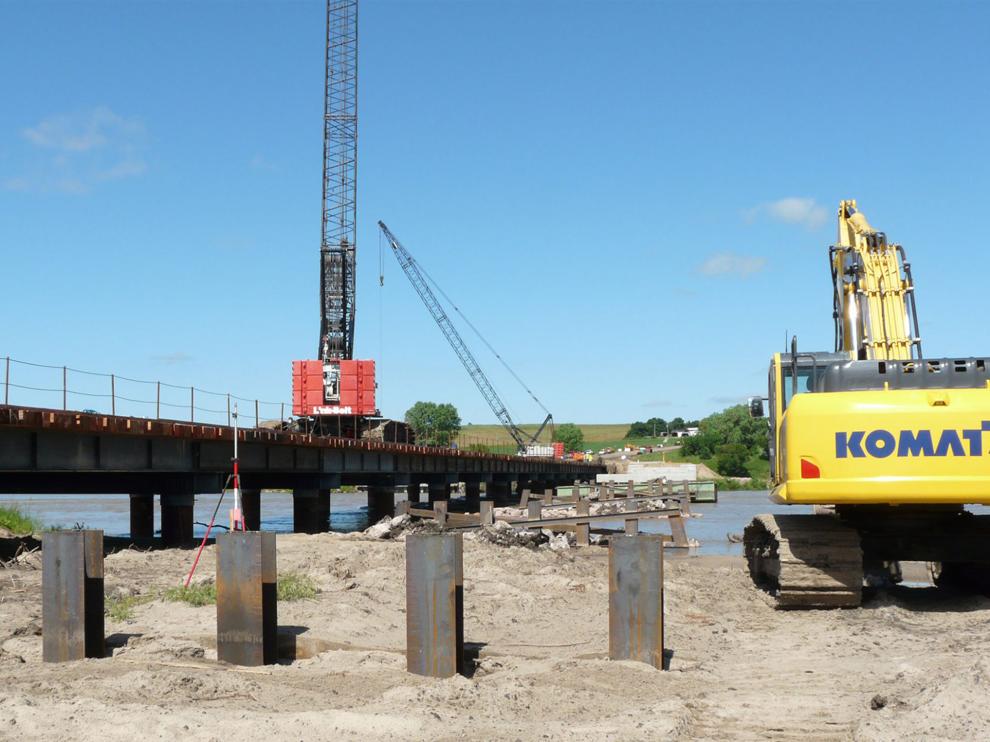 Her husband grew up on the river, and they wanted others to experience the scenery. But there are no public access points.
"No one can enjoy the river anymore because it's all privately owned," said Diane Krupicka. "We thought it was worth enjoying."
They've added gravel to their parking lot every year, put in portable toilets, installed fences. She once heard it takes five years to figure out a business, and she finally felt like she had it figured out.
"I was getting excited to start the new year," she said. "And this happened."
They were hit by two flash floods. First, the Verdigris overflowed. The next morning, they got a warning call: The dam had failed, and a wall of water was moving down the Niobrara.
They scrambled, trying to save cows and machinery, not sure what to expect — or when.
"When you have a dam break, how much time do you have?" Krupicka said. "I've never been so scared in my life."
The floods took everything they'd built — the parking lot, fences and trees. It washed out the landing near Niobrara, their takeout point. And work on the replacement bridges will keep their customers off the water. They don't want to get in the way.
"We're hoping someday we can have business again. But we don't know."
But they do know they can have a party, she said. So she's inviting everyone to their place for a free all-ages beach party July 20. They're planning games, music, contests, prizes.
"We've been through enough sadness, the town's been through enough sadness, and we decided we all need to enjoy and relax," she said. "Plus, we miss people. We really miss people."