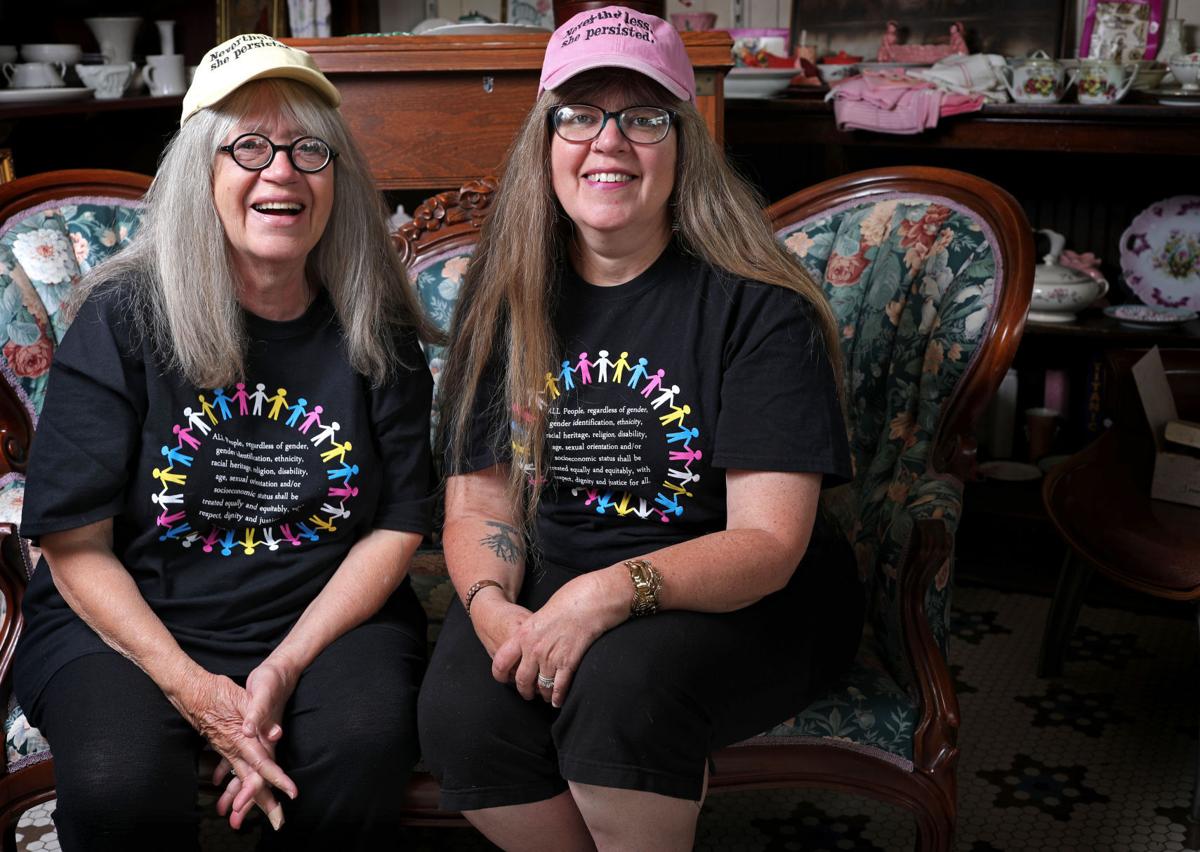 LOUP CITY — Although they're sisters, Charlene Kampfe and Tamra Jonak never had the chance to really get to know each other.
They were separated by a 16-year age gap, and until this year, 1,200 miles.
But after her husband passed away in late 2016, Kampfe moved back to Loup City, her hometown of 1,000. The silver lining: being closer to her sister.
They'd chat in Jonak's store, Recycled Relics Antiques, and bonded over their political discussions.
"We're from two different generations almost, but I think that we think pretty closely," Kampfe said.
Trump's comments on Mexicans — "They're bringing crime. They're rapists." — and his suggestion of a Muslim ban horrified Jonak.
Trump's mockery of a disabled reporter pained Kampfe. She'd seen people who are disabled bullied in her career in rehabilitation counseling, but never by a presidential candidate.
The final straw, Jonak said, was when Trump was elected, despite his comments making light of sexual assault on women.
So the sisters decided to take action in Loup City and organized one of 670 satellite Women's Marches.
Kampfe is a seasoned activist. The 72-year-old became involved over 30 years ago after earning her Ph.D. She lobbied to protect the rights and dignity of the disabled.
Jonak, however, was not well versed in activism.
"I never felt the need to be involved in something like that before," she said.
On Jan. 21, the group paraded down the small town streets, past the courthouse, where in 1934 a riot erupted to fight for women's rights — the same cause that now, 83 years later, they still stood to protect.
It was a "whirlwind," Jonak said. Plans for the march took off by word of mouth and then Facebook, and about 150 people showed up, many more than expected.
"It made me feel better at a time when I felt helpless or even hopeless," she said. "It felt like we're finally in control of something and we can make a difference and make our voices heard, even in Loup City."
The mayor showed up and thanked them for coming, even though he held different political views and did not march. However, he let the sisters use the community center to make signs.
The sisters dubbed the march the "People's March for Equality." Both Democrats and Republicans participated.
They don't have new rallies planned, but an annual march isn't out of the question, they say.
For now, the sisters feel proud they've created a community, and they frequently talk politics with people they met at the Loup City march.
Amidst new friendships, the strongest bond that emerged from their marching experience was their renewed sisterhood. 
"That was the best part, seeing the power of my sister," Kampfe said. "My father would've been so proud of the power these girls have."