The highest-priced bull in auction history is on his way to Nebraska, to visit his new owner's ranch near Falls City.
Charles Herbster won the four-minute bidding war for SAV America 8018 earlier this month at an auction in rural North Dakota, writing a check for $1.51 million for the beefy black Angus.
In grocery store terms, that's more than $940 a pound.
But the year-old "freak" of a bull isn't headed to the meat market. After a brief visit to Nebraska, he'll spend most of his months under the constant eyes of caretakers in a grassy pen west of Washington, D.C., delivering his valuable semen twice a week. Probably Tuesdays and Thursdays.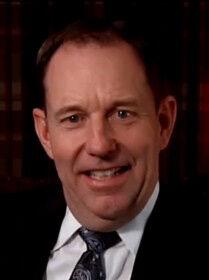 "We'll take good care of him," said Herbster, a fifth-generation farmer, former gubernatorial candidate, president of the Conklin Co. and President Donald Trump's top ag adviser. "We'll give him the treatment of a thoroughbred racehorse."
SAV America will spend summers cutting loose with Herbster's other big-ticket bulls where they grew up — in the rolling Missouri River hills south of Mandan, North Dakota, at Schaff Angus Valley ranch.
"They run with cows and breed with cows all summer long," he said. "He's going to be what God intended him to be. That keeps them young, it keeps them vibrant and we get more semen out of them if we do that."
And that's where the money is. If all goes to plan — if SAV America's semen is as potent as expected, and if he can keep up with demand from around the globe — he'll make his owners about $800,000 his first year. He'll probably pay for himself in three. He'll likely keep producing for 10.
Herbster Angus Farms has already pre-sold about 10,000 SAV America semen straws — each filled with 40 million sperm cells — to commercial cattle ranchers and registered breeders at $80 apiece, twice what it normally charges.
"And no one knows the potency of this bull," Herbster said. "This bull has never been collected."
Herbster will charge another $80 for registration certificates, if SAV America's semen produces a calf.
Not bad for an animal that beat the odds, he said.
Herbster had a long history with Schaff Angus Valley before he heard about SAV America.
He bought Madam Pride 8264 — the mother of Madam Pride 0075, whose embryo would give life to SAV America — about 15 years ago for nearly $100,000, the most one of the ranch's cows sold for.
Herbster kept buying, and he kept setting records. In 2011, he paid $275,000 for SAV Harvester, and that changed things.
"That was the purchase that set me on a new journey of understanding," he said.
Meaning: He realized if he was going to traffic in world-class genetics, if he was going to sell bull semen around the globe, he'd need his own collection center. So in 2015, he bought the 60-year-old North American Breeders in Berryville, Virginia.
The original owners had discovered a process to increase semen potency, freeing the straw of dead cells. On average, he said, his product leads to a conception rate more than 20 percent higher than other breeders.
"You can have the best semen in the world, but if you do something else wrong, you're not going to have any results."
He continued buying Schaff Angus Valley bulls: $650,000 for SAV Sensation; $725,000 for SAV Pedigree; $750,000 for SAV President.
Then he heard about SAV America.
"Two months ago, I was talking with people who had seen the bull as a calf last summer in the pasture," he said. "Anyone who has looked at the bull goes away and says, 'Wow. We've never seen one that looks like this.'"
He called SAV America "a phenomenal, phenotypical freak." Smooth and straight in the topline; explosive in the lower quarter; soft in the middle; wide-based and perfect in foot and leg structure.
A big boy, too: 1,107 pounds by the time he was 205 days old — blowing away the industry measurement — and 1,600 pounds by his first birthday.
"When I realized all of that, I realized he was one of a kind," Herbster said. "He never could be reproduced; he was a bull that should have never existed."
Here's why: His genetically famous mother, Madam Pride 0075, had died at 18 after producing 154 sons and daughters that sold for $3.7 million — but not before a final embryo flush.
She was an old cow, he said, with little fertility strength. There was maybe a 25 percent chance her last eggs and SAV President's semen would develop into an embryo in a petri dish, and then take hold in a surrogate cow.
"And yet it did," he said. "And it created something that is almost perfect."
The auctioneer paused when the bidding topped $1.3 million.
"I'm counting figures I'm not really used to," he said.
Minutes earlier, he'd introduced SAV America to the crowd. As good a bull to ever walk into this ranch, he said: "When you consider cow power, when you consider bull power, when you consider earning potential."
He started at $500,000. Silence. He restarted at $10,000, and the bidding took off.
But Herbster wasn't bidding. Not personally. He didn't want anyone to run up the price at his expense.
"When you have the reputation I developed for buying high-quality livestock, people take advantage of you. I didn't want that to happen."
But when his proxy cast the winning bid, and the auctioneer announced SAV America was now owned by the Nebraskan, the crowd applauded Herbster.
They'd witnessed history — the highest-priced bull sold at auction, according to the American Angus Hall of Fame.
Kelly Schaff had expected SAV America's pedigree and performance to draw the high bidders. And he was the chosen one — the first bull in the ring for the family's 116th annual registered Angus cattle sale.
But Schaff wasn't thinking seven figures. "Did I expect him to bring what he did? No," the rancher said. "He brought in maybe a third more than even my wildest dreams."
And Herbster doesn't expect to write a check that big again.
"I think it will be a long, long, long time before this record is ever broken," he said. "Probably not in my lifetime."