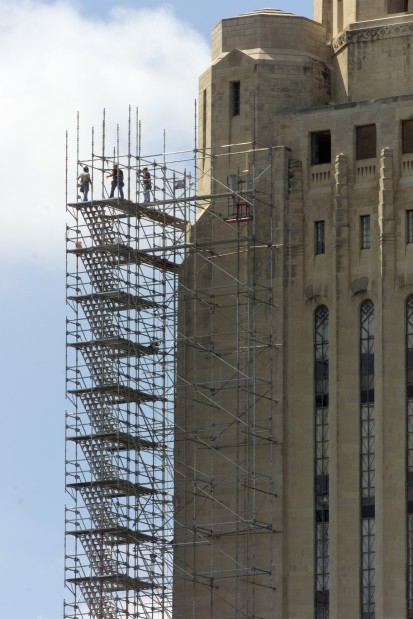 The most famous building in Nebraska is finished getting its face-lift.
The 78-year-old Indiana limestone facade of the Capitol is back in pristine condition, and the once battered and beaten Golden Sower atop the building is back to his chiseled bronze self after more than a decade of work.
For the past 12 years, visitors have seen cranes, scaffolding and building materials move around the building as part of the exterior masonry restoration project, but Capitol administration expects the last vestiges of the project, the east construction yards, to be removed in April or May.
"It's a great feeling to have it done," said Bob Ripley of the Office of the Capitol Commission who has watched over the project for the past six years.
"This place has looked like a construction yard for a dozen years. We want the Capitol grounds to look like a Capitol again, and we want people to enjoy it as it should be."
Some work will continue on interior courtyards through May.
The project was completed on schedule and within the budget of $57.4 million, which was provided over 12 years by the Legislature.
Ripley said visitors won't see a project of this scale again for quite a while. The building will be evaluated for repairs every 10 to 15 years and appropriate repairs will be done as needed, he said.
"We've done many projects during my 27-year history with the state, however this is not only the longest and most expensive but it's the most important in terms of long-term preservation of the Capitol, because it gives it a weather-proof skin," Ripley said.
The project began in 1995, when Bahr Vermeer Haecker Architects of Lincoln and Wiss, Janey, Elstner Associates of Chicago were commissioned as consultants for the project.
In 1998, following inspection of the entire exterior and the development of a five-phase plan for restoration, work began on the north entrance.
That same year, the Capitol's tower was enclosed with scaffold and Mark 1 Restoration Company of Dalton, Ill., began to repair and weatherproof the limestone facade.
Initially the project was scheduled to take eight years and be conducted in five phases: the north entrance, the gold dome and drum, the tower and turrets, roof replacement and the base.
More than half a dozen people moved to Lincoln from Chicago and Florida to work on the project, Ripley said.
That included then-67-year-old Lou Perschke, the project manager, who was heading into retirement when he got a one-sentence letter from his old boss at Mark 1: "Louis, if you get this, give me a call."
Ripley said Perschke retired to Arizona with his girlfriend after working on the Capitol for five or six years. A listed number for him in Arizona was disconnected.
Early in the project, economic conditions and the discovery of unforeseen problems with the exterior façade caused the project timeline to be extended.
During the 12-year project, the entire exterior was cleaned and organic growth and dirt were removed, all four entrances were dismantled and rebuilt to prevent water infiltration, all existing exterior mortar joints in the base and tower were removed, and all masonry joints were tuck-pointed.
Ineffective original expansion joints in the tower limestone walls were replaced at each floor level, and fractured stones were repaired or replaced. The four tower corner turrets and observation deck walls were dismantled and reset. The gold ceramic tile dome was cleaned and re-grouted. The tower octagon windows were reglazed using unbroken original amber window glass and, where needed, newly manufactured matching amber glass. And the parapet walls of the four cardinal entrance pavilions were dismantled and rebuilt.
From 2007 through 2010, in concert with the masonry work, project subcontractor Midland Engineering of South Bend, Ind., installed a new 100-year, 2 1/2 acre, 20-ounce batten copper roof over insulation to improve energy efficiency.
While the Sower was accessible from the tower and dome scaffold, a Save Outdoor Sculpture grant, provided by Target Stores and federal appropriation, helped pay to inspect and fully restore the bronze colossus and its base.
Jensen Conservation in Omaha determined the Sower was in fine condition and needed only cleaning and an application of patina to maintain its condition. A federal Save America's Treasures grant also aided masonry restoration efforts.
Ripley recalls winds on the scaffolding near the Sower near gale force.
"You had to hold on to your hat when you were up there," he said.  "An assistant who was helping clean the Sower had his hard hat taken right off his head, and it flew horizontal for 40 feet before falling into a courtyard.
"It didn't even hit the tower."
Even though the largest project on the Capitol in decades is done, there is always something that needs to be preserved or restored, Ripley said.
"The thing about the masonry project is that everyone can see it by just driving by," Ripley said. "What people may not know is that something always goes on inside the building. Most people have some little thing they want to get done in their house -- we do too, just multiply it by 400 or 500.
"Our work is never done."