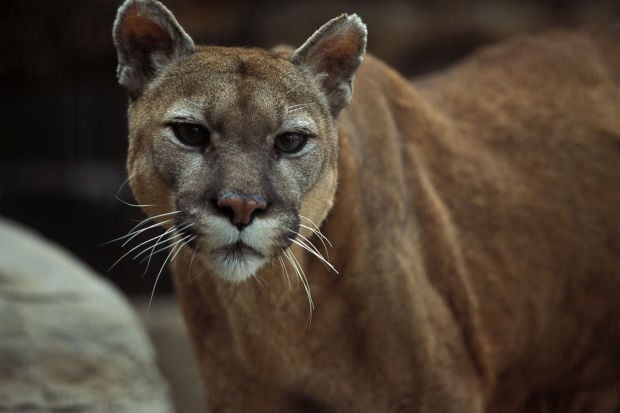 ASHLAND — There are a few useful ways to guess how many mountain lions roam the Pine Ridge area.
You can perform several rounds of sedating and collaring big cats with GPS-tracking devices. You can spend five days a week for several summer months traversing the escarpment with a dog trained to sniff for big cat scat to DNA test.
Sam Wilson, program manager of furbearers and carnivores for the Nebraska Game and Parks Commission, told commissioners that he and his staff used both methods to establish a number that he shared Friday during the group's meeting at Mahoney State Park. The Pine Ridge, which stretches across Sioux, Sheridan and Dawes counties, is populated by 59 mountain lions, give or take.
And that could lead to a vote on another regulated mountain lion hunt, though that decision is months from being made.
Wilson's presentation summarized a data-collection effort that took place last May and June, in which he and his staff hiked miles and miles of the Pine Ridge. They collected likely mountain lion scat samples to be DNA tested and also captured cats and counted whether they had been previously captured and collared or were caught and released for the first time.
"We use mathematical principles and proven techniques to estimate the number of mountain lions that are likely in the area beyond those that we actually detected," Wilson said. "Our population estimates here are not a count."
Wilson said the two methods the team used produced the same estimate of 59. That number is for the Pine Ridge area only and not a statewide estimate, he said. Currently, 17 big cats — eight females, nine males — are collared and tracked using GPS. Sixteen of them inhabit the Pine Ridge area, with one male venturing off to Wildcat Hills State Recreation Area. Previous estimates have shown 22 to 33 mountain lions in the Pine Ridge.
"The population data likely does support opening a harvest season in Pine Ridge," Wilson told the commission.
But he said he's months from making that recommendation to the commission. Wilson said the staff will schedule a public informational meeting in the Pine Ridge area to share the survey information, as well as to go over the management program created in October.
The management program's tenets include a recognition that mountain lions are key to the state's biodiversity, as well as a promise to track mountain lion populations and allow for hunting to manage them when appropriate.
It also authorizes Game and Parks staff to kill mountain lions known to have killed bighorn sheep. Two mountain lions were killed in 2017 following incidents after they killed livestock — two goats in one instance; a calf in the other — Wilson said.
Wilson said his staff will make a recommendation on whether to allow hunting of mountain lions. The commission would have to approve any hunt by vote. Five mountain lions were killed during the state's lone approved hunt, in 2014.