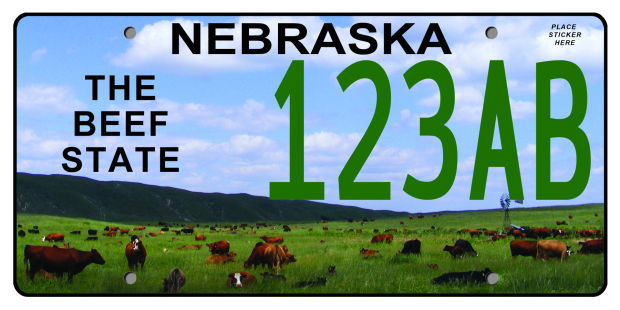 New license plates that proclaim that Nebraska is "The Beef State" are showing up on the state's streets and highways.
The Nebraska Department of Motor Vehicles began printing the special slogan plates last month after 500 people applied for them, hitting the threshold for production to begin.
As of Thursday morning, 118 more people had applied for the plates, said Betty Johnson, who is administrator of the department's driver and vehicle records division. The plates cost $70 beyond the price for a normal plate, and the $70 must be paid each year with the license renewal, Johnson said.
The Nebraska Cattlemen had pushed to return the slogan to state plates, celebrating an industry that officials say contributes billions of dollars to the state economy. State plates carried the message from 1956 to 1965.
"Our hope is we'll see people want to rekindle their affinity for 'The Beef State,'" said Pete McClymont, with the Nebraska Cattlemen.
The idea of resurrecting the slogan was suggested six years ago by U.S. Sen. Deb Fischer, who was a state senator at the time. Her idea wasn't carried through then, but the Department of Motor Vehicles had some plates designed just in case. The design selected shows the slogan along with cattle grazing in a field. They can be ordered online at www.dmv.state.ne.us, and forms are available at county offices.
The state has a variety of specialty plates, including around 52,000 vanity plates that carry individually selected letters or numbers or a combination. About 16,000 plates carry the Nebraska football theme, and there are more than 2,400 organizational plates for Creighton University and Omaha-based Union Pacific Railroad.
Today's standard Nebraska license plate says only "Nebraska" and "nebraska.gov."
DMV administrator Johnson said that as of Dec. 31, the state had licensed 2,315,126 vehicles.