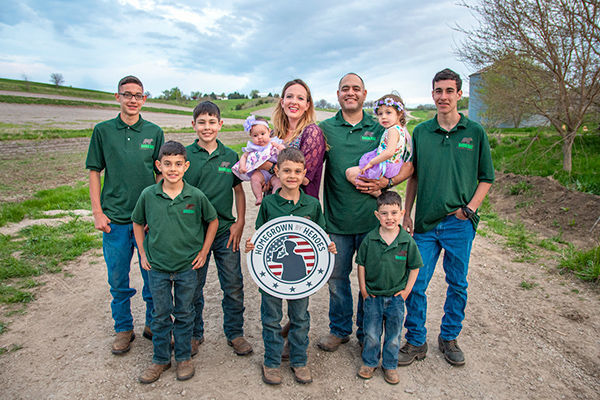 BLAIR — Mariel and Anthony Barreras, owners and operators of Barreras Family Farm, know the challenges of balancing life in the military while making a living on the farm.
Anthony is in his 20th year of active duty in the Army. In that time, his family has grown to eight children, ranging in age from 8 months to 15.
When stationed in California, the family started what Mariel calls a "hobby farm." They eventually moved to the Blair area and have expanded to producing chicken, pork, beef and goat milk in a sustainable fashion. They also sell honey and provide agritourism and educational opportunities for both adults and children.
Their journey has not come without sacrifice and challenges. Anthony was called to serve again after the family made the move to Nebraska.
"We made the difficult decision to have him move to Kansas while we stayed here on the farm to make it all work," Mariel said. "He comes home on most Saturdays now and we are working hard to keep it all together until he comes home."
The couple was honored this year by the Center for Rural Affairs with a Citizenship Award.
The rural-focused, Nebraska-based nonprofit recently studied the challenges and resources available to servicemen and women who are looking at entering the ag industry.
The Barreras used a USDA loan to help purchase their current property. They also work closely with the Homegrown by Heroes program that serves to inform consumers that products with the program logo were produced by military veterans.
You have free articles remaining.
"I think it would be helpful if there was some type of educational program that outlined agricultural resources available to military before they get out of the service," Mariel said.
Lenders are not always favorable to military service members and their families because they see multiple address changes, she said. Marine and Army members often move every 18 to 24 months. The retirement process takes almost a year. During that time, having resources available so you could actively plan for a successful transition to agriculture would help veterans, Mariel said.
Mariel has a master's degree in nonprofit management and a minor in marketing and worked with her husband to come up with a farm business plan. She has also served as a Family Readiness Group leader for the military.
"My husband would be the commander taking care of soldiers and I would be on the home front taking care of issues impacting soldiers' parents, wives and kids so that soldiers could concentrate on their mission," she said.
That experience has helped Mariel and her husband face some of the challenges to starting their sustainable, small farm that may look different from other ag endeavors in their area.
When they lost 500 chickens this winter, they filed a claim with the USDA indemnity program, but because they didn't take photos of their losses, they were denied help.
"We have learned much the hard way," Mariel said.
She teaches adult classes at Metropolitan Community College, many times sharing what those difficult lessons have taught her.
"Coming together and sharing resources is what it is all about," she said.