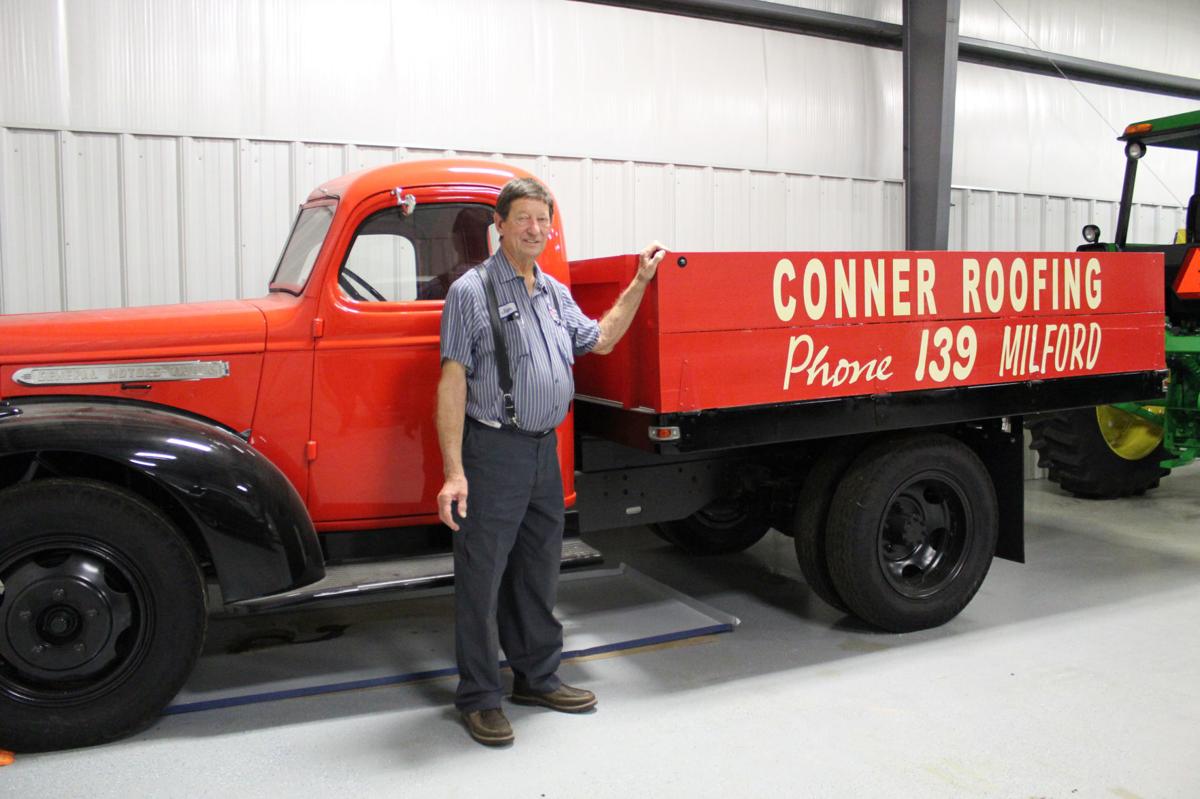 MILFORD — When Jim Conner was 6 years old, he went up on a roof with his dad, Beryl, who started Conner Roofing.
Today, Jim is a spry 78 and has been working in the roofing business his entire life. However, he has another love — collecting John Deere tractors, vintage cars, sports cars and pickups.
Conner caught the tractor bug on his grandpa and grandma Kremer's farm in the early 1940s. He would visit the farm 3 miles south of Milford with his mom, Edith, and sister, Rosemary.
"We lived in town, so that is where I saw my first tractor. Grandpa had an old John Deere B," he said.
Conner's dad farmed 80 acres, but Conner didn't enjoy farming himself.
"I was used to being on the road and in a different town every few days. In high school, I decided I wanted to be a CPA," Conner said.
He went to the National Business Institute in Lincoln, but while studying for the state exam one night in 1961, he and a friend decided to take a different route and join the Navy.
There, he learned he had a birth defect and needed surgery to correct spinal deformities. He had a difficult time recovering from the surgery, and the doctor set him to work with his dad for two weeks to "limber up."
"And here I am today, still roofing," he said.
Conner bought the roofing business from his dad in 1964 when they had one or two employees. Now, he tries to keep at least 30 workers busy all the time.
Conner was married to his first wife, Carole, for 24 years. They had four children — Brad, Steve, Stacie and Nichole. His two sons operate Conner Roofing with him. Brad is the foreman of the flat crew, and Steve oversees all of the shingle jobs.
"We have had an awesome working relationship — never exchanged a bad word. I don't know how it worked out that way, but it did," Conner said.
Next to Conner Roofing's main office building is Jim's pride and joy — a shop filled with the tractor collection he started 26 years ago. It's also a place for family and friends to gather, he said.
Conner's first tractor was an old John Deere B like Grandpa Kremer's. He bought it for $200.
"That's how it all started," he said.
He ended up with a 1936 B, then had to go and get a 1937 A and a 1938 D.
You have free articles remaining.
He was doing a roof for the people that owned the Evening with Friends restaurant in Milligan when he learned the owner's grandpa had bought a 1939 John Deere G.
"So I got that one, too," he said.
Conner began his collection with "unstyled" John Deere tractors.
"You know, they styled them up for the ladies, covered the radiators and made the hood covers fancier," he said. "When I got the 630 John Deere, I had to have all the 30 series, so I was able to get everything from the 330 to the 830."
The collection peaked at 22 tractors. Now, he's scaled back to four tractors — a 1971 2520, a 1977 4030, a 1987 4050 and a 1972 4320, his favorite.
"It's the hottest tractor on the used John Deere market today," Conner said. "They made only 27,000 throughout two years — 1971 and 1972. When you consider John Deere made a million 4020s, that wasn't very many."
Conner bought it from a farmer in Kansas who used it to bring in the corn on his farm just last fall.
"It just thrills me when I hear it run," Conner said.
A big part of his drive for collecting tractors is finding them, Conner said. His have come from all over Nebraska and the Midwest, from Ohio to Ontario, Canada. He had aimed to fix up and restore the tractors in his collection, and it took a lot of time and money.
He also keeps a few favorite cars and pickups.
The car he bought wife Angie is a calypso-colored 1955 Chevy two-door hard top, the same color as her first car. He has a 1950 Ford Business Coupe that reminds him of cars of his past. It's just like the first car he had in 1954, when he was 14. He lost it in a tornado that hit Milford in 1957.
He also has a 1972 Chevy pickup that he's owned for 26 years, a 1987 Silverado (the last year of that body style), and a 1988 Chevy short-bed half-ton with 90,000 miles.
Then there are the sports cars: a 2016 Corvette with 8,000 miles, a 2017 Challenger with 2,000 miles and his favorite — a 2008 Ford Mustang convertible with 2,000 miles. All have 480-horsepower motors.
"My Mustang is my favorite car because it's very fast, drives easy and is easy to get in and out of," he said, noting that he likes to take the cars onto a road course near Hastings.
Angie, he said, does not go to the track, but she does ride along in the cars to church near Hampton on Sundays when the weather is nice.
Tucked in the corner of the building is perhaps the most nostalgic of Conner's collection, a red 1945 Chevy one-ton pickup, the same model his dad had when he started Conner Roofing.
Part of the joy of collecting is sharing with others. Conner gets a few calls each week from people who have heard about his cars and tractors.
"I really enjoy my collection," Conner said as he stood in the middle of the shop to think for a moment. "You have to enjoy the people, that's what really makes it worthwhile."